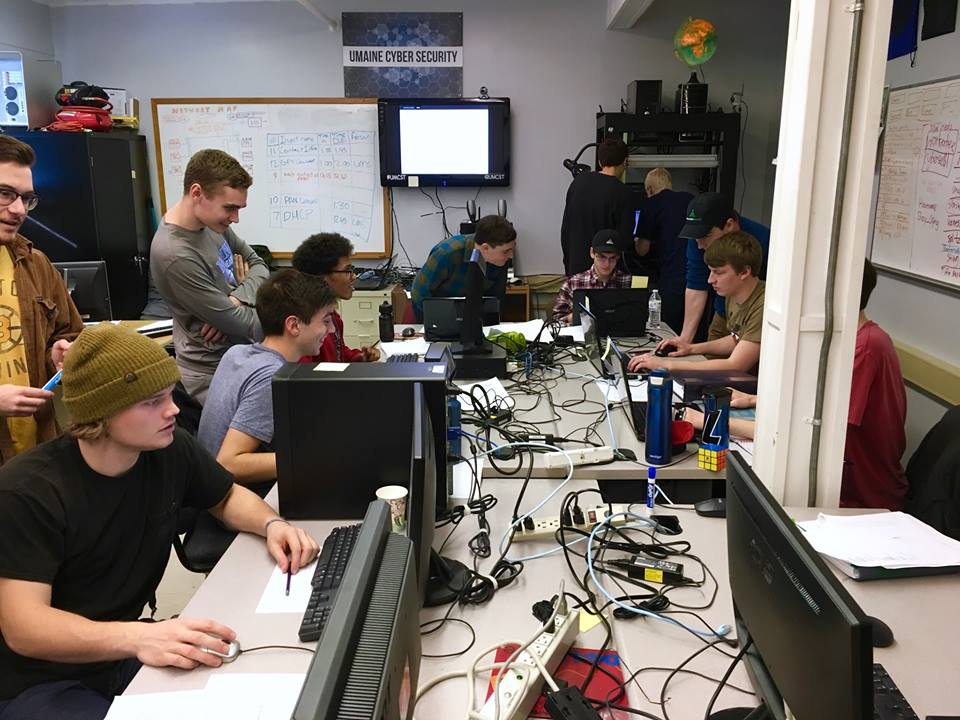 UMaine's Cybersecurity Team heads to Regional Competition
Orono, ME – This past weekend, the UMaine Cybersecurity Team tied for third place in the Northeast Collegiate Cyber Defense Competition (NECCDC) qualifier. The team, led by President Jake Collupy and Vice President Nick Dieffenbacher-Krall, beat out Harvard, Syracuse, Merrimack, and more, to qualify for the regional NECCDC competition to be held at the University of New Hampshire (UNH) in March.
The UMaine Cybersecurity Team is comprised of eleven members, eight of whom are computer science majors. The other team members are majoring in new media, mathematics, and computer engineering. The goal of the competition is to defend the team's cyber security network against a team of professionals working to undermine it. While defending their networks from attacks, they must also complete tasks given to them by a 'company', to simulate the real world implications of working in cybersecurity. The tasks are then scored on how well they were completed and in how much time. They are also scored on how well they manage their systems as each team is responsible for keeping certain services up and operational.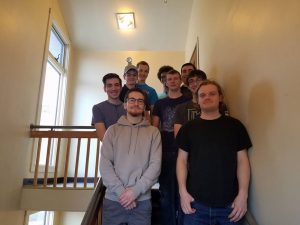 Jake Collupy, a computer science major, credits some of the success of the team to the School of Computing and Information Science, saying, "we have been fortunate enough to have some members of the computer science department support us as a club, whether we are preparing for, or traveling to, a competition." He says the competition have given him valuable hands-on experience "with not only the structure and pace, but the security tools and systems that one would see in the industry." Jake is a senior, graduating in May, who hopes to start a career in the Information Security field.
Collupy became interested in the cybersecurity field when he began to read online about cyber attacks. Being able to protect private information is the goal of cybersecurity and the focus of cyber defense competitions, so being on the team was a perfect fit. He says, "We have been and will continue living in a world where information is everywhere, whether that's information we have willingly handed over through forms of social media and online transactions or any other activity that takes place online. All of this information is valuable, to both companies and malicious parties." He adds that this is why organizations like the UMaine Cybersecurity Team, and cybersecurity education, are important.
Team vice-president Nick Dieffenbacher-Krall is a sophomore Mathematics major with a minor in Philosophy. He says that "as a math major, I think I bring a unique perspective to cybersecurity. Many important concepts in computer security are based in branches of math, such as number theory." He also cites the importance of the College saying, "Being affiliated with the College of Liberal Arts and Sciences through our advisor Professor Sudarshan Chawathe, in the [School of Computing and Information Science], has helped to make [our teams success] possible." Nick graduates in May of 2020 and hopes to work in the cybersecurity or bioinformatics industries.
Dieffenbacher-Krall began his interest in cybersecurity as a student employee doing web development in the BioMedia Lab on campus. He enjoys that the Cybersecurity team is "led by its members." He will be organizing a web security competition this April that is open to all UMaine students. His hope is to get more people interested in the topic and to expand the club.
The team will be competing March 16-18th at UNH against the following schools:
University at Albany
SUNY Buffalo
Champlain College
University of New Hampshire
Northeastern
RIT
Stevens Institute of Technology
West Point
Westchester Community College
Team Members:
Jake Collupy (President) – Computer Science
Nick Dieffenbacher-Krall (Vice-President) – Mathematics, Philosophy minor
Devin Christianson – Computer Science
Aiden Lammert – Computer Science
Matt Loewen – New Media
Kody Moseley – Computer Science
Henry Owen – Computer Science
Andrew Piccirillo – Computer Science
Cameron Sullivan – Computer Engineering
Durgin Sweet – Computer Science
Brenton Wilson – Computer Science
The Umaine Cybersecurity Team encourages any student who is interested in cybersecurity to reach out to them and come to their meetings. Email um.cst@maine.edu for more information.
*UPDATE* April 5 – The Cybersecurity Team took 5th place out of the 10 teams who competed at UNH March 16-18th. The team says they had "a great time and we picked up a vast amount of experience".
SaveSave