Shanghai Ocean University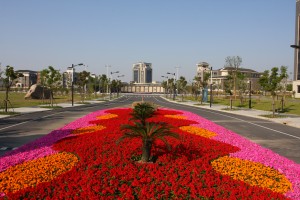 Shanghai Ocean University  (SHOU) is located in Shanghai, China. Established in 1912, Shanghai Ocean University resides on the bank of the Huangpu River. The university is famous for its  expertise in agriculture, science, engineering, economics, arts and management and teaching Chinese language to foreigners. The University now has an enrollment of about 15 000 fulltime students at different levels.
China
The People's Republic of China was established on October 1, 1949, with Beijing as its capital city.   With well over 1.3 billion citizens, China is the world's most populous country and the world's fourth-largest country in terms of territory.   Although political power remains centralized in the Chinese Communist Party, China is undergoing profound economic and social changes.
Shanghai
Shanghai, Hu for short, is a renowned international metropolis drawing more and more attention from all over the world. Situated on the estuary of Yangtze River, it serves as the most influential economic, financial, international trade, cultural, science and technology center in East China. Also it is a popular destination for visitors to sense the pulsating development of the country. In addition to its modernization, the city's multicultural flair endows it with a unique glamour. Here, one finds the perfect blend of cultures, the modern and the traditional , and the western and the oriental. New skyscrapers and old Shikumen together draw the skyline of the city. Western customs and Chinese traditions intertwined and formed Shanghai's culture, making a visitor's stay truly memorable.
Areas of Study
Chinese Language and Culture
Requirements
Open to undergraduate and graduate students
Minimum overall GPA of 2.5 for undergraduate students and 3.0 for graduate students
Calendar
Academic year is September through May. The spring semester is from February to June and the fall semester is from September to January.
Spring 2014
Orientation – February 22-23
Classes start – Feb 24
Exams end – June 25
Academics
Spending a semester or year at SHOU is a great immersion opportunity for students in any discipline.
Schedule of Chinese Intensive Courses with Credit Conversion (PDF)
Housing & Dining

Students participating in this program must live in residence halls on campus. The cost is 5,000RMB for a single room per semester and 2,500RMB for a double room per semester. The SHOU campus has three dining halls on campus. See the budget for more details.
Insurance
Students are required to have international health insurance coverage.
Budget
Scholarships
Shanghai Ocean University has available scholarships for UMaine students interested in learning Chinese intensively.
Helpful Links