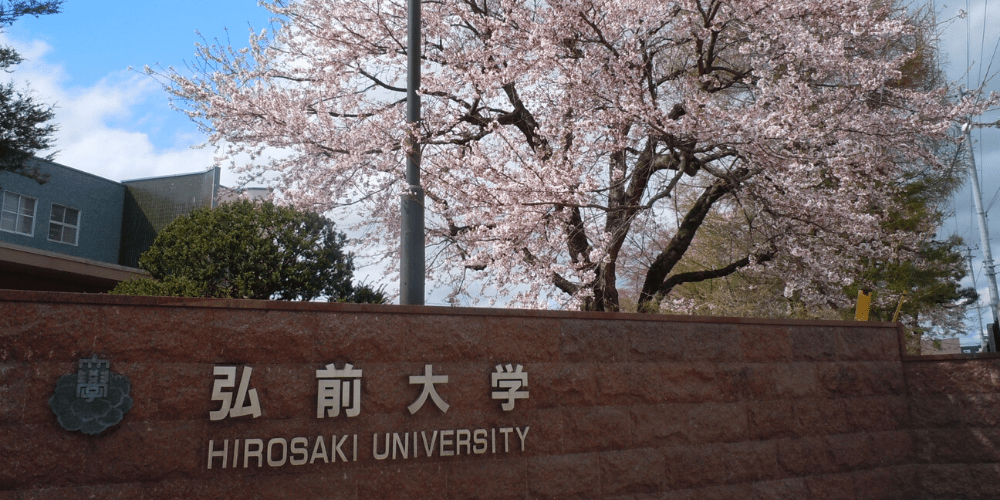 Hirosaki University
The city of Hirosaki is a great place to be. Everything you need is close by and the biking will keep you in shape. The sakura (cherry blossom) season is short but very beautiful. Visiting Hirosaki park at that time of the year is like walking through a dream. There are also so many opportunities here to take classes that help you understand the local community and their crafts and trades, clubs for all kinds of students whether you are into arts, sports, or more traditional Japanese things like calligraphy or learning about tea ceremonies, etc. Having a home stay family is also a great opportunity to learn about how Japanese families function and some typical activities and customs that they have which may be completely different from your own. I have progressed a lot with my Japanese, and even though it's still a bit rough at times I count every conversation I have in Japanese as a success and can see how far I progress each time. ~ Yvette Alexandrou, Marketing
I gained a new perspective on the international community. Before I thought that I was fairly open minded however I was confronted with so many new things that I didn't even think of that is really expands your horizons. I plan to try to work with the diplomatic services in Japan and I really hope this experience helps me do that, which I think it will. I think this will be a great opportunity for everyone and I strongly recommend it. ~ Andrew O'Neill, History and International Affairs
Hirosaki University was established in the former castle town of Hirosaki in the northern prefecture of Aomori in 1949. It is comprised of five Faculties (Colleges) which offer courses in almost every academic field. It is a medium-sized national university with about 5,800 students.
Japan
Japan, also known as the "land of the rising sun", contains over 3,000 individual islands known as the Japanese Archipelago. These islands are mostly mountainous and many are volcanic. Japan continues today to be a constitutional monarchy. Japan's traditional culture is known as  Jōmon, but today's culture is greatly influenced by other Asian countries, Europe and North America. One such influence is the emergence of pop music in Japan, known as J-pop (similar to K-pop, from South Korea) and is quite catchy!
Despite the outside influences, the spoken language is still 99% Japanese and the religion remains 84% Shinto (indigenous religion) and Buddhist. Tokyo is home to the largest fish market in the world: the Tsukiji Fish Market. Another attraction in Tokyo is the Kabuki-Za Theater which houses traditional Japanese performances. Japan is often associated with Geisha, in Gion, a neighborhood in Kyoto. Tourists have the opportunity to see traditional tea houses and clubs and possibly even a Geisha in full make-up and dress. Kyoto also has one of the most famous Zen rock gardens, Ryugen-in Temple, which has been around since the 15th century.
Aomori Province
Aomori-ken, at the curious northern tip of Honshū, is split in the middle by Mutsu, Noheji and Aomori bays, all cradled in the arm of the axe-shaped Shimokita peninsula. Volcano strewn, it has some fantastic onsens and boasts Japan's biggest apple harvest, its oldest cherry tree and (don't go kissing anyone!) the most garlic produced. Rather than ward off the dead, Aomori's people commune with them: Osore-zan, splendidly sulphurous, is famed for its connections to the spirit world. Lake Towada, at the opposite end of the prefecture, puts on airs as Tōhoku's most popular sight. The world's longest submarine tunnel (54km) connects Aomori with Hokkaidō. Yet despite all these amazing superlatives, the city and surrounding countryside are quaintly provincial.
Hirosaki
The picturesque castle town of Hirosaki, in Aomori Prefecture, has flourished since the early 17th century. Today's modern city is dotted with many famous buildings and historical sites dating back to ancient times. Hirosaki (Japanese: 弘前市; Hirosaki-shi) is located at the northern end of Honshu-main Island, approximately 3 hours by bullet train and highway bus from Tokyo.
To those who live there, Aomori prefecture reflects the true essence of Japan in its many traditions, festivals, and folk crafts, and the city of Hirosaki is no exception.  Hirosaki is well known for the beautiful cherry and apple blossoms that serve as the basis of the annual cherry blossom festival each spring.  Hirosaki is located about three hours north of Tokyo by train.
Requirements
Minimum overall GPA 3.0
Budget
Estimated budget for one semester at Hirosaki University.
Calendar
First semester     late March – late July
Second semester late September – early February
Academics
Visiting students enroll in special courses for foreigners in the fields of Japanese Language, Culture and Art. No prior knowledge of Japanese language is necessary. Students can take courses in Japanese at the introductory, intermediate and advanced level. Each semester a course on Japanese culture is taught in English. Supplemental independent study courses may be arranged through the Hirosaki University Faculty of Humanities and Faculty of Education in the fields of literature, communication, art, education, and culture. Visit the website for the International Exchange Courses.
Full-time enrollment:
UMaine students must be registered for at least 12 credits each semester. Students are not encouraged to register for more than 15 credits each semester.
Transfer Credits:
1 Hirosaki credit= 1 UMaine credit
Grading Scale:
| | | |
| --- | --- | --- |
| Hirosaki Letter Grade | Hirosaki Percentage Grade | UMaine Grade |
| S | 90 – 100 % | A |
| A | 80 – 89 % | A |
| B | 70 – 79 % | B |
| C | 60 – 69 % | C |
| D | 0 – 59 % | No transfer credit |
Housing
Visiting students may apply for accommodation in the International House or may elect to rent an apartment off campus. Accommodations are quite modest by American standards but large by Japanese standards. The Hirosaki University International Student Office assists students in obtaining housing.
The monthly rent for a single room in the International House is 5,900 Japanese yen (about $80) with a 30,000 yen housing deposit (about $380). Students pay their own utilities for electricity and gas. Off-campus apartments range between 30,000-35,000 yen per month (about $380-$430).
Students are encouraged to arrive a day or two early before orientation starts to rest and adjust to the new time zone. Students book and pay for the hotel expenses. Students who receive the JASSO scholarship and will be living off-campus usually stay two-three nights in a hotel before they move in an apartment. More information on utilities and services provided.
Health Insurance
International students at Hirosaki University are required to join the National Health Insurance System. The cost f this insurance is about 20,000 yen for one year (about $200). When students present their National Health Insurance card, they pay only 30% of the incurred medical costs.
Extracurricular Activities
Athletic Clubs (Aikido, Archery, Football, Kendo, Tennis, Racquetball, Cycling, Soccer, Mountaineering, Swimming, Volleyball, Basketball, Baseball, Rugby and others); and Cultural Clubs (Brass Band, Cinema, Drama, Guitar, Choir, etc.).  Most visiting students find that participation in a student club provides the easiest means for meeting Japanese students.
Scholarships
Read the available scholarships website for more information about Scholarships for Japan, and specifically the JASSO scholarship for Hirosaki University.
Helpful Links