University College Cork
The University College Cork (UCC), built around a beautiful stone-faced quadrangle, was founded in 1845, making it one of the oldest universities in Ireland. The university has four colleges: Medicine and Health; Business and Law; Science, Engineering, and Food Science; and Arts, Celtic Studies, and Social Sciences. Over 17,500 undergraduate and postgraduate students take courses in more than 60 different departments. The campus is a combination of early and modern architecture located in a wooded riverside setting close to the city center. The university is a constituent of the National University of Ireland and strongly emphasizes research while maintaining close connections with industry and the local community. University College Cork has been selected as Ireland's University of the Year by The Sunday Times. The award, for the third time, follows on the heels of UCC becoming the only Irish university to achieve the unique status of Ireland's first five-star university and improving its position in the QS World University Rankings.
Ireland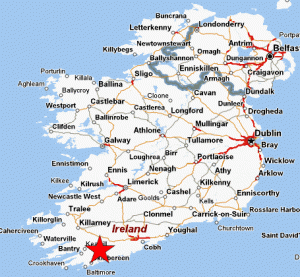 Ireland is an island politically divided into two parts: the sovereign Republic of Ireland and Northern Ireland of the United Kingdom. The "Emerald Isle" earns its name from its lush green landscape and mild, changing climate. From coastal mountains, to inner plains, to rocky shores, Ireland's rich landscape can only be described as picturesque. Ireland has a rich cultural history dating back from the ice age to the Stone Age, to the Bronze Age, the Iron Age, and so on. If history is not your area of interest, there are always sports. Hurling, and football remain the most popular sports among the Irish and fans take their championship games very seriously. Irish poetry is still very popular and dates back to the 6th century. If you are up for an Irish jig, folk music and dance are a widely spread tradition around the island. From castles, to abbeys, to cliffs overlooking the Celtic sea, to rowdy rugby fans and musicians of all sorts, Ireland offers the best of all worlds and will be an experience not soon forgotten.
Cork
Cork, the second largest city in Ireland, is located on the south coast of the island. The city is a busy seaport and the home of a large number of industries including electronics, pharmaceuticals, brewing, and food processing. Named the European Capital of Culture in 2005, the city was praised by Lonely Planet as one of the top 10 cities in the world to visit; the city boasts international arts, film, and jazz festivals, lively performing arts and a growing artisanal culinary culture of cafes, restaurants, markets, and boutiques. Cork is situated at the head of the inlet of Cork Harbor with the sea just to the south, mountains, hills, and river valleys to the north and east, and the well-known Lakes of Killarney a couple hours to the west.
Areas of Study
Anthropology (Archaeology, Cultural Studies, and Folklore), Art History, Biochemistry, Biology, Botany, Business (Accounting, Finance, Management, Marketing, and MIS), Chemistry, Classical Studies, Computer Science, Earth Science, Economics, Education, Engineering (Bioengineering, Civil, Chemical, Electrical, and Mechanical), English, Environmental Sciences, French, Food Science and Nutrition, Geography, German, History, International Affairs (Asian, Celtic, Chinese, European Studies), Mathematics,  Microbiology, Music, Philosophy, Physics, Political Science, Psychology, Social Work, Sociology, Spanish, Theater, and Zoology.
Requirement
Minimum overall GPA 3.0
Budget
Estimated budget for a semester as:
Calendar
Spring 2018
Arrival date: TBD
Orientation: January 11th-12th 2018
Semester Class dates: Monday, January 15th – Friday,  April 20th 2018
Easter Recess: Saturday 24th March – Sunday 8th April 2018
Examinations Week: April 27th- May 11th 2018
Fall 2018
(*Early start: Orientation: August 17th. Classes: August 20th, 2018- September 7th, 2018)
Arrival date: TBD
Orientation: September 5th-7th 2018
Semester Class dates: Monday, September 10th – Friday, November 30th, 2018
Examinations Week: December 10

th

 – December 21st, 2018
Spring 2019
Arrival date: TBD
Orientation: January 10th- 11th, 2019
Semester Class dates: Monday, January 14th – Friday,  April 5th, 2019
Easter Recess: April 13th –  April 28th, 2019
Examinations Week: April 29th – May 10th, 2019
Additional information at UCC Semester Dates.
Academics
UCC offers a large selection of courses across many majors. Exchange/Visiting students have access to a special set of courses designed specifically for them. Students can request access to the regular courses if they meet the prerequisites and the course has available spaces.  Browse available courses in the Book of Modules for Visiting Students
Bachelor degrees at UCC are usually completed in three years thus the course levels are different at both institutions:
| | |
| --- | --- |
| UCC Course Level | UMaine Course Level |
| 100 | 100 and 200 |
| 200 | 300 |
| 300 | 400 |
Students should pay attention to the following designation to determine appropriate courses which are called modules at Lancaster:
Semester 1 = UMaine fall semester
Semester 2 = UMaine spring semester
Full-time enrollment:
30 UCC/ECTS credits each semester = 15 UMaine credits
Transfer credits:
5 UCC/European Transfer Credit System (ECTS) = 2.5 credit hours at UMaine
10 UCC/European Transfer Credit System (ECTS) = 5 credit hours at UMaine
Grading Scale:
| | |
| --- | --- |
|  UCC grades | UMaine grades  |
|  70 – 100 | A |
|  65 – 69 | A- |
|  60 – 64 | B+ |
|  55 – 59 | B |
|  50 – 54 | B- |
|  40 – 49 | C |
| 0 – 39 | No credit |
Housing
Accommodation is available in campus housing. A popular location for UMaine students and George J. Mitchell Scholars is Victoria Lodge. Public transportation is available outside both apartment complexes to and from the city center. The apartments include WiFi, TV, and a fully furnished living area and kitchen. The living space is shared, with 3 to 6 attached bedrooms.
Helpful links
Student Voices
My time in Ireland was the most incredible four months of my life–and certainly my academic career–to date. This semester of challenging, diverse coursework, building international friendships, endless adventure, and even an awesome Tough Mudder experience in Dublin  was so much more than I had anticipated. And what can I say–the Irish accent is amazing!
~ Morgan Gustin, Animal Science major, George J. Mitchell Peace Scholarship recipient Fall 2014