English major awarded George J. Mitchell Peace Scholarship to study in Ireland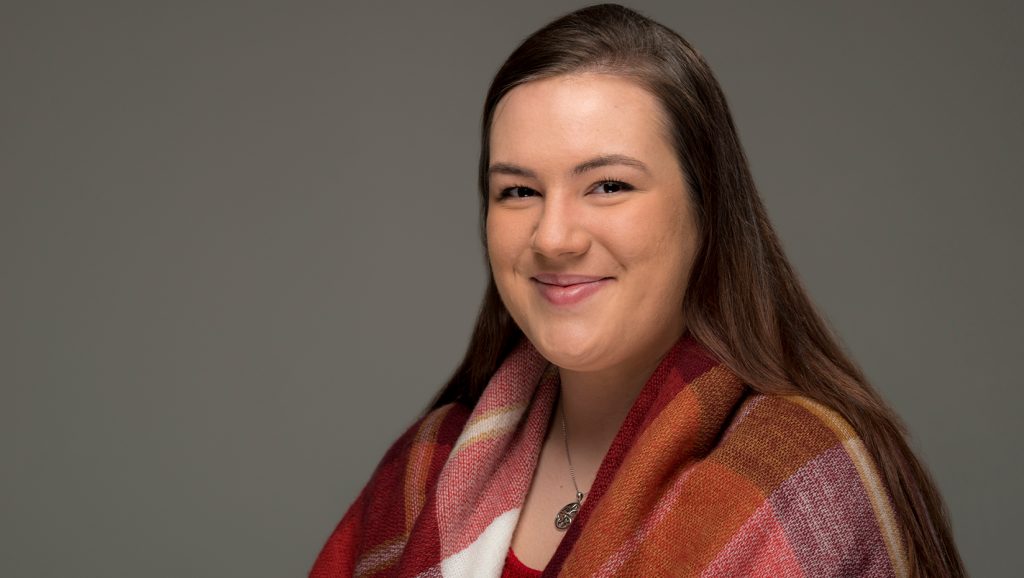 March 9, 2018
Taylor Michele Houdlette, a third-year English major at the University of Maine, has been awarded the George J. Mitchell Peace Scholarship and will study abroad in Ireland during the fall 2018 semester as part of the student exchange program.
The competitive merit-based scholarship is made possible by an agreement between Maine and Ireland for a student exchange at the university level. It honors the 1998 Northern Ireland peace accord brokered by Sen. Mitchell between Ireland and the United Kingdom.
The University of Maine System awards one full scholarship or two one-semester scholarships per year which allow students to study at University College Cork in Ireland.
As a George J. Mitchell Exchange Scholar, Houdlette plans to delve into the local language and culture by taking courses such as Northern Ireland history, Middle English literature, Irish folklore and Irish Gaelic language as well as establishing connections with other students and exploring the surrounding area. Read more about her story, here.
---
Check out our very own Madison Hurley's IES Study Abroad Blog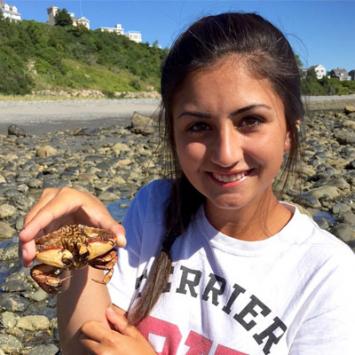 University of Maine-Orono
Galápagos Islands – Spring 2017
Galápagos Islands Direct Enrollment – GAIAS
Hello!! My name is Madison, I'm Massachusetts made and currently a junior at the University of Maine majoring in Marine Science and minoring in Spanish. I love the ocean and can sometimes be a science nerd so I am really looking forward to spending my time in the Galapagos Islands, where Darwin happened to discover evolution. I enjoy drawing, taking photos with my GoPRo, and snorkeling/diving. Follow me to stay updated on my underwater adventures!
READ AND FOLLOW HER BLOG AT
7 days 23 hours and 6 minutes
Studying abroad in Australia was something that I've wanted to do. I'm so glad I was able to do it because it was one of the most rewarding experiences of my life. Not only was I able to become more independent, I was able to learn so much about myself and meet so many people from all over the world. I also had the opportunity to travel to many different places including Fiji, New Zealand and all over Australia. I would definitely recommend studying abroad to anyone who can! – Jenna Conley, Australia --- Jenna Conley, Australia | What Our Students Say About Studying Abroad
Living in Austria was by far the most amazing experience I have ever had.  The best part was being able to thoroughly explore European culture while making friends from around the world. I learned more than I ever imagined and I will carry my time in Salzburg with me where ever I go in life. --- Ashley Crane, Austria | What Our Students Say About Studying Abroad
Birmingham was an amazing second home for me, and I feel so grateful for my time there. Not only was the city vibrant, but it was also a gateway to every other place I wanted to visit, both inside England and beyond. I will carry the memories and friends I made there for the rest of my life. – Morgan Stickney, England | What Our Students Say About Studying Abroad
My time in Ireland was the most incredible four months of my life–and certainly my academic career–to date. This semester of challenging, diverse coursework, building international friendships, endless adventure, and even an awesome Tough Mudder experience in Dublin  was so much more than I had anticipated. And what can I say–the Irish accent is amazing! – Morgan Gustin, Ireland | What Our Students Say About Studying Abraod
I interned at the Intercultural Women Center of Antwerp where I worked with mothers and their children, planning programs to help connect and develop attachments with their children. I was able to work with women from all over the globe like Morocco, Turkey, Ghana, India, etc. I was able to backpack the month before in Ireland and Croatia. This time abroad has been the most rewarding experience. It is a gift to travel and learn about so many people's cultures and lives. – Catie Borer, Belgium | What Our Students Says About Studying Abroad