Lancaster University
Lancaster University  is set in parkland, surrounded by beautiful countryside with a view extending to the sea and offers both easy access to the thriving city of Lancaster only three miles away. It is one of the United Kingdom's top universities given its consistently high ranking in the UK league tables and is established as a world player in research and teaching.  The Lancaster campus is one of the safest in the UK. The Study Abroad Program is fully integrated and you will study and live alongside UK and other international students.  This university is AACSB accredited.
United Kingdom
England, Scotland and Wales, make up Great Britain, along with Northern Ireland come together to form the United Kingdom.
England consists of rolling lowland terrain and small mountain ranges in the northwest. Scotland, made up of 800 islands, and rolling hills, lies northeast to Ireland and north of England and Wales. Wales is the most mountainous country, with Northern Ireland known for its luscious green landscape and rolling hills. From temperate to oceanic climates of frequent rainfall, winds, and winter snows, the United Kingdom sees a variety of temperatures and has, overall, enjoyable weather.
Lancaster
Lancaster, a picturesque city of about 50,000 on the west coast of England, lying just south of Lake District National Park.  This area is great for hiking, canoeing, climbing, and other outdoor activities.  The city has plenty of things to do and places to see, but maintains its small- town-friendly atmosphere.  Lancaster has a variety of restaurants and bistros, and plenty of cute shops, parks, and walking paths.  Liverpool and Manchester are close by, and London is three hours away by train.  Travel to Ireland and throughout Europe is quick and easy.  Students often travel on weekends and vacations.
Areas of Study
Sciences: Biochemistry, Biology, Chemistry, Computer Engineering, Ecology, Environmental Sciences, Geography, Mathematics, Physics.
Liberal Arts: Art, Art History, Communications, Creative Writing, Economics, English, Gender Studies, History, International Relations, Music, Philosophy, Political Science, Sociology, Theater and Women Studies.
Business (AACSB accredited): Accounting, Finance, Marketing, and Management.
Engineering: Electrical, Mechanical, Environmental and Computer Engineering.
Requirement
Minimum overall GPA 3.0
Budget
Estimated budget for a semester at Lancaster University.
Calendar
Fall 2018 (Michaelmas term):
Orientation: 1 October to 5 October 2018
Semester Dates: 8 October to 14 December 2018
Spring 2019 (Lent and Summer term):
Orientation: 7 January to 11 January 2019
Semester Dates: 14 January to 28 June 2019
Lent: 11 January to 22 March 2019
Summer: 25 March to 29 March 2019 and 29 April to 28 June 2019
*Exams conducted within term dates
For more specific dates, visit Academic Calendar.
Academics
Lancaster University offers a large selection of courses across many majors. Exchange students may choose courses in any study area, as long as they meet any prerequisites for the course. Students typically register for 12 credits in the fall and 16 credits in the spring. Browse available courses in the Study Abroad Handbook.
Bachelor degrees at Lancaster are completed in three years thus the course levels are different at both institutions:
| | |
| --- | --- |
| Lancaster Course Level | UMaine Course Level |
| 100 | 100 and 200 |
| 200 | 300 |
| 300 | 400 |
Students should pay attention to the following designation to determine appropriate courses which are called modules at Lancaster:
FY – taught throughout the academic year
M – in Michaelmas term (Fall Semester)
L – in Lent term (first part of Spring Semester)
LS – in Lent and Summer terms (full Spring Semester)
S – in Summer term (second part of Spring semester)
M or L – in either Michaelmas (Fall Semester) or Lent term (first part of Spring Semester)
Full-time enrollment:
Michaelmas term – 12 Lancaster credits
Lent/Summer term  – 16-20 Lancaster credits
Full academic year – 30-32 Lancaster credits
Transfer credits:
4 credit hours at Lancaster University = 8 European Transfer Credit System (ECTS) = 4 credit hours at UMaine
Grading Scale:
LANCASTER 

 

 

 

 UMAINE

Aggregation Score

Percentage 

Letter Grade 

Descriptor 

UMaine Grade

24
90 – 100
A+
Excellent
A
21
80 – 89
A
A
18
70 – 79
A-
A
17
67 – 69
B+
Good
A-
16
64 – 66
B
B+
15
60 – 63
B-
B
14
57 – 59
C+
Satisfactory
B-
13
54 – 56
C
B-
12
50 – 53
C-
C+
11
47 – 49
D+
Weak
C
10
44 – 46
D
C-
9
40 – 43
D-
D (No transfer credit)
0 – 8
0 – 39
F
Fail
F
Housing
At Lancaster University, American students live with other international students as well as British students in on-campus residences called 'colleges.'  Read about the eight Lancaster colleges to decide which college you would like to live in and join. These colleges sponsor social events, gathering places, and many activities. Housing during Easter break (almost all of April) is not included in the housing cost for the semester. Students studying at Lancaster University for the Lent and Summer term should set aside sufficient funds to cover housing during Easter break.
Housing is guaranteed for exchange students. Students can live in a single room in a suite with a shared bathroom, a single room with a private bathroom, or students can share a room with another international student.
Helpful links
Student Voices
While abroad at Lancaster I grew up a lot. Learning to live in a different country taught me so much about myself. I was incredibly fortunate to be able to do this journey. I made friendships that will last a lifetime. I made countless memories in Lancaster. I was even able to travel to two other countries while abroad. Lancaster is a beautiful place, with a lot to do, and you won't ever regret going there. Please talk with the locals, they have funny stories, travel as much as you can, explore Lancaster there are many hidden beautiful places, and don't be afraid to step outside of your comfort zone because you won't regret it.
~ Courtney Andrews, Psychology major
Studying abroad has been one of the most rewarding expeiernces of my life. Not only was I able to make a plethora of new friends during my travels, but I was able to study at one of the top universities in the United Kingdom as well. The time I spent overseas has given me a new perspective on life as I was able to learn/adapt to a completely different culture. I would recommend study abroad to anyone who gets the opportunity.
~ Cameron Poussard, Mechanical Engineering, Spring 2014
Lancaster University is everything you could possibly need in a study abroad experience. University life there is vibrant, with tons of fun activities to get involved in on campus. I joined a pool team, where I got to meet a bunch of fun people whilst amid the silly atmosphere of bar sports. Scenery was important to me, and Lancaster is the adorable and quaint little English town I was looking for. Its little winding cobblestone streets have everything you could need, with plenty of restaurants, coffee shops, and pubs. And with two universities in the area there is an impressive night-life for such a small town.
Lancaster is an hour by train from both Liverpool and Manchester, which I traveled to frequently for tourism. The friends I made in England were probably the most incredible part of the experience. Lancaster is right next to the Lake District, which is one of the most scenic parts of the whole country. When it comes to the full English experience I think it's a perfect location, and I visited a lot of the country. My year there was the best of my life for so many reasons, I couldn't recommend it more.
~ Sophie Veilleux, Psychology major, Honors College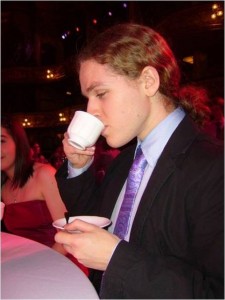 My stay in Lancaster taught me to enjoy black tea, and by the time I left my friends had me drinking 4-5 cups a day, with milk, no less. I learned to cook with leek and Stilton.  I ate a beef and kidney pie that came from the store, unbaked, in a steel can nearly nine inches in diameter (just take off the lid with a can opener and throw the whole thing in the oven!). I discovered a strange British attitude towards sandwiches: while an American generally puts whatever he wants in one, every British sandwich has a name and a recipe which is strictly adhered to.  I fell in love with HP, the spicy, fruity brown sauce which goes perfectly with chips or any kind of red meat, from bacon to steak. I tried (and enjoyed) haggis, which turns out to be a lot less scary than they make it sound on T.V.
~Chris Hamlin, Mechanical Engineering, Honors College