About the Commercialization Training Series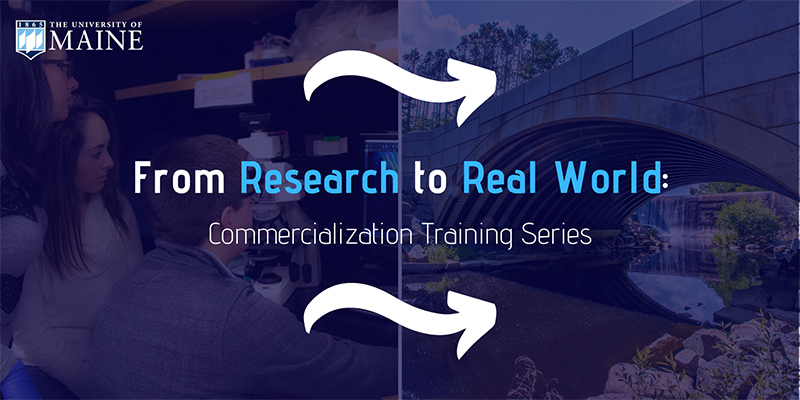 Are you a Maine researcher with an innovative idea, cutting-edge technology, or unique curriculum? Do you have particular expertise or services to offer, but aren't sure how to do it? 
Join us for the Commercialization Training Series, a collection of professional development workshops that will walk you through the process of delivering a product or service to the world and working with external partners.
This program is targeted for graduate students, faculty, and staff members across the University of Maine System, as well as members of other Maine research organizations. All are welcome!
We offer four core workshops and seven elective options. Participants can earn a completion certificate by attending all four core workshops and two of the seven electives. 
Core workshops:
Kickoff to Commercialization
Intellectual Property Bootcamp
University Agreements and Policies
Idea Validation
Electives: 
Grant writing and Funding pathways
Entrepreneurial Businesses
SBIR/STTR Workshops
Industry Collaborations and Licensing
Commercialization in Education, Social Sciences, Humanities and Arts
Ethics in Commercialization
Regulatory Pathway for Medical Devices
Workshops for the current semester
All Commercialization Series workshops this semester will be offered via Zoom. Simply RSVP below, and we will send you a link to attend.
Core workshops
Kickoff to Commercialization – 10/7/21
Learn the fundamentals of research commercialization, understand the various pathways to the marketplace, get exposure to Maine and national resources designed to assist, and learn about additional professional development offerings planned for the year.
Idea Validation – 10/21/21
New innovations based on cutting-edge research have a high failure rate because they focus on the wrong needs or even the wrong end user. In our Idea Validation workshop, you will learn how you can use Innovation Engineering tools to test your assumptions and validate that they align with end user needs, wants, and expectations. 
Elective Workshops
Regulatory Pathways for Medical Devices  – 11/18/21
This workshop will provide an overview of critical regulations specific to medical devices, identify key stakeholders and resources, and instruction on how to navigate the regulatory process from pre-market to post-market for any medical device. After the workshop, attendees should be able to apply essential regulatory affairs principles and practices to their current or future medical device development projects.
Stay tuned for fall 2021 registration information.