Penobscot Primer
The Penobscot Primer is an innovative, computerized Native American language resource for teaching and research.

The Primer was developed with the late Madeline Shay, the last Penobscot brought up speaking the native language. Richard Garrett led the project and developed the exhibit concept. Inspired by slides, Madeline spoke in her native tongue about the Penobscot world. Penobscot teachers Carol Dana and Barry Dana employed the written phonemes of Dr. Frank T. Siebert to transcribe her words. Computer programming was undertaken by Rurik Spence from Colby College.
Listen to Madeline speak in Penobscot:
---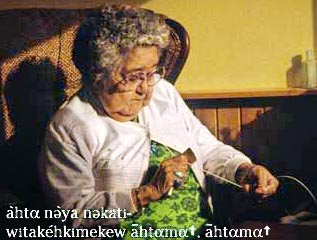 MP3 audio file (279 kB)
I don't want to go to school. No! No!
---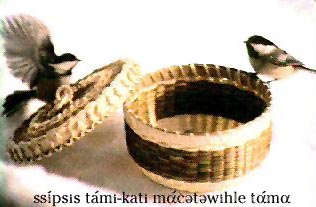 MP3 audio file (66 kB)
The bird is going to fly away.
---
To appreciate the full scope of the Penobsot Primer Project, please visit the project's website here.