Internet & Streaming
Technology evolves, and the University of Maine evolves with it. Our students have high expectations of lag-free Wi-Fi and a variety of quality programming options. We've partnered with Apogee to upgrade IPTV streaming and internet services in all residences on campus.
---
If you need Internet/Streaming Assistance, please reach out:
---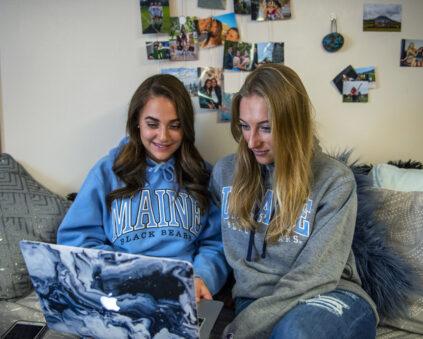 As a campus resident, you have the ability to watch live TV and sports on your computer, tablet, phone, Roku, Apple TV and Amazon FireTV Stick. Stream2 provides up to 20 hours of automatic DVR. It is also available for your devices on Apple and Android. Available on the MyStream2 app and most browsers via web player.
Get Started
Download the Stream2 App to your device (instructions at help.mystream2.com)
Log in using your University of Maine username and password.
For streaming media players – Roku, Fire TV Stick and Apple TV – you will need to authenticate it through your computer (detailed instructions at help.mystream2.com/sso).
Help
Please visit: help.mystream2.com
---
MyResNet is your residence hall Wi-Fi service. This state-of-the-art Wi-Fi infrastructure is the next generation of connection service. In addition to consistent speeds of 50 megabits per second, you can register up to 7 devices with no primetime bottlenecks. Enjoy 60 Mbps download and 30 Mbps upload speeds.
Get Started
Choose the network named "MyResNet" (for 5Ghz devices) or "MyResNet Legacy" (for 2.4Ghz devices).
Open a browser — you will be redirected to the MyResNet splash page.
Select "Click here to continue".
At the bottom of the page, copy and paste the MAC address into a text file — you will need that later.
Click "Create an account".
Fill in your information.
Select "Add devices".
Select your device and input the MAC address (you will need to do this for all of your devices).
Restart your device and enjoy consistent Wi-Fi speeds 24/7!
---
Get Started
Attention Kennebec and Penobscot residents: You are 100% streaming!

When you move into your room you should find a wall plate with a CATV jack.
Screw the coax cable directly into the "Cable In" port on the back of your TV.
Ensure that all cables are connected securely.
In the Menu or Set-Up options on the TV, verify that the TV is set to CABLE or CATV.
Run a channel scan. (This can also be done if you are missing channels.) NOTE: This setting is normally located in the menu or set-up option. However, it varies depending on the TV make and model.
For more information about cable at UMaine, please visit the Campus Cable page.
---
QAM Tuners
Only televisions with a QAM digital tuner will be able to receive the broadcast channels. Most televisions produced after 2009 are digitally compliant and have the necessary tuner, however, some less expensive television models may not.
Help
Apogee's U.S.-based support team is available 24/7 via chat, phone, text, and email to answer any and all of your cable TV questions.
Call (833) 493-4889
Chat with Support
Text "MyVideo" to 84700