Dr. Ngo Vinh Long
Email: ngo-vinh.long@umit.maine.edu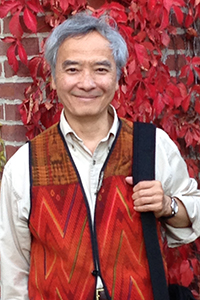 Call: 207-581-1929
265B Stevens Hall
I received a Ph. D. in East Asian History and Far Eastern Languages from Harvard University in 1978. I first joined the Department of History at Maine in 1985 and have offered a variety of courses on East Asia, South Asia, Southeast Asia and the relations of the countries in these regions with each other and with the United States. Currently, I teach the introductory survey of East Asian Civilization (HTY 107), South and Southeast Asia (HTY 108), History of Modern China (HTY 436), History of Modern Japan (HTY 437), The United States and Vietnam: A History (HTY 442), and The Cold War and Its Aftermath in East Asia (HTY 599.) This last course is a graduate seminar designed to give graduate students a detailed examination of the Cold War in East Asia from the perspectives of the major power as well as those of the impacted nations in the region. The aim is to give graduate students the necessary background and overall analyses on the relationships and interactions between national and international issues during this crucial period so as to enable these students to develop courses of their own once they begin their teaching careers. In addition to these regular courses I also offer Research and Reading Courses (HTY 550) to both undergraduates as well as graduate students every year.
My research has focused on the problems of the peasantry and of rural development in East and Southeast Asia. In recently years I have paid increasing attention on the question of development and the roles of governments in general. During the 2000-2001 academic year I served as a Fulbright scholar in Vietnam, teaching courses on the history of economic development in East and Southeast Asia since the end of World War II and the history of foreign relations in East and Southeast Asia since the end of the Cold War.
---
Book Publications:
Before the Revolution: The Vietnamese Peasants under the French (Massachusetts Institute of Technology (MIT) Press, 1973; Columbia University Press, October 1991).
Vietnamese Women in Society and Revolution: The French Colonial Period (Cambridge: Vietnam Resource Center, 1974).
Co-Editor (with Douglas Allen), Coming to Terms: Indochina, the United States and the War (Westview Press, 1991).
Co-author (With Dang Tho Xuong and Vu Quang Viet), NONG NGHIEP, NONG THON TRONG GIAI DOAN C0NG NGHIEP HOA, HIEN DAI HOA [Agriculture and Rural Society in the Period of Industrialization and Modernization] (Hanoi: Nha Xuat Ban Chinh Tri Quoc Gia [National Politics Publishing House], 1997.)
Some Recent Articles:
"Military Victory and the Difficult Tasks of Reconciliation in Vietnam: A Cautionary Tale," PEACE & CHANGE, Vol. 38, No. 4, October 2013, Peace History Society and Wiley Periodicals, Inc.
"Unhappy Neighbors: Why Beijing Muscle-Flexing in the South China Sea Alarms Asia," The Cairo Review of Global Affairs (School of Global Affairs and Public Policy, the American University in Cairo), Winter 2013, pp. 70-85. A link to the electronic version of this article is as follows:
http://www.aucegypt.edu/gapp/cairoreview/Pages/articleDetails.aspx?aid=298
"Legacies Foretold: Excavating the Roots of Postwar Vietnam" in Scott Laderman and Edwin A. Martini (editors), Four Decades On: Vietnam, the United States, and the Legacies of the Second Indochina War (Duke University Press Durham and London 2013), pp. 16-43.
From Polarization to Integration in Vietnam in Journal of Contemporary Asia, Vol. 39, No. 2 (May 2009).
The Socialization of South Vietnam in Odd Arne Westad and Sophie Quinn-Judge(eds.), THE THIRD INDOCHINA WAR. London and New York: Routledge, 2006.
"The Good and the Bad of Vietnam's Development" in Challenge: The Magazine of Economic Affairs (M.E. Sharpe, Inc.), January-February 1997, pp. 87-109.
"Ethnic Pluralism, Multiculturalism and Development in Vietnam" in New Political Science, Winter/Spring, 1997, Number 38/39, pp. 139-152. Republished in George Katsiaficas and Teodros Kiros (eds.), The Promise of Multiculturalism, Routledge (1998), pp. 132-146.
"The East Asian Crisis: Some Historical Roots," in New Political Science, Volume 21, Number 3, 1999, pp. 395-404.
"China: Ten Years after the Tiananmen Crackdown," in New Political Science, Number 4, 1999, pp. 463-473.
Work in Progress:
Two book projects, an oral history of the Vietnamese revolution and a study of the history of rural development in Vietnam as compared with experiences in other Asian countries, have been under way since 1988. A third book project, tentatively entitled "Vietnam: The Quest for Independence and Freedom, 1945-2010" is under contract with Columbia University Press.