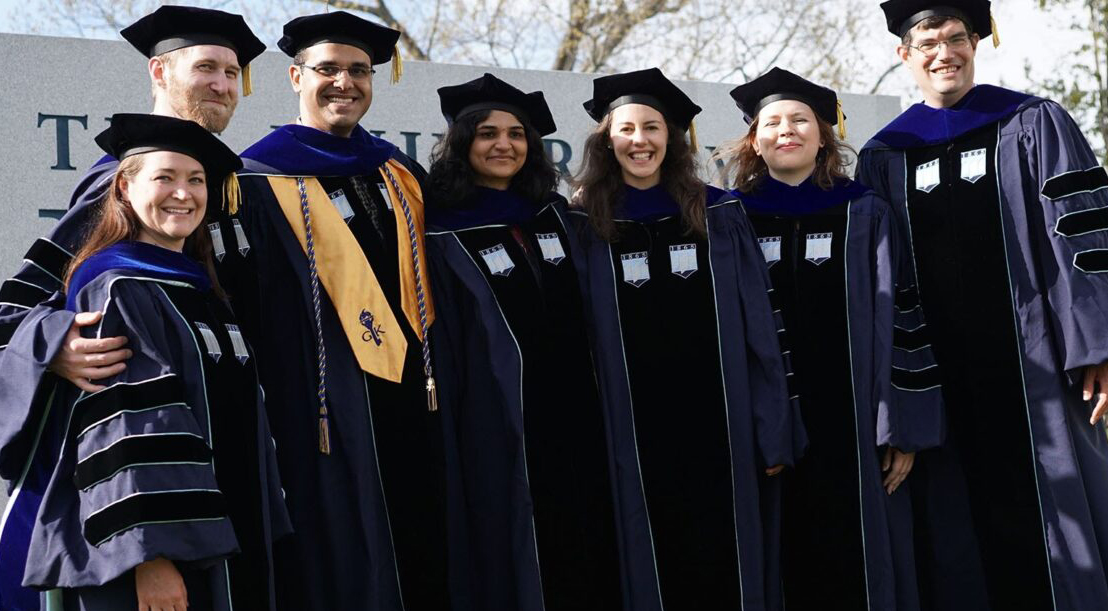 The Graduate School understands the importance of this monumental occasion and is determined to safely celebrate your accomplishments. Below are key dates and information about how we plan to achieve this.  
Graduate Commencement in-person procession across the Collins Center for the Arts stage was recorded on Friday, April 23, 2021 and  will be released on a future date
Virtual Hooding Ceremonies is the week of April 26, 2021
Please continue to monitor this page and look for further communications from our office.
Contact the Graduate School at umhooding@maine.edu or 207.581.3291 with any questions or to request reasonable accommodations.
Steps for Graduating Students
Graduate students that completed degrees in 2020 and those who will be completing degrees in May 2021 needed to have:
Applied to graduate in MaineStreet by April 1 and
Registered for the virtual ceremonies by completing a form by April 7
Only those who registered for the virtual ceremonies will be sent additional information. 
---
The Graduate School, in collaboration with the College Deans, is coordinating Zoom hooding sessions by College the week of April 26. Here's what that looks like:
Graduates who completed the above two steps will receive a webinar link for their hooding session.
Prior to your session:

Practice placing the hood over your head and on your shoulders with the designated 1-2 individuals of your choice.
Confirm your technology (laptop with a webcam or another device) works with Zoom.

When you join the webinar, you may be asked to sign in with your UMS account. If asked, choose "Sign in with Google" and use your UMS credentials.
For ease of the process for our staff members, please do not share your Zoom link with family and friends.
After brief remarks, the Graduate School staff will bring forward students alphabetically by first name to the main screen as your name, degree, and advisor is announced.
When you hear your name called:
The hooding sessions will be made available via live stream for your friends, family, faculty, and staff who wish to watch.
Further instructions and necessary links will be sent to graduates who indicated their intent to participate in any or all Commencement events.
College Hooding Sessions
Don't know which college you are a part of? Click here!
| | |
| --- | --- |
| Maine Business School | April 26 from 11 a.m. – 1 p.m. |
| College of Liberal Arts & Sciences | April 28 from 9 a.m. – 11 a.m. |
| College of Engineering | April 28 from 2 p.m. – 4 p.m. |
| College of Natural Sciences, Forestry, & Agriculture | April 29 from 12 p.m. – 2 p.m. |
| College of Education & Human Development | April 30 from 4:30 p.m. – 6:30 p.m. |
– YouTube Live Streams of Virtual Hooding Ceremonies –
---
Master's, Certificate of Advanced Studies (CAS), & Educational Specialist (EdS) Students
Go to the University Bookstore website to order your regalia and have it mailed to you. The cost of the cap, gown, and hood is $79 plus tax and shipping and is available for purchase online.
Doctoral Students
Complete the doctoral regalia order form BEFORE MARCH 23 to order the retainable regalia. The cost is $99 plus tax and shipping and includes a retainable robe, hood, and mortarboard cap.
Optional: The traditional tam can be purchased instead of the mortarboard cap for an additional $135 plus tax and shipping.
Contact Betty Campbell at 207.581.1735 or bettyc@maine.edu in the University Bookstore with questions.