A Guide to Wellness in the Maine Outdoors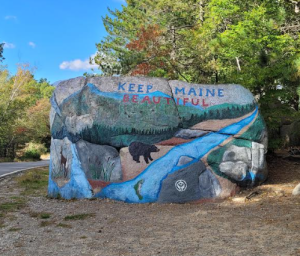 Unfortunately, Summer has come to an end for this year. Now the cold air is rolling in and the leaves have changed colors as we transition into Fall. Luckily, November is a fantastic month to get outdoors in Maine! Maine is most often known as the "vacationland" state and for a good reason. It has a unique environment of forested land. According to Maine Tree, forests cover about 90 percent of the state. Not only does it have an abundance of forests, but also rocky coastal areas that are just as beautiful and worth visiting. The semester is also now in full swing. We are preparing for midterms, starting research projects, or maybe some of us are getting ready for graduation. It is stressful for everyone on all accounts, but it is important to remember to take a break, destress, and take care of yourself when feeling overwhelmed.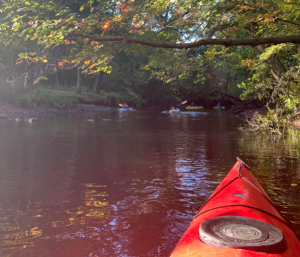 This past month was also Emotional Wellness Month! Emotional Wellness Month is a time out of the year to remind us that we need to take breaks and check in with ourselves mentally and physically. This national month theme was established in 2004, being recognized as a month to focus on emotional wellness inside and outside the workplace. What is emotional wellness though? This term refers to how we deal with our thoughts and feelings through different experiences that we might face throughout our day or a period of time (Very Well Mind). It is normal to get stressed and overwhelmed, but we need to take time out of our busy schedules to look after ourselves. It can allow us to balance our work and wellness relationship, but also find ways to relieve stress.
The University of Maine campus has a multitude of organizations and centers that offer help with emotional wellness. For instance there is the Student Wellness Resource Center in the Union next to the Package and Postal Center. This center assists students through activities and strategies that aid in personal and emotional wellness. One of their programs, the Mind Spa, can help students create their own strategies to manage stress, anxiety, as well as a work-life balance. To receive more information you can stop by the center from 9 am to 4:30 pm Monday through Friday.
The University's Counseling Center also offers help for reasons such as, academic difficulties, financial stressors, roommate troubles, as well as stress and anxiety. Although it may seem overwhelming , the counseling center welcomes everybody with open arms no matter what you are going through. The counselors are trained professionals who listen, give advice, and help you through your feelings and thoughts to better your emotional wellness. To contact the Counseling center for questions or to make an appointment call (207.581.1392). It is important to focus on your health first and foremost. The University recognizes this by providing services that are available for everyone.  
In a recent poll done by GCI about outdoor wellness, all participants considered getting outdoors to be a reliever of stress. Within this poll,  26.7 percent of respondents said they enjoy the rocky Maine coasts, while 73.3 percent of respondents thoroughly enjoy being in the deep Maine forests. Both of these locations within this state are fantastic options for anyone looking to get outdoors. There are even activities in both locations, individually and together, that are not only fun and enjoyable, but are stress relievers and can help your overall wellness! As said in an article by the American Heart Association, "Spending time in nature can help relieve stress and anxiety, improve your mood, and boost feelings of happiness and wellbeing". Getting outside whether it is in a coastal or forested area, or maybe even to just a nearby park, benefits overall mental health and wellness. 
Camping, skiing, hammocking, hiking, and cloud watching were some of the most common activities that people enjoyed the most outdoors. They were also the activities that respondents said they would do in order to relieve stress. These pastimes can all be done in a multitude of places around Maine. For instance camping; there are many campgrounds in this state, some Maine state parks and public lands allow for camping. More information on camping in state parks can be found through the Maine Department of Agriculture, Conservation and Forestry (Maine DACF). Depending on the time of year some Maine state parks require park passes. Annual park passes can be bought on August 15th every year through the Maine State Park Annual Passes page on the Maine DACF website. They cost about $105, but last through the whole season. You can rent park passes at the Orono Public Library, but only for day use and at certain parks around Maine!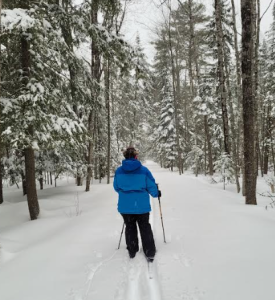 Skiing is also a popular sport in this state. There are at least 18 ski areas within Maine and the University of Maine also has its very own Ski and Snowboarding Club! For more information on this club you can follow them on Instagram and Facebook at the account, umssbc. There is also a page on the University of Maine Student Government website that houses more information about this club, what they do and when they meet.
Maine Bound Adventure Center (or just Maine Bound as many call it) is another place located on campus that houses a variety of outdoor activities and events for all to enjoy. Some of the trips that they put on are for climbing and hiking. They also have winter trips where you can go snowshoeing, ice climbing and cross country skiing. What if you don't have any of the equipment to do certain outdoor activities such as skiing? Well Maine Bound has rentals! That is right, you can rent cross country skis, as well as many other equipment for your outdoor needs such as tents and sleeping bags for camping, kayaks and canoes for your river excursions! If you have any questions, want to go on a trip, or are in need of equipment rentals you can call them at 207.581.1794 or by their email, um.mainebound@maine.edu.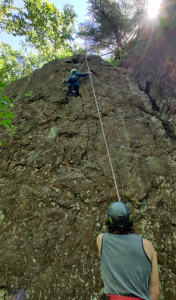 The most popular recreational activity that respondents considered as their favorite thing to do outdoors and relieve stress was hiking. 86.7 percent of people said that hiking was their favorite outdoor activity and 57.1 percent said that they would go hiking to reduce their stress. If you are interested in hiking in Maine, here are some trails that some of the respondents suggested: Jordan's Pond Loop, Precipice, North Brother, Beech Mountain Loop, and Cadillac Summit Trail. While these are some of the trails that have been suggested by the participants of the poll, there are many more trails that are all around Maine, particularly in Baxter State Park and Acadia National Park. If you are unsure what hiking trails are best for you try checking out All Trails or the Maine DACF.
While October has ended, fall is still a wonderful time to get outdoors. It is also great to remember that while Emotional Wellness Month is a great time to focus on your wellbeing, you can still take breaks and focus on yourself each and every day out of the year. The outdoors is a great way to spend your free time, relax, and have fun! So, get out there and enjoy the outdoors! To learn more about programs, activities, and places to improve your emotional wellness take a look at the resources below! For more updates from GCI check out our Instagram and Facebook pages!     
Resources
Student Wellness Resource Center: 
Phone: 207.581.1423 
Email: um.swell@maine.edu
Phone: 207.581.1392 
Phone: 207.581.1794
Email: um.mainebound@maine.edu