Sustainable Decoration and DIY Halloween Ideas
It's the time of year when the spooky elements start coming out and the leaves start falling from the trees. That probably means you're thinking about decorations for your room, your door, your lawn, or your apartment. You're probably even stalking that one special decoration at Walmart or Target in hopes that it goes on sale.
But what do these decorations do for our planet? According to a Stanford study, Americans throw out 25% more trash between November and January due to the holiday season (Frequently Asked Questions). That's an extra 1 million tons of trash a week during this time period. These decorations can also consume a lot of energy that you, in turn, pay for. That all adds up to a lot of extra money coming out of your pocket on decorations that you only use for about a month.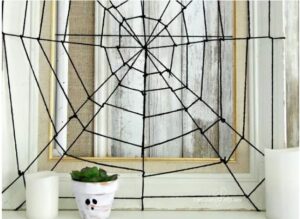 Here are some tips on how to reduce your dependence on disposable decorations and save money at the same time. Instead of buying fake pine cones, fake pumpkins and gourds, or even fake leaves, go outside and find some real ones. There are even local pumpkin patches where you can spend a fall morning picking out the perfect pumpkin! Don't forget that you can use every part of the pumpkin! Use the pumpkin flesh to make pumpkin bread, pumpkin cake, pumpkin curry, pumpkin cookies, pumpkin pie, and the list goes on and on. You can roast the seeds with your favorite seasonings for a crunchy snack.  If you don't want any of these pumpkin items, you can dr
op your finished pumpkin at several of the composting centers in Maine (Litterless). 
You could also DIY some decorations out of household items you already have! First up, egg carton bats! If you have leftover egg cartons, save them and cut them into lines of three. This gives them a batty shape – paint them any color you want and add glue and a ribbon to hang them up! Make paper towel rolls and tea lights into fake candles that you can hang to give a mysterious and magical vibe to your room. Create spiderwebs out of old yarn or old trash bags. With yarn, tie each piece together to create your spiderweb, and with old trash bags, cut them out like a snowflake, like in this video. You can grab that empty salsa container and fill it with strange objects or pictures of heads to create a mad scientist's laboratory. Those old glass jars can also hold your 'magical potions' if you mix water, oil, food coloring, and Alka-Seltzer tablets to make bubbly concoctions. But make sure to add labels like 'Oil of Boil' or 'Newt Saliva' to have the right ingredients for a Life Potion! (Disney Wiki). All of these can be found on the links below, but you can also use your imagination and create whatever kind of Halloween decoration that you want. 
There are so many different ways to have a sustainable Halloween, these are just a few tips to help you decorate in a more sustainable way. Make sure to think about the impact of your dollar when purchasing the cheap spider webs and throw away styrofoam headstones. If you do invest in new Halloween decorations, make sure they are quality decorations that can be used for the next few years, saving money, time, and the environment. These decorations can have drastic consequences on the environment. And if you decide you no longer want your decorations, instead of throwing them out, consider donating them to the Black Bear Exchange (BBE), our on-campus food pantry and clothing swap, or any other thrift store.
References
"10 Sustainable Halloween Decorations for Your Green Home." Accessed September 24, 2021. https://inhabitat.com/10-sustainable-halloween-decorations-for-your-green-home/.

DIY Trash Bag Spiderwebs

. Accessed September 24, 2021. https://www.youtube.com/watch?v=M9_4_MZPU9c.

"Frequently Asked Questions: Holiday Waste Prevention | Land, Buildings & Real Estate." Accessed September 24, 2021. https://lbre.stanford.edu/pssistanford-recycling/frequently-asked-questions/frequently-asked-questions-holiday-waste-prevention.

KeiSei Magazine. "How to Decorate Sustainably This Halloween," October 19, 2020. https://keiseimagazine.com/how-to-decorate-sustainably-this-halloween/.

Disney Wiki. "Life Potion." Accessed September 24, 2021. https://disney.fandom.com/wiki/Life_Potion.

American Lifestyle Magazine. "Spooky and Sustainable Halloween Decorations," September 30, 2020. https://americanlifestylemag.com/decor/decorate/spooky-sustainable-halloween-decorations/.

Litterless. "Where to Compost in Maine." Accessed September 24, 2021. https://www.litterless.com/where-to-compost/maine.