Where does food waste come from?
Surplus food comes from a multitude of places. 30%-40% of food produced doesn't even leave the farm. It is either plowed under by farm machinery, goes unharvested, or is harvested but farmers have no one to sell to. When the harvest is good large-scale farmers who contract with supermarkets and restaurants find themselves growing more food than they are contracted to produce. This food is considered a surplus and is not considered sell-able to supermarkets, which leaves farmers with a large quantity of food and no one to sell to.
Food surplus can also happen during production when food gets damaged or doesn't pass beauty specs and is removed from the production line. Short-term food surplus can also be found in supermarkets or restaurants when food doesn't get sold or gets too close to its sell-by date. 

Is household food waste surplus?  
No. Food that goes uneaten in a household is not considered a surplus because the food has moved outside of the commercial food chain and achieved its objective of being purchased. Food that has left the commercial chain but goes uneaten inevitably becomes food waste.
---

Waste generation, management and disposal is an extremely complex issue, in part because it is intricately linked to a wide variety of economic, social and environmental issues affecting our state including public service provision, municipal and state budgets, private industry, ecological and human health, land use, and resident satisfaction with service, facility siting and operations. - Materials Management Research Group: Travis Blackmer, George Criner, David Hart, Cynthia Isenhour, John Peckenham, Chet Rock, Avinash Rude, and Linda Silka
---
Current Food Waste Challenges for Maine:
Almost 1/3 of Maine waste is food waste and scraps.
 
Maine's K-12 schools generate 7MM lbs. of food waste annually.
 
Current Maine recycling rate is down at 36.79%  vs. 50% target for 2021.
 
Food Insecurity rate is 13.6% above national average of 11.7%.
 
Maine town-based waste collection systems differ widely throughout the state.
 
Food loss due to lack of Maine food infrastructure impacts all producers.
Covid19 Maine food donations are down with more landfill dumping. 
---
Wasting Food Impacts Food Security…
Social Costs of Food Waste
In the United States, more than 41 million people are considered food insecure. Meaning, that they live in households with limited or uncertain access to adequate food. Indeed, estimates suggest that low income adults and children in the U.S. lacked the financial resources to afford the equivalent of more than 7.6 billion meals in 2015 (the most recent year for which data is available).
Maine has the highest rate of food insecurity in New England with 1 in 5 Maine children being food insecure and 1 in 8 adults.
Social Benefits of Reducing Food Waste:
Food waste savings improves citizens quality of life

Food waste diversion increases food donation

Consolidated collection builds community engagement

Food waste education improves community health
…Maine's Wildlife and Environment…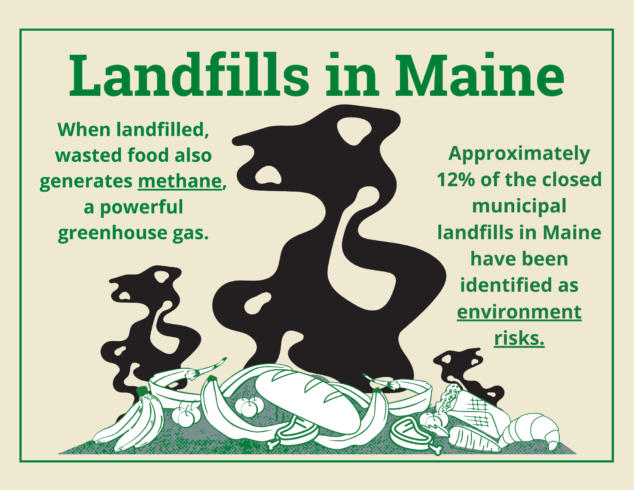 Environmental Costs of Food Waste:
Indeed, up to 40% of the U.S. food supply goes uneaten every year. Along with that wasted food goes all the water, energy, pesticides, fertilizer, labor and other inputs that go into growing, shipping, processing, marketing and preparing it. When landfilled, wasted food also generates methane, a powerful greenhouse gas. Despite modernization and new standards, the risks associated with methane are still present. 
According to research, approximately 12% of the closed municipal landfills in Maine have been identified as environment risks as defined by the Maine DEP. Even modern engineered landfills must be monitored over the long-term to safeguard human health and the environment.

Environmental Benefits of Reducing Food Waste:
Protects air quality from methane gas produced by food waste

Protects water system from food waste leachate

Mitigates climate change damage by GHG reduction
…and the Savings of Mainers
Economic Costs of Food Waste:
Food waste has a significant economic impact. Approximately $218 billion USD is spent annually on growing and producing food that is never eaten (Isenhour, 2018). Furthermore, according to ReFed, food surplus cost the country $408 billion in 2019 alone. Of the total amount, 70% (or $285 billion) is food waste.
Along with the direct cost of food loss, there are related costs for water, labor, energy, and soil wasted on uneaten food.
For Maine communities, additional food waste has financial costs in town waste management and PAYT, and can increase tipping fees. 
Economic Benefits of Reducing Food Waste:
Estimates show 20% food waste diversion saves about $10K annually in town waste management costs

Saves households by buying fewer PAYT bags

Saves towns from future tipping fee cost increases

Generates new revenues from food waste
---
Be a Part of the Solution with Food Rescue Maine