Plant, Soil, and Environmental Sciences Graduate Faculty
Dr. Stephanie Burnett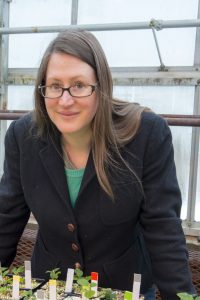 Associate Professor of Horticulture
Degree: Ph.D. 2004, University of Georgia
Phone: 207.581.2937
Email: sburnett@maine.edu
Location: 104 Deering Hall
Professional Interests: Floriculture, Greenhouse Management
Teaching: PSE 110 Introduction to Horticulture and Green Design, PSE 215 Vegetable and Fruit Production (Course Coordinator), PSE 219 Herbaceous Landscape Plants, PSE 415 Greenhouse Management
Research: My research focuses on improving the efficiency and sustainability of greenhouse plant production. Since competition for available water resources will increase as the population increases, one research area focuses on improving irrigation efficiency. This may be done by determining the actual plant water needs and automating irrigation based on plant need. In addition, I am interested in developing production protocols for herbaceous perennials in commercial greenhouses and nurseries.
Dr. M. Susan Erich
Professor of Soil Chemistry
Degree: Ph.D. 1984, Cornell University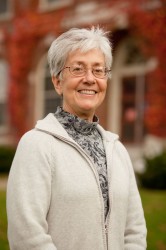 Phone: 207.581.2997
Email: erich@maine.edu
Location: 102 Deering Hall
Professional Interests: Plant-soil interactions, soil organic matter, nutrient availability from alternative fertilizer materials
Teaching: PSE 440 Environmental Soil Chemistry & Plant Nutrition
Research:  My applied research relates to the effects of soil amendments on soil chemical and physical properties.  More basic research investigates the chemistry and formation of soil organic matter, particularly soluble and extractable fractions.  I have investigated the effects of naturally derived organic ligands on the solubility of phosphorus in soils, as well as environmentally and agronomically appropriate soil testing for phosphorus.  I also serve as Director of the Maine Agricultural and Forest Experiment Station Analytical Laboratory and Soil Testing Service.
Dr. Eric Gallandt
Professor of Weed Ecology
Degree: Ph.D. 1994, University of Wisconsin
Phone: 207.581.2933
Email: gallandt@maine.edu
Location: 205 Roger Clapp Greenhouse
Website: Weed Ecology
Professional Interests: Sustainable agriculture, cropping systems, and weed ecology and management
Teaching: PSE 105 Principles of Sustainable Agriculture, PSE 203 Weed Biology and Identification, PSE 403 Weed Ecology
Research: My research program focuses on the dynamics and management of annual weeds in organic farming systems. Current research projects include evaluation and comparison of seed-, seedling-, and mulch-based management strategies in organic vegetables. We also continue to evaluate physical weed control, aiming to improve understanding of the sources of variability in cultivation-based seedling mortality. In a collaborative project with colleagues at the University of New Hampshire and University of Vermont, we are characterizing weed communities across northern New England to better understand likely responses to changing climate. Lastly, a new series of field experiments, motivated by questions from Maine farmers, is studying soil solarization as a weed management practice.
Dr. Jainjun (Jay) Hao
Assistant Professor of Plant Pathology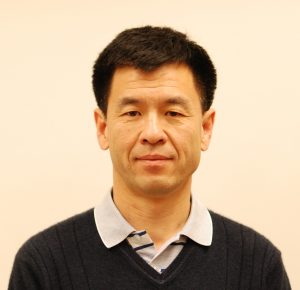 Degree: Ph.D. 2000, University of California-Davis
Phone: 207.581.2564
Email: jianjun.hao1@maine.edu
Location: 174 Hitchner Hall
Professional Interests: Epidemiology and management of potato diseases, soil microbial communities associated with soil and plant health, utilizing beneficial microorganisms to manage plant diseases
Teaching: PSE 457/557, Plant Pathology/Advanced Plant Pathology
Research: Epidemiology and management of potato diseases.Major diseases to be studied include bacterial ring rot (Clavibactermichiganensesubsp. sepedonicus), common scab (Streptomycesspp.), late blight (Phytophthora infestans), pink rot (Phytophthora erythroseptica), and powdery scab (Spongosporasubterraneaf. sp.subterranea). I am interested in studying soil microbial communities that are associated with soil health and plant health, utilizing beneficial microorganisms (or biological control agents) to manage plant diseases. Other approaches include chemical control and fungicide resistance, molecular tools to detect and quantify plant pathogens, varietal resistance, environmental factors that impact disease cycle and its management.
Dr. Mark Hutton
Associate Professor of Vegetable Crops and Extension Vegetable
 Specialist
Degree: Ph.D. 1988, University of New Hampshire
Phone: 207.933.2100
Email: mark.hutton@maine.edu
Location: Highmoor Farm
Professional Interests: Sustainable vegetable production practices, plant breeding and insect biocontrol
Teaching:
Research: To evaluate environmental adaptability and horticultural adaptability of commercially important vegetable species grown in Maine utilizing organic and conventional production practices, to evaluate other crop management strategies such as intercropping, living mulches, and sequential cropping for improved yields, quality, and reduced agrochemical inputs and to evaluate and develop improved management strategies for hoop house crop production.
Dr. Ellen Mallory
Associate Professor of Sustainable Agriculture and Extension 
Sustainable Agriculture Specialist
Degree: Ph.D. 2007, University of Maine
Phone: 207.581.2942
Email: ellen.mallory@maine.edu
Location: 495 College Avenue, Orono
Website: Local wheat site; Grains-oilseeds site; SARE grant projects 
Professional Interests: Biologically based soil fertility; soil health; cereal grains; organic production
Teaching: Cooperative Extension
Research:  My research focuses on how to manage biologically based fertility systems to supply crop nutrient needs and improve soil health and productivity.  Prior work evaluated organic fertility management systems for bread wheat yield and quality, compost as a fertility source for lowbush blueberry, and soil amendment impacts on soil carbon and nitrogen dynamics, soil quality, and potato yield stability.  My current research (and extension) program aims to help farmers and end-users expand the local food, beverage, and feed grain sector in New England.  Projects include green manure management, cereal and grain legume variety evaluations, on-farm disease surveys, and crop modeling.
Dr. Renae Moran
Professor of Pomology
Degree: Ph.D. 1996, University of Arkansas
Phone: 207.933.2100
Email: rmoran@maine.edu
Location: Highmoor Farm 
Website:  Extension tree fruit site
Professional Interests: Tree fruit production and physiology
Research: 
Environmental and genotypic variation in cold hardiness of apple trees.
New plum varieties for a local market.
Optimizing storage of Honeycrisp and other apple varieties to improve fruit quality and prevent storage losses.
Dr. Tsutomu (Stom) Oho
Professor of Soil Chemistry
Degree: Ph.D. 1983, Cornell University
Phone: 207.581.2975
Email: ohno@maine.edu
Location: 108B Deering Hall
Website: Full Publication Listing; 
Book List; ResearchGate site
Professional Interests: Organic matter chemistry, phosphorus soil chemistry, ion cyclotron mass spectrometry
Teaching: PSE 469 Soil Microbiology, PSE 546 Chemistry of Soils, PSE 580/581 Scientific Communication I/II
Research: My current research efforts focus on (1) chemically characterizing soil organic matter using ultrahigh resolution mass spectrometry and (2) determining the molecular-level chemical mechanisms governing dissolved organic matter and phosphorus reactions with soil mineral surfaces. Interest in carbon cycling in soils has recently increased greatly due to the effects of both carbon dioxide and methane on global climate. Carbon sequestration in soils has been proposed as a strategy to moderate increasing levels of both gasses in the atmosphere. Understanding the chemistry of soil organic matter is important for understanding the factors that stabilize carbon in soils. In addition, this knowledge is key to understanding biogeochemical mechanisms of phosphorus cycling through both agricultural and forested ecosystems. These studies will contribute to a more accurate understanding of how management systems can be used to enhance the bio-availability of phosphorus and reduce adverse environmental impacts due to excessive phosphorus loading to soils.
Dr. Bryan Peterson
Associate Professor of Environmental Horticulture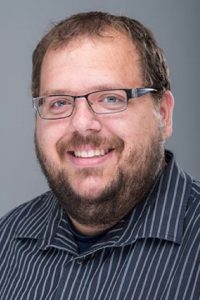 Degree: Ph.D. 2013, Iowa State University
Phone: 207.581.2918
Email: bryan.j.peterson@maine.edu
Location: 418 Deering Hall
Professional Interests: Ornamental horticulture; woody plant propagation, production, and evaluation; nursery management
Teaching: PSE 325 Turfgrass and Groundcover Management, PSE 410 Plant Propagation, PSE 430 Nursery Management
Research: The overall objective of my research is to identify, characterize, and further develop promising ornamental plants for New England landscapes, with a focus on the protection and responsible use of indigenous flora. I seek to characterize genetic diversity within high-priority taxa; to evaluate ecological and genetic security of natural genetic resources in relation to consequences of biological invasions and/or climate change; and to work toward the responsible selection, development, and release of new ornamental horticulture crops for New England's nursery and landscape industry.
Dr. Gregory Porter
Professor of Crop Ecology and Management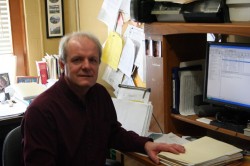 Degree: Ph.D. 1985, Pennsylvania State University
Phone: 207.581.2943
Email: porter@maine.edu
Location: 416 Deering Hall
Professional Interests: Potato cropping systems, crop physiology, soil fertility management, weed-crop interactions
Teaching: PSE 479 Crop Ecology and Physiology, PSE 509 Experimental Design
Research: I currently lead the University of Maine's potato breeding and variety development program.  We are breeding and selecting new potato varieties with improved pest resistance and marketability for Eastern potato growers.  Our program has a major emphasis on selecting improved russet and fry processing varieties; however, we are also developing improved chipping, specialty, and fresh market varieties.  Breeding for improved late blight, scab, and disease resistance are top priorities.
My crop management program focuses on developing cropping systems which provide high yields and excellent crop quality, while having positive impacts on soil quality.  My research in this area includes long-term studies on the impacts of organic soil amendments (e.g. composts and manures) and crop rotations (e.g. type of rotations crops and length of rotations) on soils and crop productivity.  These studies have demonstrated the effectiveness of manures, composts, and longer rotation lengths at maintaining and/or improving soil physical properties; however, each management choice involves trade-offs and their benefits vary depending on the climatic conditions.  My research on potassium, nitrogen, phosphorus, and micro-nutrient fertility programs has provided information for growers to more efficiently management their potato crops, while maximizing yields and quality.  For example, new information from my program shows that potassium must be managed carefully to optimize the internal quality of potato tubers for fresh market and processing uses.
Dr. Rachel E. Schattman
Assistant Professor of Sustainable Agriculture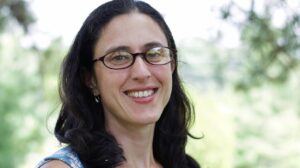 Degree: Ph.D. 2016, University of Vermont
Phone: 207-581-2913
Email: rachel.schattman@maine.edu
Location: 115 Deering Hall
Lab website: http://agroecolab.com/
Professional Interests: agroecology, climate change, vegetable and small fruit production, water use efficiency, decision making, behavior, risk assessment, mixed methods research.
Teaching: PSE 101 Cropping Systems, PSE 312 Sustainable Food Systems
Research: The overarching goal of my work is to engage in research that leads to agricultural resilience in a changing climate while simultaneously protecting natural resources. In pursuit of this goal, I work with specialty crop producers and agricultural advisors to identify and address production challenges, specifically through the lens of climate change adaptation. This approach is grounded in complimentary traditions of agroecology and participatory action research (PAR).