Anne Lichtenwalner
Associate Professor Emerita of Animal and Veterinary Sciences, Extension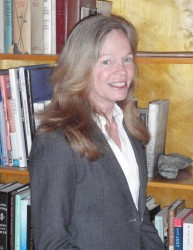 Veterinarian and Director University of Maine Animal Health Laboratory
Degree: Ph. D. 1995, University of Idaho; DVM 1989, Oregon State University
Phone: 207.581.2789
Email: anne.lichtenwalner@maine.edu
Location: 136 Hitchner Hall
Professional Interests: Infectious diseases of livestock, poultry and wildlife
Research: Anne Lichtenwalner DVM PhD is an Associate Professor of Cooperative Extension and the School of Food and Agriculture, and cooperating faculty in the Honors College as well as the School of Biology and Ecology at the University of Maine at Orono. Since 2008, Dr. Lichtenwalner has been the director and diagnostician for the University of Maine Animal Health Lab (UMAHL), a member lab of the Northeast Wildlife Disease Cooperative. She is involved in research about, and service to, Maine animal industries. She conducts translational research in the fields of infectious diseases and parasitology, involving students in these efforts. Due to the diverse nature of agriculture in Maine, and due to the close proximity of farms and wild lands, she studies both domestic and wildlife species. Current and past funded research includes studies of common ovine infectious and parasitic diseases, moose lung parasites, shellfish pathogens, lobster immune modulation, algal mastitis, zoonotic pathogen prevalence in wild turkeys and chlamydia immunopathology in mammalian hosts. She is a member of the One Health and the Environment initiative within the College of Natural Sciences, Forestry and Agriculture.
Recent Publications:
Allison, A.B.; Keel, M.K.; Philips, J.E.; Cartoceti, A.N.; Munk, B.A.; Nemeth, N.M.; Welsh, T.I.; Thomas, J.M.; Crum, J.M.; Lichtenwalner, A.B.; Fadly, A.M.; Zavala, G.; Holmes, E.C.; Brown, J.D. 2014. Avian oncogenesis induced by lymphoproliferative disease virus: A neglected or emerging retroviral pathogen?  Virology 450:2-12.
Adhikari, N.; Bonaiuto, H.E.; Lichtenwalner, A.B.  2013. Dairy bedding type affects survival of Prototheca in vitro. J. Dairy Sci. 96:7739-7742.
Lubelczyk, C.; Mutebi, J.P.; Robinson, S.; Elias, S.P.; Smith, L.B.; Juris, S.A.; Foss, K.; Lichtenwalner, A.; Shively, K.J.; Hoenig, D.E.; Webber, L.; Sears, S.; Smith, R.P. 2013.  An epizootic of eastern equine encephalitis virus, Maine, USA in 2009: outbreak description and entomological studies. Am. J. Trop. Med. Hyg. 88:95-102.
Fire, S.E.; Pruden, J.; Couture, D.; Wang, Z.H.; Bottein, M.Y.D.; Haynes, B.L.; Knott, T.; Bouchard, D.; Lichtenwalner, A.; Wippelhauser, G.  2012. Saxitoxin exposure in an endangered fish: association of a shortnose sturgeon mortality event with a harmful algal bloom. Mar. Ecol. Prog. Ser. 460:145-153.
Basti, D.; Bouchard, D.; Lichtenwalner, A. 2011. Safety of florfenicol in the adult lobster (Homarus americanus).  J. Zoo Wildl. Med. 42:131-133.