Food and Nutrition Sciences Graduate Faculty
Dr. Jason Bolton
Extension Professor, Food Safety Specialist, Program Administrator of Food, Nutrition, and Innovation. University of Maine Cooperative Extension Area Coordinator of the Innovation Program, Maine Business School.
Degree: Ph.D. 2021, University of Maine
Phone: 207.581.1366
Email:  Jason.Bolton@maine.edu
Location: 348 Hitchner Hall

Cooperative Extension, Outreach:  Dr. Bolton works with food/beverage companies in Maine/U.S./Internationally on facility design, HACCP implementation, thermal process validation, and product development, regulation interpretation. Dr. Bolton provides process authority services in the areas of seafood, and meat and poultry.
Administration:  Dr. Bolton is the Program Administrator of the Food, Nutrition, and Innovation team for the University of Maine Cooperative Extension and the area coordinator of the Innovation Program, the Maine Business School.
Teaching:  Dr. Bolton teaches courses on systems thinking, idea creation, problem-solving, communication, and commercialization within the innovation Program. He also teaches courses on commercial brewing and food safety systems for the School of Food and Agriculture. Dr. Bolton offers industry courses on Meat and Poultry HACCP, Seafood HACCP, Preventive Control for Human Foods (PCHF), and Sanitation. Dr. Bolton holds Train-the-Trainer certificates as Lead Instructor for PCHF, Better Process Control School, Meat & Poultry HACCP, and Seafood HACCP
Dr. Beth Calder
Associate Professor of Food Science &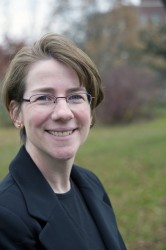 Cooperative Extension Food Science Specialist
Degree: Ph.D. 2003, University of Maine
Phone: 207.581.2791
Email:  beth.calder@maine.edu
Location: 349 Hitchner Hall

Professional Interests:  I assist the food industry with research, food testing and educational programs in areas of food safety and technology.  As the outreach liaison for the SFA and Cooperative Extension and Director of the Process and Product Review Testing Services, I work closely with regulatory agencies (Maine Department of Agriculture, Conservation & Forestry, FDA) and agricultural organizations (MOFGA, Maine Cheese Guild) to further assist farmers and Maine food business growth. I provide assistance to start-up food businesses in understanding licensing, regulations and food safety considerations (Recipe to Market workshops), and also teach sanitation and HACCP workshops.
Research:
Applied research and food testing to support Maine's food industry
Focus on food safety, food quality and Maine value-added products
Fermented foods
Dr. Mary Ellen Camire
Professor of Food Science and Human Nutrition
Degree: Ph.D. 1989, Texas Woman's Un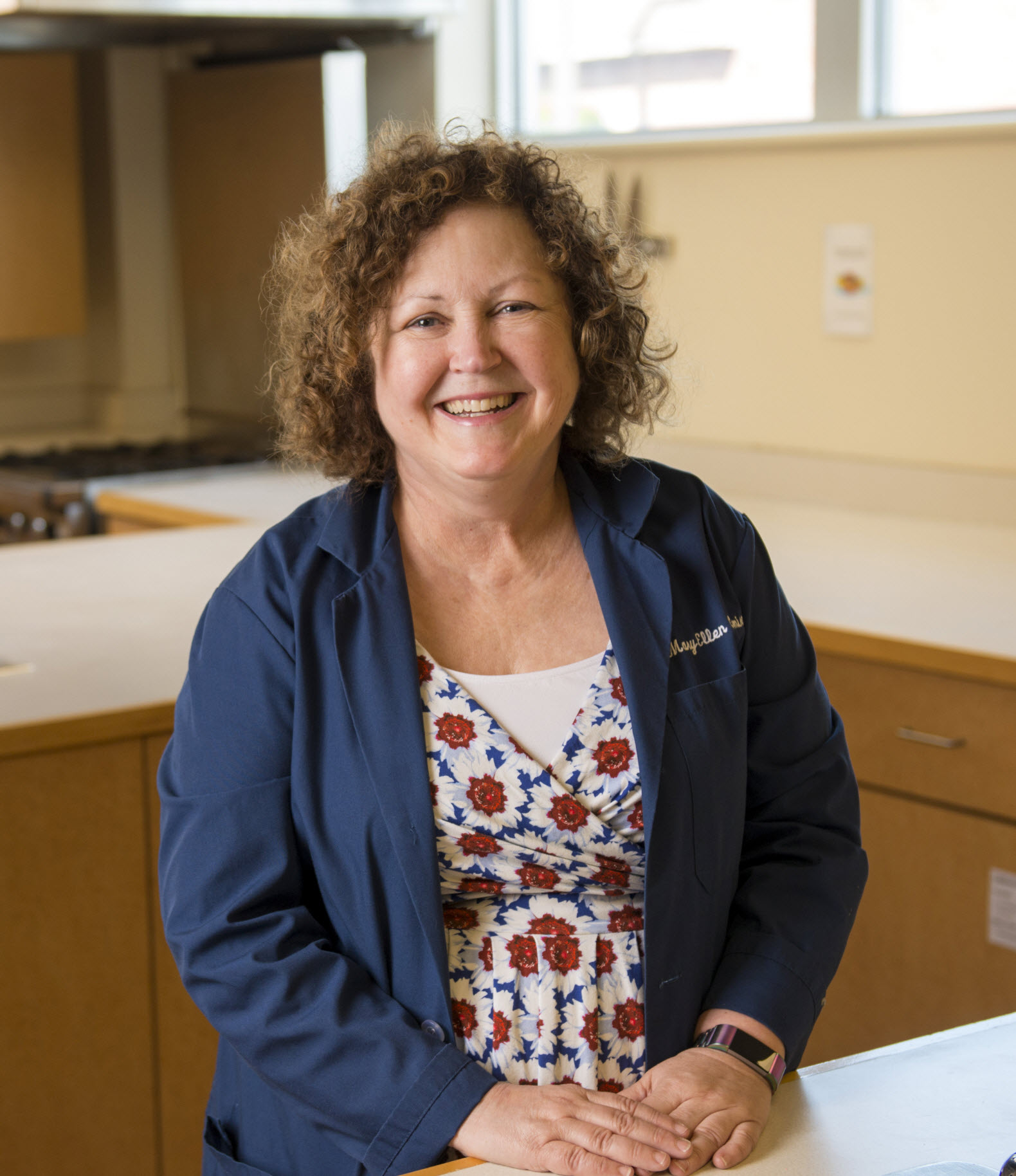 iversity
Phone: 207.581.1627
Email: camire@maine.edu
Location: 105 Hitchner Hall
Website: https://sites.google.com/a/maine.edu/mary-ellen-camire-research-page
Professional Interests: Development, evaluation, and consumer acceptance of healthful foods; nutrition education and behavior; dietary fiber; satiety; sensory evaluation
Teaching: FSN 230 Nutritional and Medical Terminology, FSN 508 Nutrition and Aging,  FSN 524 Responsible Design, Conduct, and Analysis of Research, FSN 530 Functional and Integrative Nutrition, FSN 585/586 Sensory Evaluation  I/II, FSN 603 Nutrients and Food Processing
Research: My research spans the fields of food technology and human nutrition, including how processing changes nutrients and antioxidants in foods; ingredients and processing techniques to make foods more healthful and satisfying; and assessing consumer reactions to new crops and aquaculture products. I am engaged in promoting consumption of healthful food products and development of sustainable food production. As the director of the University of Maine Sensory Evaluation Center, I study consumer attitudes to many Maine commodities such as aquacultured foods including seaweed, potatoes, berries, grains and beverages. I have a strong interest in improving the nutritional status of older adults and disadvantaged individuals. My labgroup is also a participant in the validation of international dietary fiber and antioxidant analytical methods.
Dr. Dorothy Klimis-Zacas
Professor of Clinical Nutrition
Degree: Ph.D. 1982, Pennsylvania State University
Phone: 207.581.3124
Email: dorothea@maine.edu
Location: 232 Hitchner Hall
Website: Klimis-Zacas Laboratory
Professional Interests: Nutritional Physiology and Biochemistry, Nutrition and Vascular Function and Metabolism, Berry bioactives and their role on chronic disease (Cardiovascular, Hypertension, Metabolic Syndrome)
Teaching: FSN 101 Introduction to Food Science and Nutrition (on-line, Summer), FSN 420 Medical Nutrition Therapy II, FSN 510 Trace Mineral Nutrition and Metabolism, FSN 584 Lipids, Diet, and Cardiovascular Disease
Research: Recent research in my laboratory targets the areas below, in an attempt to unravel mechanisms of bioactive compounds in berries in attenuating oxidative stress, endothelial dysfunction and inflammation, the cause of several chronic diseases.
Dr. Robson A. M. Machado
Assistant Extension Professor and Food Science Specialist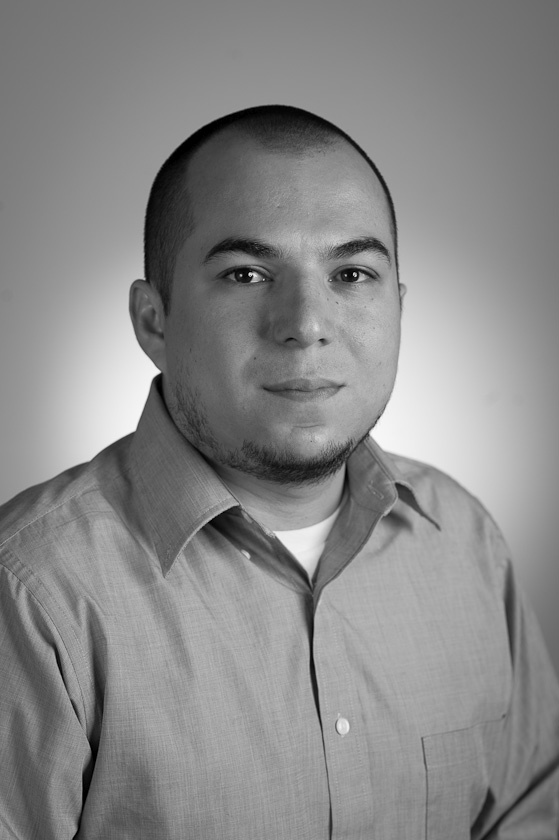 Degree: Ph.D. 2016, The Pennsylvania State University
Phone: 207.581.3144
Email: robson.machado@maine.edu
Location: 346 Hitchner Hall
Professional Interests: Food Microbiology, Food Safety, Extension, Experimental Design
Teaching: FSN 512 – Current Food Safety Systems
Research: I am a Food Science Specialist for the University of Maine Cooperative Extension and School of Food & Agriculture. I assist the farms and the food industry with research, food testing, and educational programs in areas of food science and food safety. I am especially involved with training regarding the Food Safety Modernization Act (FSMA). I am the only lead trainer for the FSMA Produce Safety Rule in the state. I have statewide responsibilities in helping Maine farmers and food entrepreneurs develop safe foods, while assisting processors to address changing regulations when commercializing local food and beverage products.
Dr. Jade McNamara
Assistant Professor of Human Nutrition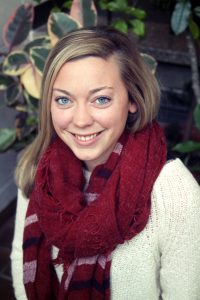 Degree: Ph.D. University of Rhode Island
Phone: 207.581.4895
Email: jade.mcnamara@maine.edu
Location: 107 Hitchner Hall
Professional Interests: Nutrition behavior change using theory-driven methods focusing on both environment and personal factors that influence health behavior decisions.
Teaching: FSN 401 Community Nutrition, FSN 671 Advanced Graduate Seminar
Research: Exploring the relationship between nutrition and food literacy and dietary behaviors, developing curricula and interventions, using theory-driven behavior change methods, to influence healthy behavior change in youth and young adults. Evidence-based instructional practices for critical thinking in health studies and higher education. Instrument/survey development to assess behavior and perceptions of health.
Dr. Yanyan Li
Assistant Professor in Food Science and Human Nutrition (Nutritional Biochemistry)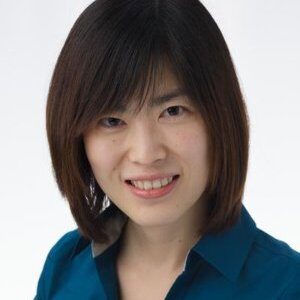 Degree: Ph.D. 2011, Ohio State University
Phone: 207-581-3134
Email: yanyan.li@maine.edu
Location: 113 Hitchner Hall
Professional/Research Interests:
The goal of my research program is to understand the health benefits of bioactive dietary components, in particular anti-cancer and anti-inflammatory properties and the molecular mechanisms. Earlier in my career, my work revealed novel mechanisms of sulforaphane (a bioactive isothiocyanate from broccoli/broccoli sprouts) for cancer chemoprevention, including the inhibition of Hsp90 function and targeting of a cancer stem cell self-renewal pathway. Since 2016 I have been studying the protective role of different broccoli sprout diets in colon inflammation and inflammation-associated tumorigenesis, as well as the interplay between bioactives and gut microbiota, which has become the primary focus of my current research.
Teaching:
FSN 410 Human Nutrition and Metabolism
FSN 571 Technical Presentations
Dr. L. Brian Perkins
Research Assistant Professor of Food Science
Degree: Ph.D. 2002, University of Maine

Phone: 207.581.1367
Email: bperkins@maine.edu
Location: 103 Hitchner Hall
Professional Interests: Analytical method development for bioactive compounds, naturally occurring toxins and pesticide residues in food and environmental matrices
Teaching: FSN 101 Introduction to Food and Nutrition, FSN 121 Brewing With Food Science, FSN 587 Food Analysis
Research: Analytical (chromatographic) method development: (LC/MS/MS, LC/PDA/FLD/RI, UPLC/DAD/FLD/ELSD, GC/MS). Novel bioactive compounds in foods (capsinoids, anthocyanins, carotenoids, flavanoids).Naturally-occurring toxins in foods (mycotoxins, glycoalkaloids). Brewing chemistry, including organics, carbohydrates and compounds derived from hops.
Dr. Jennifer J. Perry
Assistant Professor of Food Microbiology
Degree: Ph.D. 2010,The Ohio State
University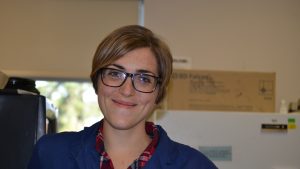 Phone: 207.581.2940 
Email: jennifer.perry@maine.edu
Location: 115 Hitchner Hall
Professional Interests:
Teaching: FSN 238 Applied Food Microbiology and Sanitation, FSN 438/439 Food Microbiology and Laboratory
Research: Advancing understanding of specific causes of microbial food spoilage, sources of contamination within the production chain, treatments and intervention strategies to mitigate product loss. Enhancing the safety of raw foods with minimal quality degradation through application of non-thermal technologies, biocontrol and biopreservation. Furthering delivery of effective probiotic doses in food products by exploration of economical strategies for incorporation of cultures at high counts and elucidating product design parameters with significant effect on survival during storage. Investigation of the effect of probiotic supplementation and dietary modulation on the composition of the bacterial and fungal communities in the GI tract, evaluation of differences in genomic and transcriptomic profiles.
Dr. Denise Skonberg
Professor of Food Science
Degree: Ph.D. 1997, University of Washington
Phone: 207.581.1639
Email: denise.skonberg@maine.edu
Location: 104 Hitchner Hall
Professional Interests: Seafood by-product utilization; processing effects on seafood quality; value added product development; aquaculture products.
Teaching: FSN 396 Field Experience, FSN 425 Contemporary Issues in the Food Industry, FSN 440 Utilization of Aquatic Food Products, FSN 450 Food Biotechnology, FSN 482/483 Food Chemistry and Laboratory, FSN 520 Food Product Development
Research: The overall goal of my research program is to apply food science principles to improve the economic and environmental sustainability of the seafood sector. Fundamentally, it is about reducing waste, optimizing the use of valuable aquatic resources, and developing high quality & healthful seafood products. Current research projects include: 1) isolating functional products and/or bioactive compounds from the invasive green crab and from crustacean processing waste, 2) assessing the potential for minimal processing methods (sous vide & high pressure processing) to produce refrigeration-stable, safe, high quality seafood, and 3) developing value-added food products from farm-raised seaweed.
Dr. Mona Therrien
Director of the Internship Program 
and Lecturer in the School of Food and Agriculture
Degree: DCN 2013, Rutgers University
Phone: 207.581.3130
Email: mona.therrien@maine.edu
Location: 120 Hitchner Hall
Professional Interests: Nutrition in chronic kidney disease and diabetes
Teaching: FSN 101 Introduction to Food and Nutrition, FSN 270 World Food and Nutrition, FSN 506 Nutritional Assessment, FSN 540 Advanced Clinical Topics,  FSN 650 Dietetic Internship Orientation and Application I, FSN 651 Dietetic Internship Orientation and Application II, FSN 652 Dietetic Internship Evaluation, FSN 681 Dietetic Supervised Practice