NAFOH Creative Arts Award
Narrative Art tells a story.
It uses the power of the visual image to ignite imaginations, evoke emotions and capture universal cultural truths and aspirations.
What distinguishes Narrative Art from other genres is its ability to narrate a story across diverse cultures, preserving it for future generations.
– Lucas Museum of Narrative Art
NAFOH Creative Arts Award was created by MFC as part of our efforts to promote the use of the materials in Northeast Archives of Folklore and Oral History (NAFOH). The basis of the project had to be an interview (or sets of interviews) that the awardee selected from NAFOH to interpret. One of the most famous (and lengthy) examples of this type of translation of oral history to art is Maus by cartoonist Art Spiegelman. The NAFOH Creative Arts Award is competitive and given to one undergraduate student at UMaine per application cycle. In the inaugural year, art students were targeted, but it is hoped that theater, music, poetry, and creative writing students will apply in later rounds.
2018:
In 2018, Christiana Becker won the award and created the four part block print piece seen below based on NAFOH accession NA4234.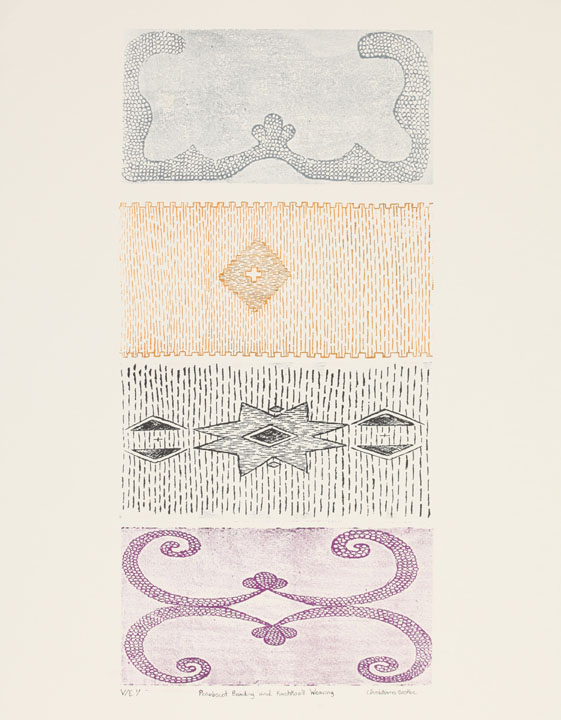 Meet the artist:
"My name is Christiana Becker and I am a senior at the University of Maine. I will be graduating this May (2018) with a B.A in Art Education, a B.F.A in Studio Art with a concentration in printmaking, a minor in Dance, a minor in Art History and a minor in Business Administration. Most of my art focuses on social and political issues as well as my Penobscot culture."
Artist's Statement:
"I hope that people will consider how we appropriate another person's culture and what steps we can take to change that." Please click here for the full artist's statement.
Archival Inspiration:
For her inspiration, Christiana chose archival item NA4234, which included audio and photographs. Below is a short clip (6 minutes 31 seconds) from that interview followed by a quote from and a link to the transcript as well as photos from the series. In the clip, Simin and Jennifer are discussing the challenges facing their art traditions, including cultural appropriation.
Transcript:
"So that cultural appropriation thing that's going on all around the world, corporations just lifting our cultures and undercutting us. It's not too fun to deal with because they have lawyers and money and it's pretty hard to fight that" (Jennifer Neptune, NA4234). Please click here for the full transcript.
Photos:
About the interviewees' cultures:
The Kashkooli tribe in Iran is a semi-nomadic Turkish tribe (some of whom, like Simin's family, are based in modern Iran) who has a long history of weaving with a distinct style that includes vibrant colors, bold geometric shapes, and animal motifs. The Kashkooli were heavily encouraged by the Iranian government to become more urban and less nomadic about 50 years ago. Their weaving tradition was threatened by the change. Urban space was more limited and apartment neighbors had to be considered. Rugs had traditionally been woven outside, were often the size of an entire apartment room, and required substantial force to make a tight weave resulting in loud noises. Chairs and closets replaced the traditional weavings designed for a semi-nomadic lifestyle. The lifestyle was less communal, which impacted the passing on of the art and the time women were able to dedicate to it. In addition, urban Kashkooli didn't keep sheep nor have ready access to wild plants, which impacted the materials (wool and dyes) they used. Finally, an urban lifestyle encouraged urban priorities, including an emphasis on formal schooling over learning traditional arts.
The Penobscot Nation is a federally recognized Native American tribe in Maine. Their territory includes Islands in the main stem of the Penobscot River and their seat of government is located on Indian Island near Old Town, Maine. Traditional arts crafts include the birch bark canoe, brown ash basket weaving and beading, dancing, drumming and singing. The tribe sued the State of Maine and won a Land Settlement Case in 1980 which allowed them to purchase back some of the territory previously lost due to colonization. See https://www.penobscotnation.org/ for more details. (Thanks to Pauleena MacDougall for the blurb).
More information:
For more information on the challenges faced and assistance efforts, check out UNESCO's Traditional Craftmanship website or Intellectual Property Issues in Cultural Heritage website (the lecture from New Zealand is especially interesting), or the European Union's Cultural Heritage website.