Find a Major
Communications Sciences and Disorders — Finance
Communication Sciences and Disorders
College of Natural Sciences, Forestry, and Agriculture

The Communication Sciences and Disorders program at the University of Maine provides a general education in speech, language, and hearing sciences. The study of communication sciences and disorders involves the examination of human communication, its development and disorders. Communication disorders can impact the way people talk and understand language and can range from simple sound distortions to the total loss of intelligible speech and language. Students who study communication sciences acquire a broad general background relevant to careers or graduate study in such fields as speech-language pathology, audiology, education, and health care. Students develop the capacity to synthesize and analyze research arguments, effectively manage ethical issues and provide rationale for evidence-based clinical management. In addition to coursework, undergraduate students complete 25 hours of clinical observation and students are encouraged to take advantage of other volunteer experiences and research opportunities. At the Madelyn E. and Albert D. Conley Speech, Language and Hearing Center on campus, CSD faculty and students serve the needs of the local and university communities.
Visit the Communication Sciences and Disorders website
View a printable fact sheet for Communication Sciences and Disorders (pdf)
---
Computer Engineering
College of Engineering
Computer engineering is a discipline dedicated to the design, construction and programming of computers and computer-based systems. It is focused on the study of digital hardware systems design and software development to control and interact with real-world devices. Computer engineering at UMaine centers around hardware and hardware/software integration, including digital hardware design, microprocessors, microcontrollers and programming in a variety of languages. Students benefit from the program's active learning during their first year when they learn to prototype digital circuits and program a microcontroller. Hands-on learning continues through the completion of their senior capstone design project.
Visit the Electrical and Computer Engineering website
View a printable fact sheet for Computer Engineering (pdf)
---
Computer Science
College of Liberal Arts and Sciences
Computer science students are educated in the foundations of the field and are exposed to cutting-edge research. The School of Computing and Information Science's labs and facilities offer state-of-the art, accessible learning environments where students can work individually or in teams to explore the various aspects of computing and information science. Students can undertake research in new areas, such as mobile systems, wireless sensor networks, robotics and autonomous agents, new modes of human computer interaction, cybersecurity and spatial informatics. Core areas of study include databases, high-performance computing, artificial intelligence, computer networks, computer graphics, software engineering, operating systems, programming languages, cybersecurity and computer organization and architecture. Coursework in computer science provides students with an understanding of the basic areas of computer science: structure of programming languages, operating systems, software engineering, algorithms and data structures, computer architecture and theory.
Visit the Computer Science website
View a printable fact sheet for Computing and Information Science (pdf)
---
Construction Engineering Technology
College of Engineering
The construction engineering technology (CET) program is a blend of civil engineering technology and construction business management. The program combines construction, engineering and management in a practice-oriented education that leads to a rewarding career in which graduates exercise their skills, experience and knowledge to build infrastructure nationwide. At UMaine, the average construction engineering technology course enrolls 30 students. More than 98 percent of CET  majors work in engineering or construction during the summer. Employers come from across the country recruit program graduates.
Visit the Construction Engineering Technology website
View a printable fact sheet for Construction Engineering Technology (pdf)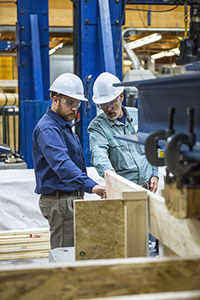 Earth and Climate Sciences
College of Natural Sciences, Forestry, and Agriculture

The School of Earth and Climate Sciences offers a Bachelor of Arts degree in Earth sciences and a Bachelor of Science degree in Earth sciences with an Earth or climate sciences concentration. The department also offers an Earth and environmental sciences concentration through the B.S. in the ecology and environmental sciences program. Each curriculum is designed to prepare majors for careers in Earth science-related fields, as well as to provide all students with the knowledge to address future environmental challenges. Courses focus on the fundamental physical and chemical processes that shape the surface and interior of our planet – today, in the past, and into the future. Specific content areas include climate change, geodynamics (e.g., plate tectonics and mountain-building), marine geology and coastal processes, environmental geology, and Earth materials (e.g., ice, rocks, and minerals). The undergraduate program is developed around a core curriculum designed to give students a solid academic foundation and is complemented by a range of elective courses that gives students flexibility to explore a range of topics or focus on a particular area. The School of Earth and Climate Sciences is one of the country's top 100 geoscience departments, as ranked by the National Science Foundation. In addition, the school is closely associated with the Climate Change Institute, an internationally recognized research organization established over forty years ago.
Visit the School of Earth and Climate Sciences website
View a printable fact sheet for Earth and Climate Sciences (pdf)
---
Economics
College of Natural Sciences, Forestry, and Agriculture

The Bachelor of Arts and the Bachelor of Science in economics trains students in economic analysis and the functioning of economic institutions. The program emphasizes public economic policy, both domestic and international and supports students in the international affairs-economics program and the sustainability track in the ecology and environmental sciences program. Students have the opportunity to pursue the new 4 + 1 degree program which allows undergraduate students to accelerate their plans by beginning their graduate degree while still an undergrad. As an undergraduate student, individuals work closely with faculty members on a wide variety of research and outreach projects related to sustainability, business development, state and local policy, and renewable energy. The program emphasizes the development of analytical and critical thinking skills to solve real problems and courses such as quantitative analysis and forecasting, econometrics and applied economic data analysis provide students with highly relevant skills. Students learn how to critically analyze current business and policy issues in areas such as finance and banking, environmental economics, international trade and economic development. Graduates of the program work in fields such as finance and banking, health care, environmental and energy consulting, resource and small business management. Many of our undergrads pursue a graduate degree in economics, law or business.
Visit the School of Economics website
View a printable fact sheet for Economics (pdf)
---
Ecology and Environmental Sciences
Natural Sciences, Forestry, and Agriculture
The Bachelor of Science in ecology and environmental sciences (EES) is an interdisciplinary program that emphasizes the link between humans and the environment. The program is designed to acquaint students with the scope and characteristics of our natural resources and to introduce the scientific and economic principles that govern resource use, sustainability, and conservation. Students receive in-depth training from several academic units across campus, including anthropology, biology and ecology, earth and climate sciences, economics, food and agriculture, forest resources, marine sciences and wildlife, fisheries, and conservation biology. The curriculum is designed to address current environmental challenges and provide an education that ensures that graduates are competitive in today's job market. The program offers a number of concentrations so students can select the focal area that best meets their interests and career goals. The program is designed for students who wish to pursue a professional career in ecology and environmental sciences in one of many applications such as management, administration, planning, education, and research; or as preparation for further study in graduate school. The requirements are designed so that EES graduates will be well grounded in both the natural and social sciences, and will possess the skills necessary for a successful career.
Visit the Ecology and Environmental Sciences website
View a printable fact sheet for Ecology and Environmental Sciences (pdf)
---
Electrical Engineering
College of Engineering
Electrical engineering is an exciting, challenging, fast-growing profession with abundant job opportunities. As an electrical engineer, you'll work at the forefront of technology to build the next generation of cell phones, electric cars, digital televisions, robots, satellites, microelectronic devices, solar, wind and ocean energy and electric power systems. The electrical engineering curriculum provides students with the technical skills as well as the mathematical and scientific background required to advance current technology and contribute to future developments in the electrical engineering profession.
Visit the Electrical and Computer Engineering website
---
Electrical Engineering Technology
College of Engineering
The electrical engineering technology (EET) program prepares students for professional electrical engineering careers. The program provides students with a traditional electrical and electronic engineering curriculum with an emphasis on subject areas that are important to industry in the Northeast, including electrical power and renewable energy; electronic design; integrated motion control; and microcomputer applications. Courses include practical applications as well as core theoretical concepts. EET students learn first-hand about current industry trends and the latest engineering equipment.
Visit the Electrical Engineering Technology website
View a printable fact sheet for School of Engineering Technology (pdf)
---
Elementary Education
College of Education and Human Education
Elementary education majors are introduced to the teaching profession during their first two years through courses on the art and science of teaching, child development, educational psychology, multicultural education and instructional technology. They also build a solid liberal arts background, and begin their subject area specializations. Areas of specialization in the elementary education program are English, science, social studies, math, English as a second language, languages (Spanish and French), child development and family relations. Students then complete a teacher candidacy portfolio. Upon acceptance to teacher candidacy, students continue their specializations, and gain knowledge and skills in teaching and assessment, classroom management, teaching in the content areas, and adapting instruction for students with special needs. Their field placements in schools are preparation for the capstone experience in education: a full semester internship (student teaching) with experienced mentor teachers in grades K–8 schools, learning the skills necessary to becoming successful beginning teachers.
Visit the College of Education and Human Development website
View a printable fact sheet for Elementary Education (pdf)
---
Engineering Physics
College of Engineering
Engineering is about the way things work. Physics is about why things work the way they do. By combining the two, engineering physics students are able to satisfy their curiosity and ultimately gain a deeper understanding of the engineering problems. UMaine engineering physics was the first accredited engineering physics program in the world. Currently, it is one of only 20 programs in the U.S. and the only accredited program in New England.
Visit the Physics and Astronomy website
View a printable fact sheet for Engineering Physics (pdf)
---
English
College of Liberal Arts and Sciences
Course work for a bachelor's degree in English provides comprehensive instruction in the resources of language and literature. English courses are central to a liberal arts education, as well as graduate and professional programs. The degree prepares students for careers that depend on critical and creative thinking and the ability to communicate clearly and persuasively. The literature program is enhanced and supported by the National Poetry Foundation, an internationally recognized center for the study of modern and postmodern poetry, and the New Writing Series, which brings up to 20 writers to campus annually. The English Department also boasts the Writing Center whose award-winning undergraduate tutors provide one-on-one feedback to students at all levels on a variety of writing projects. While courses in literature make up the largest portion of the English major's studies, every student also completes a concentration in either creative, analytical or technical/professional writing. English Department interns hone their writing and professional skills in businesses and nonprofits on campus and in the Bangor region.
Visit the Department of English website
View a printable fact sheet for English (pdf)
---
Environmental Horticulture
College of Natural Sciences, Forestry, and Agriculture
The School of Food and Agriculture offers a Bachelor of Science in environmental horticulture with the option of four concentrations: horticultural business, landscape design, sustainable horticulture, and turfgrass management. The program is a science-based curriculum that offers students theoretical and practical knowledge in plant sciences, sustainable and professional practices, business management and other related fields. The program provides excellent training for a wide-range of professional opportunities in the green industry and provides a strong background for students interested in pursuing graduate education in areas such as business administration and horticultural science. Research opportunities are available in many areas including cold tolerance; propagation and tissue culture; evaluation and introduction of woody and herbaceous ornamental plants; water use efficiency in greenhouse production; potato breeding and production; basic and applied studies in blueberry physiology and culture; pomology; sustainable vegetable and small fruit production; and weed-crop ecology and weed management. The strong working relationship with state, national and international horticulture industry members with ties to the environmental horticulture program has been an important factor contributing to nearly a 100% employment record for graduates of this program, which has been ranked one of the best in the Northeast.
Visit the School of Food and Agriculture website
View a printable fact sheet for Environmental Horticulture (pdf)

Finance
Maine Business School
Finance students focus on three areas: functioning of financial markets and institutions; methods of financing business operations; and security selection and portfolio management for individuals and institutional investors. Finance graduates pursue jobs in commercial and investment banking, brokerage and financial management in business, management and nonprofit organizations. They work as credit analysts, actuaries, real estate appraisers, financial advisers, global operations analysts, investment bank operations analysts, commercial banking associates, loan officers, and internal audit risk consultants.
Visit the Maine Business School website
View a printable fact sheet for Maine Business School (pdf)
---
Financial Economics 
College of Natural Sciences, Forestry, and Agriculture
The Bachelor of Science in financial economics degree at the University of Maine is designed to prepare students who wish to pursue training in quantitative financial economics. The program also provides a strong undergraduate background for graduate professional degrees in business, economics, and law. This approach incorporates the fundamentals of economic theory in the areas of macroeconomics and monetary economics along with the applied analytical tools of finance and econometrics. For students thinking about graduate school, the 4 + 1 program allows undergraduate students to accelerate their plans by beginning their graduate degree while still an undergraduate.
Visit the School of Economics website
View a printable fact sheet for Financial Economics (pdf)