TeachLivE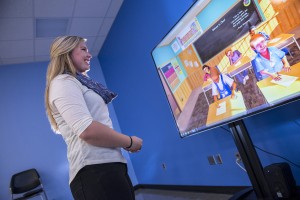 The TeachLivE lab at the University of Maine is a mixed-reality, immersive space where students in the College of Education and Human Development can practice teaching and classroom management techniques on avatars. The lab gives students a chance to hone their skills in a safe, risk-free environment, before heading out to work with children as student teachers. It also can be used by in-service teachers to reinforce specific concepts or to improve their teaching abilities.
TeachLivE features five student avatars, with distinct personalities and behavior traits. The program can be adapted to fit a variety of classroom scenarios, lesson plans and objectives. There's also an adult avatar, which allows users to practice situations such as parent-teacher conferences or one-on-one meetings with a parent regarding student behavior.
TeachLivE is administered by Mursion Inc., a company that provides virtual training environments where professionals practice and master the interpersonal skills they need to be effective in their career. More information about TeachLivE can be found here.
Watch this video showing some of our students using the TeachLivE lab at UMaine: