Career Fair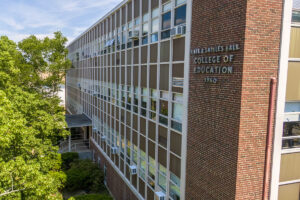 The University of Maine College of Education and Human Development hosts a career fair each spring for teacher candidates to meet with potential employers. The fair is usually held in April, a few weeks before UMaine student teachers earn their degrees and become certified teachers. Many schools and districts in central and eastern Maine, and some from other parts of the state, send representatives to meet our students and discuss job openings with them. If your district would like to participate, please fill out the form below. We'll contact you with more information.
The 2023 UMaine College of Education and Human Development Career Fair will be held Thursday April 13, 1-3 p.m. at Wells Conference Center on the University of Maine campus.

For questions or to request a reasonable accommodation, please contact director of field placements and teacher preparation Erin Straine, erin.straine@maine.edu.
Education Career Fair Registration