Ashley Buttice: Student Development in Higher Education Excellence Award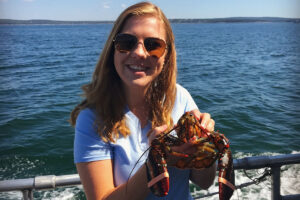 The Student Development in Higher Education Excellence Award is presented to a graduating master's student who has most exemplified combined academic and professional excellence with consistently exceptional classroom performance alongside outstanding service to the higher education graduate program, the university and the field.
This year's recipient is Ashley Buttice. Originally from Long Island, New York, Ashley graduated from SUNY Geneseo in 2017 with a B.A. in Psychology. It was during her time at Geneseo that she developed her passion for working in higher education through her time as an orientation advisor and resident assistant, as well as during internships with both admissions and alumni relations. After graduating from Geneseo, Ashley worked as an admissions counselor for SUNY Geneseo for one year. In August of 2018, Ashley began the student development in higher education master's program at UMaine with a concentration in first year success and transitions.
During her time at UMaine Ashley has worked in Residence Life, the President's office, and completed an internship with the College of Liberal Arts and Sciences Academic Advising Center.