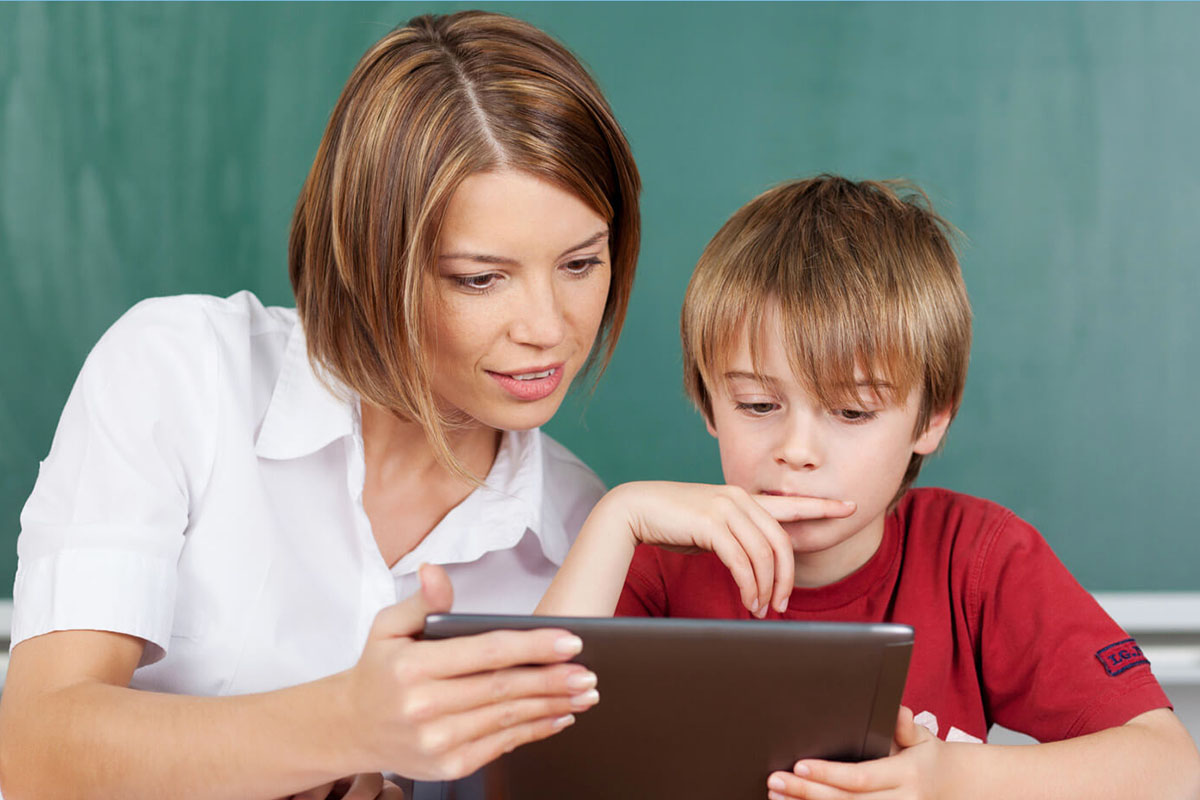 UMaine researchers explore promise of augmented reality in helping students with autism improve reading skills
Augmented reality tools have the potential to help students with autism spectrum disorder (ASD) improve their ability to read and understand texts, according to a new paper by three University of Maine scholars.
Sarah Howorth, Deborah Rooks-Ellis and Sara Flanagan are all assistant professors of special education in the College of Education and Human Development. Rooks-Ellis is also director of the Maine Autism Institute for Education and Research. Their article, "Augmented Reality Supporting Reading Skills of Students with Autism Spectrum Disorder," was published online recently by the journal Intervention in School and Clinic. It was co-authored with Min Wook Ok of the University of Hawaii at Mānoa.
Students with ASD may encounter a variety of problems learning to read, including issues with word identification and comprehension. These difficulties can often be alleviated with the use of assistive or adaptive technology. One example of a technology that has been shown to help individuals with autism is video modeling (VM). Students watch video of themselves or another person demonstrating a particular literacy skill before practicing it themselves, which helps them develop the skill on their own. However, some students have trouble staying focused on video models.
Howorth, Rooks-Ellis, Flanagan and Ok explore the use of augmented reality in conjunction with VM. Augmented reality, or AR, allows people to experience an enhanced real-world environment by adding computer-generated information, including audio, visual and other stimuli to their surroundings. (One example from popular culture is the Pokémon Go game for smart phones and other mobile devices.) Because AR technology is so new, the authors say additional research is needed to determine its precise effects, however early tests show promise for helping students with ASD learn to read.
"Many AR applications exist that allow teachers to control the video content being modeled during reading instruction," they write. "Teachers can help students maintain their attentional focus on VM through the use of AR tools."
The article lists several examples of AR tools that educators can use to add flashcards, 2D or 3D objects, as well as simple drawings or demonstration videos to video models. The authors discuss how one such app, HP Reveal, can be applied when working with students on the autism spectrum. For instance, they describe how to use the app to teach phonics and word identification, support reading fluency, embed video into texts as cues for reading comprehension, and more.
"These types of interactive applications promote student motivation, communication, and interaction and make learning fun," they write.
Though the potential is great, Howorth, Rooks-Ellis, Flanagan and Ok say AR tools may not be suitable for every student. Like all instructional technologies, they say the needs and goals of the learner should come first. The article is available online.
Contact: Casey Kelly, 207.581.3751