Student Experiences in Study Abroad
Julia Kaplan Galapagos Islands & Ecuador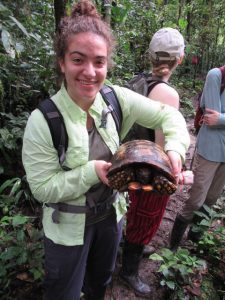 In Spring 2019, Julia Kaplan studied abroad in Ecuador and spent a month on mainland Ecuador where she took trips to all the different ecosystems of Ecuador seeing the Amazon and Paramo.
The last three months of her study abroad she was in San Cristobal in the Galapagos Islands. Here she immersed herself in the Ecuadorian culture, improving her Spanish and experiencing the biologically diverse wonderland. She was able to face the harsh reality of the country as well see its pollution and climate change issues. During Julia's time in Ecuador, they were able to address and participate in some of the problems the Ecuadorians face with pollution by doing a plastics research project. By analyzing the origin of the macroplastics and microplastics that washed up based on the packaging they were able to pinpoint a general idea of where it came from.
Logan Early, New Zealand
In spring 2019, Logan Early studied abroad at the University of Otago in New Zealand where he was able to experience a variety of biodiverse areas and recreational sports opportunities.
His knowledge and experience from UMaine helped guide his decisions about opportunities in New Zealand. While at UMaine, respect became something that Early took to heart. He learned that how he interacts with those he meets should not be influenced by their age, race, gender, or sexuality, and he remembers to practice this while in the midst of the local Maori people.
Beyond cultural and academic opportunities, Early has been able to scuba dive, white water kayak, and take juggling classes.
Early hopes to pursue graduate school to get a masters degree relating to conservation efforts in shark behavioral research.
Jessica Wibby, England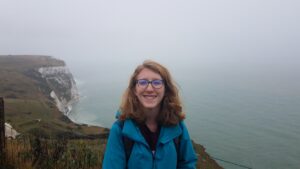 In fall 2019, Jessica Wibby studied abroad in Norwich, England at the University of East Anglia. Because Wibby had enjoyed traveling with her family, one of her goals, when she enrolled in college, was to experience a different culture for three months or more.
Many of her classes were part of her unique abroad experience in England. During her time at the university, she took Geomorphology, which enabled her to visit different beaches and cliffs, Biological Oceanography, essentially a class about phytoplankton, and a climate change science and policy course.
Wibby enjoyed how welcoming and friendly everyone was there and her friends that she connected with. The transportation system in England is far different from Maine and she expressed her appreciation for it. To learn more about her experience, check out this post.
To keep up-to-date on our students visit our Facebook.