Sam Jennings, EES Student Ambassador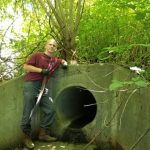 Why did you choose UMaine and the EES program?
I chose UMaine because I knew while I was in high school that I wanted to major in either ecology or environmental science. While I was touring and looking for information about different colleges, it was clear to me that the colleges I had on my preferred list could not even compete with the ecology and environmental sciences program here at UMaine. I chose to major in EES because I spent my entire childhood in the woods. Whether it was building forts, hiking, or fishing, I always found myself in awe of what the natural world had to provide. As I grew older, I found my passion for nature growing more and more. Once I realized that I could make a career out of protecting and working with/in the outdoors, I didn't hesitate to pursue it.
Why did you choose your particular concentration?
I chose the general ecosystems concentration because I found myself liking all of the other ecosystem-related concentrations too much. Instead of deciding on one specific aspect of an ecosystem, I wanted to understand all of the pieces of the puzzle. Also, a career in environmental consulting is an interest of mine and a deep understanding of the entire landscape would help me greatly in this field.
Best hands-on experience?
The best hands-on experience I have had so far would be my internship for the Lowell, Massachusetts Wastewater Utility. Through my internship, I have gained a ton of experience using ArcGIS in the field by updating old maps of drain lines and outfall pipes throughout the city. The Wastewater Utility is also responsible for monitoring the health of the river beside it, the Merrimack River. We do this by frequently sampling the river in several sections and sharing our results with MassDEP and the EPA. I thoroughly enjoy spending time on the river, and knowing that I am contributing to keeping the river clean makes it even more worthwhile.
What do you do when you aren't studying or attending classes?
I spend a lot of my free time in the woods, whether it be running, hiking, relaxing, or exploring the Maine wilderness. There is always somewhere new to go, which honestly is what I love most about Maine.
Any wisdom or advice for prospective EES students?
Time management is key in college. Know when to buckle down, but also be sure to give yourself some time off as well as to de-stress. These truly are some of the best years of your life, so make the most of it!
Visit our EES Ambassador page.