Jon Rheinhardt, EES Student Ambassador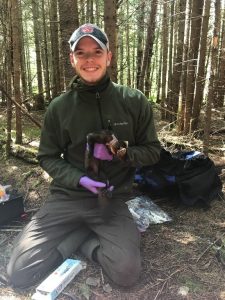 Why did you choose UMaine and the EES program?
I have always been attracted to the allure of Maine and I knew after the first visit to UMaine that I wanted to go here. When I first met the EES staff, they showed me that they are genuinely excited about the work they are doing, and illustrated significant concern for their students' education.
Why did you choose your particular concentration?
I chose the natural history concentration because I am interested in studying how humans interact with their environment. I want to educate people and help them improve their relationship with the environment and also hope to combine these interests with a job in law enforcement. Although I have not settled specifically on what I hope to do, this concentration gives me the resources to be successful in a broad area of professional work.
Best hands-on experience?
The best hands-on experience I have had was working as a field technician aiding two graduate students in their research regarding the effects of human-caused habitat change on American Marten. My duties included setting live traps as well as collaring and tagging Marten. Then, using radio telemetry we tracked our collared Marten to determine their home range and habitat selection. This experience was amazing for teaching me how fieldwork is conducted and how to effectively think and access situations quickly while performing under stress.
What do you do when you aren't studying or attending classes?
When I'm not studying, I work with the Green Campus Initiative helping to educate others about the sustainable living practices at UMaine and the surrounding area. When I'm not working I enjoy hanging out with friends, utilizing the fitness center, hiking, and exploring what Maine has to offer.
Any wisdom or advice for prospective EES students?
Do not be afraid to ask questions and take your education into your own hands. College is intimidating, but a significant amount of stress can be reduced if you talk to your teachers, and other peers. Study hard, but don't stress more than you need to. Avoid procrastination to the best of your ability to reduce stress and ease studying. Work can build up quickly if you're not on top of it and can put you in a tough situation. Lastly, don't be a stranger. Do your best to get your name out there! Talk with professors and apply for positions that will benefit you, even if you might not get them. Show that you're interested and passionate about what you're doing, and you'll open many doors for yourself.
Visit our EES Ambassador page.