Cade King, EES Student Ambassador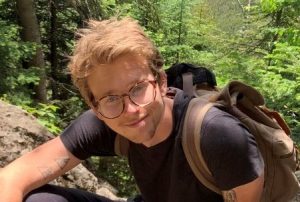 WHY DID YOU CHOOSE UMAINE AND THE EES PROGRAM?
UMaine was perfect for me because I was uncertain of what I wanted to study when I began, and I knew that UMaine had plenty of program options. As an underclassman with an undeclared major, I took a relatively wide range of courses to attempt to narrow my search. Ultimately I realized that I was most interested in natural sciences and passionate about working to address a wide range of environmental issues. After taking some entry level EES & ERS courses I decided that majoring in EES was the most direct track to a career that was ethical, fulfilling, and interesting.
BEST HANDS ON EXPERIENCE?
Investigating the impacts of forestry activities on a watershed in Northern Maine as a student research assistant for the Watershed Processes and Estuary Sustainability (WPES) group.
FAVORITE CLASS AT UMAINE?
PSE-457 Plant Pathology
ANY WORDS OF WISDOM FOR INCOMING STUDENTS?
Never be afraid to strike-up a conversation about career options or specific interests with peers or professors. Doing so is a good way to network and let people know that you're serious about what you're studying.