Amanda Richter, EES Ambassador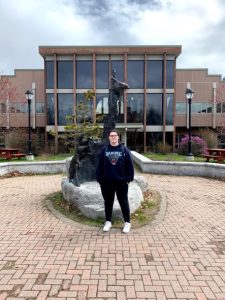 WHY DID YOU CHOOSE UMAINE AND THE EES PROGRAM?
I chose UMaine because I grew up not having a backyard, I was so close to my neighbors that I felt suffocated. The light and noise pollution of Nassau County, Long Island made me feel so disconnected from Earth. I always had a knack for the environment and after going to a webinar during Covid through RIT I knew I wanted to go into the field of environmental science. I was researching colleges in New England and the more I learned about UMaine, the more I fell in love. When I saw the school in person in April 2021, I knew it was the school for me.
BEST HANDS ON EXPERIENCE?
Studying crowberries on the Schoodic Peninsula.
FAVORITE CLASS AT UMAINE?
So far, my favorite class has been EES 217.
ANY WORDS OF WISDOM FOR INCOMING STUDENTS?
My biggest piece of advice for all incoming students is to utilize professor's office hours. Don't be afraid to ask them questions since they are there to help you understand the material better. Also, don't be afraid to turn to your academic advisors as they are there to help you get through your courses and succeed in your field.