Frequently Asked Questions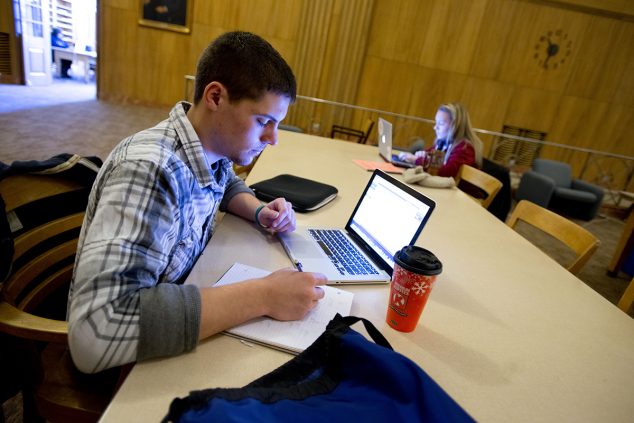 ---
What are the benefits of Early College?
High school students who enroll in early college courses are more likely to graduate high school, enroll in college, and earn a college degree. As a result, students are more prepared and successful in their chosen career. 
For example:
Dual enrollment and Aspiration courses are tuition free for students (up to 12 credits per academic year). Students are responsible for fees and books in some EC programs.
Students can save up to $14,000 in tuition, fees, and other expenses (estimate is based on transferring up to 30 credits to UMaine).
Students can show college admissions officers that they are ready for more difficult coursework.
Students build a college transcript while still in high school. The college credits earned are transferable. While we hope students will attend one of Maine's Public Universities or Community Colleges, these credits may be transferred to other colleges. Students will need to check with their institution about transferring credits when they enroll.
Early College programs can provide rigorous courses to enhance the high school curriculum.
Universities may offer a variety of courses not available at the high school. Some programs offer pathways to a career which can help students navigate through college to future employment, or explore interests before choosing a major.
Students who participate in Early College have better study skills, more academic confidence, and less anxiety about the transition to college.
Early College students who graduate from high school and enroll in a Maine Public University are more likely to enroll in college (persist) for a second year. For example, 91% of Academ-e students, 86% of Aspirations students, and 81% of Dual Enrollment students persist to their second year of college, versus 74% of students with no Early College courses.
Students who participate in Early College are less likely to need remedial courses in college. Remedial, or developmental courses, are courses for students who graduate from high school but are not yet ready for college. Students pay tuition, but do not receive college credit for these courses.
Students who enter college with Early College credits are more likely to earn a degree on time than students with no Early College credits.
How much will a class cost?
The only cost you will usually be responsible for is the cost of books and any associated course fees. All online courses now have a $25 per credit fee.
Who pays the tuition?
The University of Maine will discount tuition by 50% for twelve (12) credit hours per academic year and will absorb some University-wide fees.  The Maine Legislature's Aspirations Program, through the Maine Department of Education, covers the remaining tuition up to twelve (12) credit hours per year for students enrolled in the Early College program (Academ-e and Aspirations, combined). However, a student enrolling in more than twelve (12) credits per year must pay the cost of each additional credit.  For example, if you take five (5) courses that total (13) credit hours, you will be responsible for paying for (1) credit hour.
Will I be billed for anything?
You will receive a bill when you take more than the allowed number of credit hours in an academic year, or for the $25 per credit hour fee for online courses. The bill is mailed to the address noted on the Student/Parent Application form.  If other tuition waivers are available, they will be applied to your account at the time of billing.
Will I be charged if I drop my course?
Please refer to our Tools for Getting Started page for the policy about dropping a course, as this may affect your transcript and any charges to your account.  You will not be charged if you drop a course within the drop period.
What happens if I am struggling in a course?
Our goal, as a team, is to help YOU be successful in your college course.
If you have trouble accessing or getting your book: Contact us
If you are struggling with the material: Check out our tutoring options and/or contact us.
If you are having difficulty figuring out how to balance your home, school, work and/or college responsibilities: Contact us!  We have an intern who is committed to helping you navigate these types of scenarios.
In short, if something comes up, we typically have a solution to help you but we can't do this unless you contact us. This is so important. We are only a phone call, email, or text message away.
How can I find out my grade in a class?
Through the MaineStreet system, you can access your grades, term schedule, academic history, registration for courses, holds on your account, course prerequisites, student bill, course search, and other vital information.
How can I get a transcript of classes I have taken to give to my high school?
More than likely, your school will require an official transcript. If your school doesn't require the official transcript, you can get your grade through your MaineStreet account (as stated above), or email us (um.earlycollege@maine.edu) for an unofficial copy to be sent to your email.
Link to: Order an official transcript
Printable form: Official Transcript Order Form
Is the grade I receive permanently on my record?
Yes, it is.  Because of this, it is imperative that you contact us by email if you need to drop your course.
You will need to pay close attention to the drop date deadline of your course to be sure you are dropping before the last date that your course will appear on your transcript. You can find this date when you click on "Class Schedule" on your MaineStreet Student Center.
I am homeschooled.  I don't have a guidance counselor.  Can I still sign up?
Absolutely! Your parent/guardian is your guidance counselor in this case. You only need to submit the Student/Parent Application, and your parent will need to upload certain documents for the Department of Education's purposes.
What is the Math Placement Exam and why do I have to take it?
If you choose any of the math courses, you are required to either take the UMaine Math Placement Exam or to have completed the required previous course prerequisite.  The exam indicates your readiness for the course you chose. If the results reveal that another course would be more appropriate for you, we will contact you.
Link: More Information on Placement Exams
Still have questions?
Contact Allison Small, Early College Programs Coordinator at 207.581.8004 or email um.earlycollege@maine.edu. Office hours are Monday–Friday, 8:00 a.m.–4:30 p.m.