Off-Campus Housing
CNTSP maintains a searchable database of off-campus housing. All listings come from area landlords and are updated frequently.
University Family Housing
The university offers nearby family housing in University Park.
FirstClass Conference: Roommates and Apts
University members with a FirstClass account post apartments for rent or sublease and search for roommates by using this FirstClass conference. From your FirstClass desktop, select Student Resources >Commuter Services > Roommates and Apts.
UMaine Renters Fair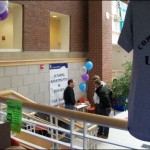 Local property managers, landlords and renters resources come to campus for the Renters Fair in Memorial Union.  Students seeking off campus housing can talk with local landlords and review available off campus housing.  The two day  Renters Fair is  planned for early Dec. during the Fall semester and a one day Renters Fair is planned for mid Jan. of the Spring Semester.  Contact CNTSP for more details
For 2016-17 : Renters Fairs will be Dec.1 & 2, 2016 and Jan 26, 2017
Renters Tips  : During the weeks of the Renters Fairs, CNTSP will offered information and resources to help students  decide about their off campus housing.  Monday through Friday, (Nov 28- Dec 2 and Jan 23- Jan 27), commuters and staff will be available in the Commuter Lounge/ Wade center at 1PM.
On-Campus Housing
Traditional first year students should note that The University of Maine has a First Year Residence Requirement.
For information about  on campus housing , see Housing Services
Owners/Landlords/Property Managers
Please see the owners/landlords/property managers page to learn how to list your property.
Towns/Cities Local to UMaine
Model Lease
The Maine Attorney General website provides a model landlord-tenant lease.
Renters Guides: helpful resources for finding your off- campus home
BestColleges.com  provides a Renters Guide for college students navigating the off-campus rental market. Check it out for helpful information about choosing your off campus housing.

Renters Insurance
How to Compare Renters Insurance: Tips for Finding the Right Renters Insurance Company & the Best Rates –
https://www.moneygeek.com/insurance/renters/compare-quotes/
Protecting Yourself as a Home Renter – https://www.moneygeek.com/insurance/renters/resources/rental-assistance-rights-guide/
Other Resources
Pine Tree Legal Assistance: Renters' Rights in Maine
Smoke Free Housing: Information and smoke-free property listings
Student Legal Services: Student Legal Services is an arm of the Univ. of Maine Student Government which provides legal assistance to the undergraduate student population of the University of Maine. Student Legal Services can provide consultation with leases and landlord/tenant concerns. Their office is on the first floor of Memorial Union and can be reached at 207 581 1789