Message from the Chair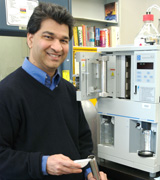 As Department Chair, I am always pleased to share good news with you and to encourage your involvement in our program. Much of our good news involves change – new people, evolving programs, and a growing mission. For example, of our 14 faculty members, seven have joined the department in the last seven years. These new faculty members have developed new courses, new linkages with industry and other partners, and new research programs.
As the landscape in the manufacturing industries continues to change all around us, we have chosen to expand and modify our courses, personnel, facilities, research, and outreach activities to establish ourselves as a Chemical and Biological Engineering Department. We have formed an alliance with the newly formed Institute of Molecular Biophysics (IMB), which brings to us partnerships with The Jackson Laboratory (TJL) and Maine Medical Center Research Institute (MMCRI). New research directions in bioprocessing, biosensors, and molecular biophysics give students opportunities to do research at the interface between engineering and the biological sciences. We continue to build on our research strengths in the surface and interface science.
Taking us beyond paper and plastic, we are also taking lead in advancing the forest bio-refinery, to convert wood residue to energy, fuels, and chemicals, for the industry of the future. We attract outstanding students, and we are committed to making a broad range of traditional and non-traditional careers available to our graduates. We are well equipped to address the needs of a diverse portfolio of paper, specialty chemicals, advance materials, pharmaceutical, food, and biotechnology sectors.
Hemant P. Pendse
Department Chair
207.581.2290
207.581.2323
pendse@maine.edu