Current Students
---
Amy Halpin, M.S.
amy.halpin@maine.edu
Amy is a fourth-year student in Dr. MacAulay's Cognition Aging Resiliency Enhancement (CARE) lab! She earned a B.S. in Human Physiology from Boston University, and an M.S. from Drexel College of Medicine.  Amy's research interests include understanding how affective and cognitive changes may impact decision-making abilities in older adults. Her clinical interests include neuropsychological assessment of older adults with mild cognitive impairment and various forms of neurodegeneration.
---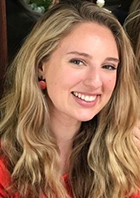 Angelica Boeve, M.A.
Angelica Boeve is a fourth-year doctoral student in Dr. MacAulay's CARE lab! She attended St. Olaf College where she earned a B.A. in Psychology with a minor in Neuroscience. Her research interests include the relationship between sleep disturbances, cognitive performance, and mobility in older adults. Clinically, Angelica is interested in neuropsychological assessment and Cognitive Behavioral Therapies for Sleep Disorders in evaluating sleep disorders and their impact on cognitive performance.
---
Undergraduate Research Assistants 
Sahvannah Michaud, B.A.
Interested in learning about psychological trauma, cognition, their relationship, and associated therapies.
Heather Andrews, B.A.
Interested in the influence of adversity and protective factors on development and psychopathology. 
Allie Lewis, B.A.
Interested in learning about the neuropsychological assessment of cognitive functioning/impairment, sleep, and behavioral neuroscience.
Zoe Prats, Junior 23′
Psychology major, Chemistry minor

Interested in neural correlates of cognitive reserve, subjective predictors of cognitive decline, and their relationship.