Alumni Perspective: Krisjand Rothweiler, Class of 2003
Before arriving at the University of Maine, Krisjand's life took some interesting paths, which only continued once he was in college. While growing up in a Navy family, he found himself living in Maine twice, so considers the state the closest thing he has to a "permanent" home. His family landed in Brunswick for his senior year of high school, but UMaine wasn't originally on his mind for college. He originally applied to schools in Virginia, where he'd lived for several years before touring UMaine's campus and engineering lab. Realizing that he wanted to pursue a degree in Civil Engineering, which was offered at UMaine, he decided to make the university his home for his higher education career. His decision was greatly supported by his stepmother, Chris Chashman-Rothweiler, who is an alumna.
When his original major of Civil Engineering didn't seem to be a good fit, Krisjand tried some other opportunities. In his sophomore year, he switched majors to International Relations, with a concentration in government, as well some courses through the German department. In his junior year, he pivoted directions again to major in Political Science, with a concentration on International Affairs and continued with his German courses. While taking classes, he participated in the Army ROTC program for all four years. Of the many different courses he took, Krisjand recalled Materials, through the Engineering department, as being his favorite. He enjoyed the classroom work, as well as the opportunity to run experiments in the lab where they stretched concrete and crushed metal.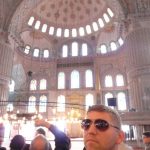 When asked to describe a favorite memory of his time at UMaine, Krisjand had a hard time selecting just one, saying he had "four years of great experiences and memories." Eventually, he landed upon the memory of his very first week as a student at UMaine. He recalled arriving in his parents' pickup truck, which was loaded with his belongings, outside of Penobscot Hall, his new home for the academic year. He felt an instant sense of community as he moved in and met his new neighbors. After getting settled, he went to get his MaineCard, then swung over to meet the folks at the Army ROTC and tried the rappelling tower. He had a great time his first night on campus, including meeting many new friends, most of whom he is still friends with more than a decade later. As each year ended, he eagerly anticipated the upcoming fall and the excitement of being back 'home' at UMaine, seeing his friends, upcoming courses, as well as joining clubs and participating in extracurricular opportunities.
His time at UMaine equipped him for his future by allowing Krisjand the opportunity to learn to live independently. Being exposed to different folks as well as new ideas allowed him to develop an open mind and to form friendships with a wide variety of people, something that continues to hold true for him today. The four years he spent with the Army ROTC honed his leadership skills, as well as taught him adaptability. When he thought back to those at UMaine who helped him along the way, he recalled Army Major James Campbell, an ROTC and History instructor who taught him to persevere and treat others fairly. Thanks to Professor Tim Cole, Krisjand enjoyed his Political Sciences courses and remembered Professor Eric Landis as one of the first professors he met at UMaine, as well as the one who helped him enjoy his time with Civil Engineering.
Today, Krisjand is an Army Major and works at the U.S. Army War College in the Department of Strategic Wargamming, where he is responsible for designing wargames and wargame scenarios for various Department of Defense organizations. He enjoys exploring the relations between different countries and learning about how those relations "impacts defense policy and planning." While he's currently stateside with his wife and two daughters for the remainder of his appointment, Krisjand hopes to go overseas with his family to teach at an international military school or to get a strategic planning assignment. When he's not strategizing, Krisjand enjoys outdoor activities such as SCUBA, skiing and camping, as well as building and creating things. His fun fact is that he is an ordained minister. He has performed the wedding ceremonies of two of his college friends and then later on his sister's wedding.
The advice Krisjand offers to UMaine students is simple: to squeeze every drop they can out of their UMaine experience. While there will be plenty of stress, there are few experiences in life that develop as good of memories as your time at college. Try something new, get out to meet new people and appreciate the opportunities and knowledge available. If you get the opportunity, Krisjand recommends taking a nap on the Mall under the trees on a warm day between your classes. While he admits to missing a Chemistry class (or two) he doesn't regret "dozing off to the life of UMaine going on around him and the sun on his face."
Chelsea Stanhope
Career Counselor