With our state-of-the-art leisure pool we strive to meet the needs of students, faculty/ staff and the surrounding community. Join us to improve your physical and mental health through the weightlessness of the water. Currently we offer Aquatic Fitness Programs, Private Swim Lessons, Group Swim Lessons, and Leisure Swim. We have something to offer every age group from infants to adults.
Explore the links below to get started, or register today!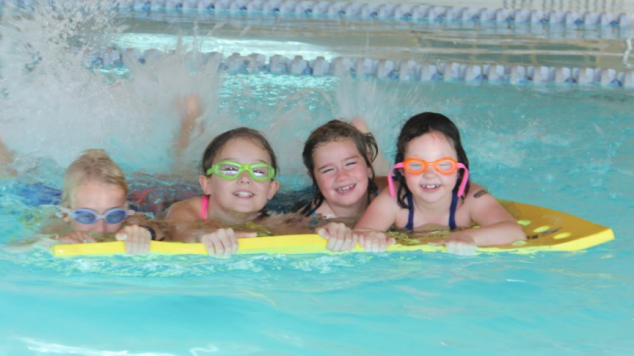 Parent/Participant Information
Program Cancellation/Refund Policies
Our Goals for All Participants:
Safety in and around all bodies of water

Lifelong health and fitness

Opening up opportunities for fun in all recreational aquatic environments
What to Expect:
Our small class sizes allow for high quality instruction, repeated practice of skills and a positive learning experience.

Children should be able to follow instructions in a class environment without a parent present (excluding Little Splashers).

We strive to provide a class environment of peers, but there may be an age difference among participants in a class as we sort by ability level, not age.

All participants learn at different rates and progress depends on many factors.

Because of the shallow depth of the Rec Center Leisure Pool, we do NOT teach or practice any diving and diving is never allowed in any part of the pool.
Registration:
All registration fees are payable at the time of registration. Class sizes are limited, so register early. Payment can be made by cash, check or credit card. Participants can register at the front desk of the Recreation Center in person, by phone (207) 581-1082, or online by visiting: https://umaine.edu/campusrecreation/webtrac/
What to Bring:
Swimsuit (and swim diaper, if participant is not potty-trained)

Towel (members can check out towels at the front desk)

Goggles are highly recommended for participants higher than Preschool or Learn-to-Swim Level 1.

A positive attitude for both parents and participants!
First Day of Lessons:
Please be ready on the pool deck 5 minutes before the start time for your lesson.
Your instructor will introduce themselves and answer any questions you may have.
Please stay and watch your child's lesson in accordance with facility policy. We encourage you to practice their skills outside of class.
Please refrain from interfering with the class or instructor as it can be distracting for the whole group.