Swim Lessons: Group & Private
Available for all ages, abilities, and skill levels. Our goal for participants to learn the skills of being safe in, on and around the water, lead a life of health and fitness and to open up opportunities for fun in all recreational aquatic programs.
Group Lessons are offered in two sessions during the academic semester. During the summer they are only offered during Summer RAD Camp (register through the Town of Orono).
Private swim lessons are one-on-one and are scheduled with your instructor of choice anytime during the year.
Both lesson options are available for members and non-members. All group lessons and youth private lessons are 30 minutes in length. Adult private lessons are 60 minutes (1 hour) in length.
Sign up for group swim lessons today via WebTrac or by visiting the front desk. Or email the Aquatics Coordinator for more information.
Group Lesson Descriptions

There are 3 categories of Group Swim Lessons: Little Splashers, Preschool, and Learn-To-Swim.
These categories are sorted by age and ability. (Children are defined for these purposes as age 6 months to 13 years. Adults are defined for these purposes as age 14+.) To place yourself or your child in the correct group, click here. 
Little Splashers: 6 months – 3 years old
Primary Focus: Water Adjustment and Boundaries. Student Goals: Parents and children will learn safe behaviors in and around the water and develop swim readiness. This class will equip parents with methods on increasing their child's comfort in the water as well as creating boundaries in, on and around the water. Songs and games make the environment welcoming and exciting for the first swim lesson or a returning student. Class size: 6-8 students, 1 instructor
Preschool Swim: 3-5 years old; 2-3 swimmers per group
Primary focus: Comfort and Control. Student Goals: To overcome fear associated to the water, become aware of safe boundaries in, on and around the water, learn proper breath control, full submersion, independent floating on front and back, rolling from the front to the back as a place of safety, and safe entry and exit into and from the pool. Class size: 2-4 students, 1 instructor
Learn-to-Swim: 6-13 years old
Level 1: Introduction to water skills
Student Goals: To increase comfort in the aquatic environment and gain basic aquatic skills.  In addition learn how to tread water, learn freestyle arms and backstroke arms, and independently enter the water safely. Class size: 2-4 students, 1 instructor
Level 2: Fundamental Aquatic Skills
Student Goals: To efficiently and independently move through the water by demonstrating the basics of freestyle and backstroke. In addition, build on water safety topics, as well as acquire new safety knowledge. Class size: 2-4 students, 1 instructor
Level 3: Stroke Development
Student Goals: Increase independence in the water, master breath control, learn proper freestyle and backstroke, be introduced to breaststroke and butterfly.
Level 4: Stroke Improvement
Student Goals: Refine breaststroke and butterfly, increase the distance of freestyle and backstroke by learning a simple open turn at the wall and apply the correct tempo to each stroke.
Adult Swim: 14+ years old; 2-4 swimmers per group
Level 1: Learning the Basics can help teens or adults overcome their hesitation in, on and around the water and learn the basic skills to achieve a minimum level of water competency.
Level 2: Improving Skills and Swimming Strokes is designed for teens and adults who want to: improve their foundational swimming skills, increase the level of comfort in, on and around the water, enjoy the water with their loved ones, open the door for other aquatic opportunities.
Level 3: Fitness swimming is for teens and adults that want to improve their swimming skills for a variety of reasons. Some may want to use the benefits of water to improve their fitness level, become part of Swim Fit (Masters Swim), or other competitive races such as triathlons or open water swims.
Fall 2018 Session Dates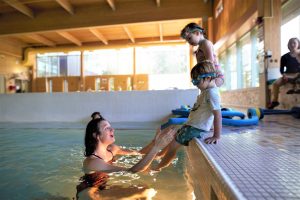 All group lessons are 30 minutes in length. Children's swim lessons occur in 4-week sessions with two lessons a week, (Mondays and Wednesdays) or 6-week sessions with one lesson a week (Saturdays). Adult lessons occur in 4-week sessions, twice a week (Tuesdays and Thursdays). 
Monday/Wednesday (4 weeks, Children Only) 
Session 1: September 10 to October 3
Session 2: October 15 to November 7
Member: $55; Non-Member: $70
Tuesday/Thursday (4 weeks, Adults Only)
Session 1: September 11 to October 4
Session 2: October 16 to November 8
Member: $55; Non-Member: $70
Saturday (6 weeks, Children Only) 
Session 1: September 8 to October 13
Session 2: October 20 to December 1 (no class November 24)
Member: $41; Non-Member: $52
Group Swim Lesson Schedule
Academic Year Only