Why MBS?
---
The Maine Business School is one of the six colleges at the University of Maine. We're more than just a business school. Our curriculum ensures our students graduate with the ability to compete on a global scale. Here are 8 reasons why the Maine Business School stands out from the crowd when it comes to a world-class, affordable education.
Core curriculum for all BSBA students
MBS students graduate with a Bachelor of Science in Business Administration. All business students, regardless of their major, must complete 11 core courses to earn their degree. These courses provide a foundation in accounting, business information systems, finance, management, and marketing. The information learned in these courses is the bedrock of our program.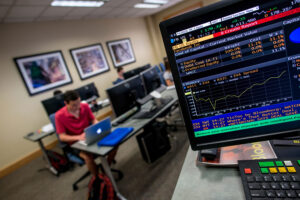 First-Year Research Learning Experience
You might not think research is an essential part of a business degree, but you'd be surprised! While we don't have any labs, per se, we do offer students opportunities to learn analytical skills throughout our program. All first-year business students take part in our Management 101 Research Learning Experience during their first semester on campus. This hands-on interactive class will help students build community and lay the foundation for the rest of their academics at the Maine Business School
---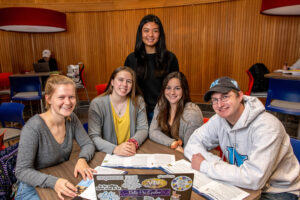 Supportive campus community
Student success is critical to us at the Maine Business School. Students here have access to a team of full-time student advisors who will guide your journey from the first class to graduation. We even have a dedicated first-year advisor and student support staff member. Our knowledgeable advisors help students register for classes and keep them on track as they earn their degrees. Our internship coordinator helps students interested in an internship experience find the one that's right for them. Our students have the opportunity to earn credit by working in their desired field before graduation. 
Access to accomplished faculty
The Maine Business School has full-time faculty members who teach our undergraduate and graduate courses. Cooperating faculty from other departments at the University of Maine and industry professionals also teach classes focused on their expertise. Our faculty hail from six continents. They are involved in student organizations, mentoring and consulting programs, conducting research projects, and publishing in reputable journals. 
---
Living Learning Community
The majority of first-year business students will live and learn together in our Business Living Learning Community in Somerset Hall. Many of our first-year students will have similar class schedules making it easy to find a study group or partner in the residence hall. Living in our Living Learning Community means you'll always see a familiar face in class, during mealtimes, and in the residence hall.
Get involved 
There are countless opportunities to get involved at the University of Maine. You can join a student group or student government, play intramural sports, or volunteer. The Maine Business School has nine student organizations specifically designed for business students. You can raise money for local nonprofit organizations through MBS Corps or learn to buy and sell futures with SPIFFY. Accounting and marketing majors can join the American Marketing Association and Institute of Management Accountants' MBS chapters. Interested in rural economic development? Join Undiscovered Maine, which focuses efforts on Maine's most rural counties. 
---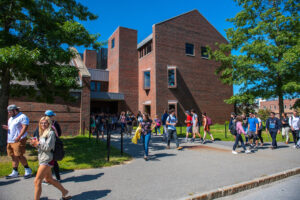 Size
The Orono campus of the University of Maine is the state's largest, with about 12,000 students. When you join the Maine Business School, you're joining a family of around 1,200 undergraduate students and 400 MBA students. We are small enough to provide you with a personal connection and experience but large enough to offer you a breadth of degree programs and opportunities to learn.
Our home is the Donald P. Corbett Business Building, located just off the Mall next to the Collins Center for the Arts. Our building is located close to the Memorial Union, Fogler Library, the New Balance Student Fitness Center, and plenty of parking. Our Atrium offers spots where students can study or meet with classmates. We have our own computer lab as well as meeting space, and our student advisors are located on the second floor.