MBS New Student Resources
---
We at the Maine Business School are excited that you are committed to furthering your education. Incoming first-year and transfer students can explore this page to learn about our programs and concentrations, to take virtual tours of MBS and the UMaine campus, and to see what it's like to be a Business Black Bear!
What is AACSB? Why MBS? Bound for Business Trip Meet our Faculty
---
Why UMaine?
Founded in 1865, UMaine Orono is the flagship campus of the University of Maine System. Our students come from Maine, the U.S., and more than 75 other countries around the world. Nearly 12,000 undergraduates and graduate students attend UMaine Orono.
Maine is consistently ranked as one of the safest states in the nation. Orono is located in the heart of Maine. Bangor, the state's third largest city, is right next door. Portland is a 2 hour drive south while Acadia National Park and Baxter State Park are a 1.5 hour drive away.
UMaine offers:
More than 200 student/clubs and organizations
Access to outdoor recreation opportunities
Maine's only NCAA Division I athletics program
More than 100 degree programs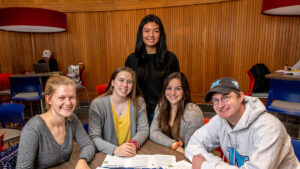 Why Study Business?
Career preparation
A business degree helps you learn skills that translate to a job in any business or organization.
Career flexibility
A business degree allows you to work in any industry anywhere in the world.
Competitive earning potential
Data from the U.S. Bureau of Labor Statistics show that wages for many business-related occupations are higher than those for all workers.
Entrepreneurship
Thinking about starting your own business? Start with a Bachelor of Science in Business Administration (BSBA) degree.
*This photo was taken pre-Covid-19
---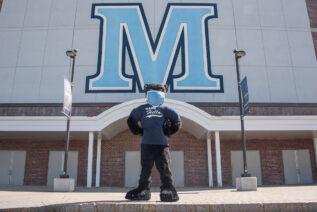 Why Join the Maine Business School?
There are lots of reasons why the Maine Business School is a smart choice. Here are some of the highlights of our program. We encourage you to explore our website to learn more about our specific majors, our faculty, and our student organizations.
Dedicated MBS Advisors
Our professional advising team is always here to help our students reach their goals. They help register you for classes, choose your major, and make sure you're on track for graduation.
Our Internship Coordinator will help students find and prepare for an internship. He also offers professional development events and workshops throughout the year.
Faculty mentors support students' professional development and guide their aspirations.
New First-Year Programs
Bound for Business Trip
Black Bear Bound for Business Trip: A four-day long canoeing and camping adventure in the great outdoors one week before school starts. Open to 24 students on a first-come basis.
Living Learning Community
MBS Living Learning Community: 60 students will live together as a community on one floor of a UMaine dormitory. There will be special programming and events for these students throughout the year.
Student Success
We make sure that our students graduate with the tools they need to succeed post graduation.
Technology
Our students learn how to use the software and technology they'll see in the real world. MBS has the first Certiport Certification Center in Maine, helping our students become certified in Excel.
Research
Our commitment is to have all first-year students complete a comprehensive research project during their first year at MBS. This serves as a foundation for their educational journey at UMaine.
Strong Mission and Values
The mission and vision for the Maine Business School have long emphasized student learning, faculty scholarship, and service to the community. These themes align with the UMaine strategic direction and resonate with faculty, students, alumni, Advisory Board members, and the community.
Diversity and inclusion is important to us:
The Maine Business School believes that supporting, respecting, and appreciating diverse perspectives and experiences strengthens our community, challenges our assumptions, and yields better decision making in business and in life. We are committed to ensuring that all members of the MBS community feel welcomed, heard, and engaged.
---
---
---