---
Graduate Partnership Event at UMPI. On Tuesday, Oct 29 the Graduate School of Business hosted a joint Lunch and Learn with UMaine at Presque Isle and the Aroostook County Chamber of Commerce on the UMPI campus. Dean Michael Weber presented on succession planning for business owners, described attributes young employees are looking for, and announced details on the Preferred Partners 12% tuition discount program for the MaineMBA. Over 40 guests, including the UMPI President Ray Rice, were in attendance.
MBS's Noah Morning Receives Research Fellowship. MBS student Noah Moring, a member of Stefano Tijerina's BUA 101 Introduction to Business course, has been awarded a $1,100 research fellowship by the Center for Undergraduate Research (CUGR). Moring's proposal, titled "The Effective Marketing of Products, Services, and Events towards College Students," was one of 25 proposals funded of the 99 submitted.
Guests Speakers Attend SPIFFY Meeting. On Wednesday, Oct 30 Kevin Frazier (Chief Financial Officer, University of Maine Foundation) and Dr. Bob Strong (Chairman, Bangor Savings Bank and University of Maine Foundation Professor Emeritus of Investment Education) spoke about the investment approach of the University of Maine Foundation to SPIFFY members.
MBS Sponsors Homecoming 2019. Last weekend, MBS sponsored the UMaine Homecoming, with a table of information present at both the Buchanan Alumni House for the Welcome Home Reception and at the New Balance Field House as a part of the two-day long Maine Marketplace.
Holloway Group at MBS. On Thursday, Oct 24 TJ Holloway of the Holloway Group spoke in Buffie Quinn's BUA 460 Leadership class.
Bear Trek Bus Filled! The inaugural MBS Bear Trek bus, which will head to WEX, Tyler Tech, and UNUM next week, has reached its 50 student capacity. Students are now being waitlisted. Thank you to sponsor Pat Maiorino.
Faculty Focus
UMaine's multidisciplinary course on current global issues that impact economies, Camden Conference, is now an MBS course and will be taught by Stefano Tijerina.
Jeff Gauthier's co-authored paper, "Social Entrepreneurship, Stakeholder Management, and the Multiple Fitness Elements of Sustainability: Where Cash Is No Longer King," was accepted for publication in the Journal of Small Business & Entrepreneurship.
Jason Harkins and Susan Myrden are working on a Professional Development Center consulting project to help a client identify what drives purchase intentions as they look to grow their business and improve their competitive position.
Jason Harkins is also working with five companies as a part of his and Lisa Liberatore's Scratchpad Accelerator. This week, the five companies from around Maine (Dermarus, Wicked Strong, Lobshot Golf, Kinotek, and Evercup) met with six investors at the Scratchpad office in Bangor to receive feedback on their companies. Harkins is also a VP on the board of UpStart Maine.
---
Finance Career Night. On Wednesday, Oct 23 the MBS finance faculty and internship office hosted the MBS Finance Career Night. Representatives from six financial firms/organizations (Bigelow Investments, Camden National Bank, Spinnaker Trust, Stone Coast Fund Services, UNUM, and a hedge fund accountant) traveled to campus to speak with students about working in the financial sector. After a short presentation from each organization, the 112 students in attendance asked questions and networked with the panel members over pizza. 
MBS Welcomes Future Student at Open House. On Saturday, Oct 19 approximately 60 prospective students and family members attended an info session and tour of the Donald P Corbett Business Building as part of UMaine's Fall Open House. Dean Gilbert, Associate Dean Erhardt, multiple staff members, and four MBS Ambassadors interfaced with guests at the New Balance Field House before diving into an adventure-focused presentation of life and opportunities at the Maine Business School. 
Graduate School of Business Promotes Partners Program. The MaineMBA is rolling out press announcements in Penobscot and Aroostook counties regarding its new Workforce Partners Program, which extends generous MBA tuition discounts and other benefits to Chamber of Commerce members across Maine. As part of this promotion, the Graduate School of Business sponsored the Bangor Region Chamber of Commerce's October "Business After Hours" event at the Collins Center for the Arts on Thursday, Oct 17. President Ferrini-Mundy announced the program to a room full of Bangor Chamber members and representatives. 
Amazon Tables, Speaks at MBS. On Thursday, Oct 17 and Friday, Oct 18 a recruiter from Amazon tabled at MBS and spoke in multiple classes. The UMaine Career Center helped coordinate the appointments and book the recruiter. 
Tiller & Rye Owner at MBS. On Tuesday, Oct 22 Sarah Morneault, owner of Tiller & Rye grocery in Brewer, spoke to students in Buffie Quinn's BUA 235 Principles of Management and Organization class. 
Faculty Focus
Yonggang "Tim" Lu's paper "Comparing Objective and Subjective Bayes Factor for the Two-Sample Comparison: the Classification Theorem in Action." published in the journal of The American Statistician has been selected by the Editor-in-Chief as "Editor's Choice: Papers Appearing in 2019." He is also invited to present the paper in an invitation-only session of Joint Statistical Meetings 2020, which is the largest gathering of statisticians held in North America.

 

John Angelis attended the INFORMS Annual Conference in Seattle this week where he presented "From Likes to Liability: Investigating the Dark Side of Social Media for Entrepreneurs" as a part of the TIMES (Technology Innovation Management and Entrepreneurship Section) sessions, and was again chosen as a blogger for the conference. His three blog posts are: "Sports Analytics and the Mixed Blessings of Success" ; "Advice from the Academic Job Search Panel"; "The Enduring Value of the INFORMS Conference"

 

Susan Myrden's paper "Sport Motivation as a Possible Indicator of Concussion Reporting Intentions Among Young Athletes" has been accepted for publication in the Clinical Journal of Sports Medicine. 
---
Six New MBS Ambassadors Hired. On Thursday, October 17, six new business students were hired to work as MBS Ambassadors: Angelina Buzzelli, Henry Cook, Emily Jordan, Fayd Karim, Mikayla Reynolds, and Meredith Stephens. The new hires will join the current team of seven students who represent MBS and interact with students, prospective students, families, and alumni at MBS event, Open Houses, Accepted Students Days, and Alumni engagements. The MBS Ambassadors also participate in leadership development and serve as members of the Dean's Leadership Council.
MBS Team Begins CFA Research Challenge. On Thursday, October 17, a team of six MBS students led by Dr. Pank Agrrawal head to Portland to participate in the first round of the CFA Research Challenge. The team, which is comprised of MBA students Amanda Mancheva, Sai Krishna Katta, Marie-France Georges, and Nargiz Ali Zada; and undergraduate students Sam Varga and Nikki Yutuc, will analyze WEX, meet with CEO Melissa Smith, and develop and present a corporate research report. The MBS team will be competing in the first round against teams from USM, Bates College, and Colby College.
Miles Works on US Special Ops Research Team. Patti Miles joined a team of researchers at the Basic Underwater Demolition School (BUD/S), commissioned by the U.S. Special Operations Command, to work on increasing prediction of completion of BUD/S. The research program, coined 'What makes a Navy Seal?', measures both psychological and physiological metrics to predict BUD/S success. As part of the six-person team, which includes a lead researcher (Navy Seal and Sociologist at the United States Naval Academy), two management and leadership researchers (University of Tampa and USNA) and two medical researchers (University of Pittsburgh), Miles is responsible for data collection, organization and cleaning for both psychological and physiological measures.
Portland Bear Trek Application Goes Live. On Wednesday, October 16 the application for the first MBS Bear Trek went live for all business students. The all-day visit to southern Maine, which was fully sponsored by MBS alum and Advisory Board member Pat Maiorino, will take students to WEX, Tyler Tech, and UNUM to gain insight into living and working in Maine, what it's like to transition from college to the workforce, and the challenges and opportunities faced by today's businesses. MBS faculty Rick Borgman and Nic Erhardt will lead the event on November 8, 2019.
Faculty Focus
Yonggang "Tim" Lu's paper "Bayesian Assessment of Predictors' Contributions to Variation in the Predictive Performance of a Logistic Regression Model" was recently accepted for publication in the Journal of Business Analytics published by the Operational Research Society.
Erin Carter presented on behavioral science at the Expanding Your Horizons conference for middle school girls. The conference is intended to provide girls with exposure to women working in STEM careers.
Erin Carter also presented her work titled "The Pursuit of Imperfection: How Flawed Products Can Reveal Valuable Process Information" during the Behavioral Science and Sustainability session at the Sustainability: Transdisciplinary Theory, Practice, and Action
Undiscovered Maine Trade Mission. On Saturday, Oct 5, students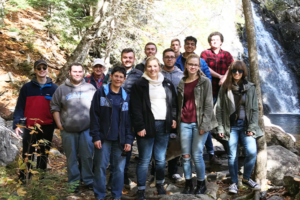 in Nory Jones' Undiscovered Maine research project traveled to western Maine for the Fall Trade Mission. The group explored landmarks and scenery before meeting with six lakes and mountains-region businesses: Bigelow Fields Bison Farm, Stratton Lumber, Backstrap Café, Sugarloaf, Maine Huts & Trails, and Rolling Fatties restaurant. At each business, students met with marketing and management representatives to learn more about promotion and small business operation.
Dean Weber featured on Maine Center Podcast. Graduate School of Business Dean Michael Weber was featured on The Greater Good podcast, a production of the Maine Graduate and Professional Center, where he discussed the present state of graduate business education, the state's impending labor gap, and the MaineMBA. The podcast aims to highlight the programs and initiatives of the Maine Center, UMS's Portland-based collaborative between the UMaine Graduate School of Business, Maine Law, and the USM Muskie School of Public Service.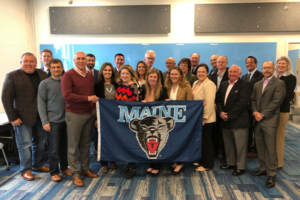 MBS Semi-Annual Advisory Board Meeting. On Thursday and Friday, Oct 3-4, members of the MBS Advisory Board and MBS administration traveled to Portland for a semi-annual meeting. Seventeen board members from as far as Texas and Southern California met for a networking dinner Thursday night and then convened at the new HAF-funded GSB classroom in Payson Hall on the USM campus. During the meeting, board members discussed MBS's new strategic plan, AACSB accreditation, student success programs, and ways to more directly get involved on campus.
GSB Tables Across Maine. Over the past week, representatives from the Graduate School of Business tabled at Colby College, Thomas College, and USM to recruit for the MaineMBA program.
IT Business Consultant Zooms to MBS. On Saturday 10/5, former student of MBS faculty Tim Lu, Mario Roncador, spoke to Lu's MBA Business Analytics class via Zoom about his industry experience with data analytics.
Faculty Focus
On Friday and Saturday, 10/4-10/5 Henri Akono attended the 2019 AAA Northeast meeting in New York where his paper titled "Audit Partner Gender and the Reporting of Conservative Earnings" was accepted for presentation.
Claire Liang's paper "Post-Earnings Announcement Drift and Parameter Uncertainty: Evidence from Industry and Market News" has been accepted for publication in Review of Quantitative Finance and Accounting.
Pank Agrrawal was cited in an article titled "The Need for Innovation in Health Care Systems to Improve Suicide Prevention" in the journal JAMA Psychiatry, Oct (2019), doi:10.1001/jamapsychiatry.2019.2769
---
Ethics Panel brings guests to DPC. On Tuesday 10/1, more than 125 students in Martha Broderick's BUA 220 The Legal Environment of Business course attended a business ethics panel held in DPC 100. Panel participants included Cathy Barrett, MBS cooperating faculty, Joe Baldacci, Esq., lawyer and former Bangor City Councilor, and Dr. Bea Szantyr, a pediatrics physician and Lyme Disease expert. The panelists shared their thoughts about how all could positively impact our communities. The discussion focused on the opioid crisis, networking to meet stakeholders' needs , sustaining trust at work, choosing the better option and being morally courageous.
Gilbert Speaks at Grand Rounds. On Tuesday, 10/1 Dean and Interim Provost Faye Gilbert traveled to Lewiston to speak at a press event at Grand Rounds. The tech healthcare company, who also has an office in Reno, NV, is planning another expansion in Maine with a goal of doubling its Maine workforce by the end of 2019. Gilbert commended Grand Rounds on its expansion, continued partnership with MBS, and dedication to our communities. Governor Janet Mills and Congressman Jared Golden, among others, also spoke. Grand Rounds VP Danielle Snow, a UMaine alumna, is on the MBS Advisory Board.
MBS Corps leads annual March Against Domestic Violence. On Wednesday 10/2, the Maine Business School student organization MBS Corps organized and led the annual March Against Domestic Violence on the mall. Students, faculty, and staff attended the march and speaking event where MBS Corps, ROTC, Student Life, and Male Athletes Against Violence members spoke about their commitment to ending all forms of domestic violence. Dean Robert Dana and Congressman Jared Golden also spoke following the march. October is Domestic Violence Awareness Month.
MBS Connected App live. The Maine Business School app, MBS Connected, is now live on all app stores. Developed by MBS assistant professor of MIS Matt Graham, the app provides business students with instant access to MBS events, career resources, advising appointments, and social media. Promotion of the app to students will begin immediately.
Mahon to receive honorary degree. Distinguished Maine Professor, Emeritus Professor of International Business, and Policy and Strategy and Professor of Management John Mahon will be awarded an honorary degree from the University of Chester in England.
GSB sponsors Maine Development Foundation Luncheon. On Friday 9/27, the Graduate School of Business sponsored the Maine Development Foundation Annual Lunch, bringing together 250 of the region's top business, education, and policy leaders to discuss opportunities in the Maine economy.
BUA 101 participates in Maine Competition. Students in Patti Mile's BUA 101 Introduction to Business course are participating in the Maine Competition, vying to the be the most "outdoorsy" school in the nation. UMaine is currently in second place, but the students are submitting their out-in-nature photos in the hopes of becoming #1.