February 17, 2019
I feel as though I start every weekly post saying something about new adventures or places. I don't mean for that to be repetitive but there is truly no other way to capture my week briefly. There hasn't  been one week where I didn't see something new and I've been here about six weeks. Since my Monday-Thursday's aren't very exciting I'll check skip to the best parts.
Saturday I went on a day long field-trip through USAC. I'm not sure if I've mentioned it before but that is the program that I study through here. We went outside of the city of Valencia to two different places. The first place was a winery. It's called Valencian Tuscany by some.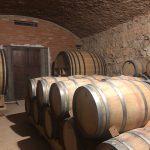 But don't be confused about the name since I live in Valencia, the city, Valencia is also a province of Spain. It wasn't full of beautiful grape vines since it's February but we did see how and where the wine is stored.
After our brief trip to the winery we went to a town called Xativa. The name is in Valencian language so it is actually pronounced like (sha-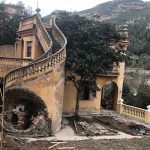 tee-va). Xativa was an important city to Spain in the middle century before Christopher Columbus found the Americas. The town has the traditional "Spain" feel like buildings with balconies, cafes, flowers hanging from balconies, etc. Spain's only two Popes came out of Xativa during the middle-century. Xativa is very important religiously. Also, the town has a huge castle and wall at the top of the surrounding mountain that made Xativa a hard town to capture from the Romans and the Moorish. From the top of the mountain you can see a 360 of the surrounding area. It was truly beautiful and I would love to go back.
Sunday involved another hike but in another part of Spain called Calle. This time it was with my homestay mom, Ana, my homestay sister, Sara, and Ana's friend Marta. Calle is only a 40 minute drive but it seems like a completely different world. Calle is desert like and reminds me of places in the western United States. The hike is only a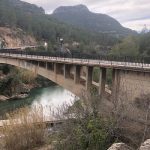 couple of miles but it is filled with more history. There is a bridge that the Roman Empire created in the 1st century that you can walk across. And yes I walked on it but I swear I could of peed myself. There are also tunnels through the mountain edge that the Romans created by hand many many years ago to transport water. There are several pictures that I took on the hike of the bridge, and a huge gap in the rocks that they also created. Seeing all of these old towns and creations makes the world seem bigger and more mysterious.
Make sure to check back next week! I'm going to Budapest, Hungary!
---
February 10, 2019
I feel as though every week that passes goes faster. You wake up it's Monday and you blink and it has been a week already. Every week is different with new plans or events. It's not a repetitious week like it is in the U.S. It makes it hard to keep track what you've done every week. Meanwhile in the U.S I couldn't even tell you what I had for supper the night before.
My weeks are pretty busy with academic classes and fun classes. But my weekends are where I get to explore and do different things. Every weekday I get drove to school in the morning by my host mom, Ana. After classes I take the bus home. There is a huge transportation system here that involves metros, buses, and trams. I have to take two buses home everyday and it takes about 45 minutes. Which doesn't sound that great but on the buses you can listen to all the languages. For example, just this week on my bus I heard German, French, Australian english, and British english. Valencia attracts people from all over the world. Also since I need to take two buses to get home and I can take one and walk the rest of the way. I walk a
couple days a week because you can see the Art and Science Buildings that line the main road. There's also a nice breeze while you walk along that palm trees. I basically check the Maine weather everyday to see how much better it is here. While that might not seem that interesting, it is for me considering I've lived in Maine my entire life.
This past weekend was quite busy even though I did not leave Spain. My new friend Abby had a birthday last Thursday so we went to a
cool burger place for supper called The Black Turtle. It reminds me of some of the restaurants in the U.S. but one burger even had fruit on it. After we went to a Mexican restaurant for drinks and we didn't even get carded (18 is the legal age). Drinking here is incredibly common, and I mean casual drinking not the I don't remember last night. You can get beer at your local McDonald's or Tacobell with your combo. It's just little things that make you realize you really aren't home anymore. Friday I went out for Almuerzo again but this time at a place placed Las Muy Bonita. They serve fresh juices, smoothies, eggs, bacon, pancakes, etc. They serve things similar to home but a little different. It's one of those restaurants you go to when you want to be reminded of home. Then after I walked back home which takes about 45 minutes since I am not in the city center. Saturday was a day of exploring the city some more and shopping. Shopping is an every week thing here and January and February are when they have sales. I have walked in Valencia so much but I still haven't even seen half of the city. Hopefully by May I've been able to see more.
Sunday was the coolest day this weekend. I went to a place called Fuente de Baños in Montanejos. It is about two hours away from Valencia but it's a little town in the mountains that used to be controlled by the Moorish people. Fuente de Banos is a popular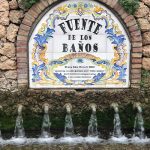 tourist attraction. It's a hot spring that has water that stays at 77℉ yearlong. It's an extremely beautiful place with valleys and steep mountains. There's an old rumor that says the Moorish king Zeit-Abu-Zeit made a bathhouse there for the women of his harem to stay beautiful and young. The water contains minerals that are suppose to be great for your skin. I don't think my skin looks any better but maybe I should go there again.
Overall it's been another great week. See you next week!
---
February 8, 2019
This week was full of new adventures in Valencia. This week also marks my first full month of studying abroad. I had my normal classes Monday-Thursday with Friday, Saturday, and Sunday free.
On Wednesday nights I take a Spanish Cuisine cooking class. This
week I had made pesto, patatas bravas, and turron. Pesto is actually quite easy to make and can be made using walnuts to give it a traditional taste. Patatas bravas is a popular appetizer here in Spain. It's made by frying potato pieces and then adding a red sauce on top. The red sauce is very similar to a spaghetti sauce and then you can dip the potatoes and sauce in garlic aioli. Turron is a dessert that is made around the holiday seasons here. I have been learning how to cook traditional dishes every week.
On Friday I went to an old traditional Valencian restaurant for Almuerzo. Almuerzo is a meal between breakfast and lunch. It includes peanuts and olives for an "appetizer" then a sandwich that traditionally has horse meat, and then a coffee at the end. Lunch is not until 2:30-3 here so almuerzo is common and around 11-12. Also on Friday I went to a town next to Valencia that is referred to little Venice by some people that is right on the Mediterranean Sea.
On Saturday I went to the Bioparc of Valencia with a group of other study abroad students. A bioparc is similar to a zoo but has a more natural feel and animals are living with other animals. There were around 6-8 elephants, 6-8 giraffes, lions, panthers, gorillas, etc. It is a common tourist attraction in Valencia for international travelers and locals.
Sundays are very laid back days in Valencia. Usually most stores are closed for the day so people either go to the beach, or hang out at home. It's common to how the United States used to be many years ago. Siestas are also very popular on Sundays. Siestas are common around Valencia but the city is not shutdown because of tourism and everyday life. Supper is not until around 9:30-10+ so many people take siestas around 3-5. I love siesta and especially after my classes.
Every week in Valencia there is something new to experience without even leaving the city. Valencia is truly a nice and safe city that I would recommend to anyone. Especially those who hate winter like myself. It was 55-70 degrees the entire week and absolutely no snow in sight.
---
February 1, 2019
Hola! My name is Brianna Damon, and I am currently studying abroad in Valencia, Spain. I am a junior at MBS working on a degree in Accounting and a concentration in Management Information Systems. I decided I wanted to study abroad in Valencia, Spain about 6 months ago. And now I'm here!
Since most people know where Madrid and Barcelona are located I'll explain the location from there. It's located 3.5 hours from Madrid and 3.5 hours from Barcelona. It is south of Barcelona and to the east of Madrid, basically a triangle. Valencia has better weather than both of those cities! It ranges from 65/40 degrees during the winter months. I laid on the beach just a couple days ago as a reference.
While studying abroad is fun I do still have to study and go to class. Currently, I am taking Operations Management, International Business, Elementary Spanish (yes I'm that bad), Spanish Cuisine, and Windsurfing at UPV! After class I can walk about 10
minutes to the Mediterranean Sea. In case you were wondering, those two business classes transfer directly for your required courses at UMaine.
Studying abroad is a once in a lifetime opportunity and I hope that through my weekly posts I prove that or if you're like me you can just "read" this for the pictures.
From the beginning
On January 2, I flew out of the Boston Airport and landed in Barcelona on the 3rd. Since I'm a cheap college kid I flew out early because I found a good flight deal. But in Barcelona I was able to see Park Guell, La Sagrada Familia, the Gothic Quarter, and a well known parade called Cavalcade de Reis. Barcelona is full of architectural masterpieces and I'd recommend to at least come for a day or two as some point in your life.
On January 6th I moved into my home stay in Valencia. I live with another student named Sara and my host mom is named Ana. They are my family away from home. I also started classes on the 9th of January. I've already had two full weeks of classes and I can go into more detail about the classes in another post. My class weeks are normally Monday-Thursday so I have an opportunity to travel on the long weekends or explore my city.
I haven't traveled to much but I have been to Germany so far. It is much cheaper to travel in Europe if you search for good deals, for an example my flight to Germany was $23 and yes you read that right.
I have almost been here an entire month but I have so many more things to learn and do. I hope you enjoy my weekly post and feel free to reach out to me.