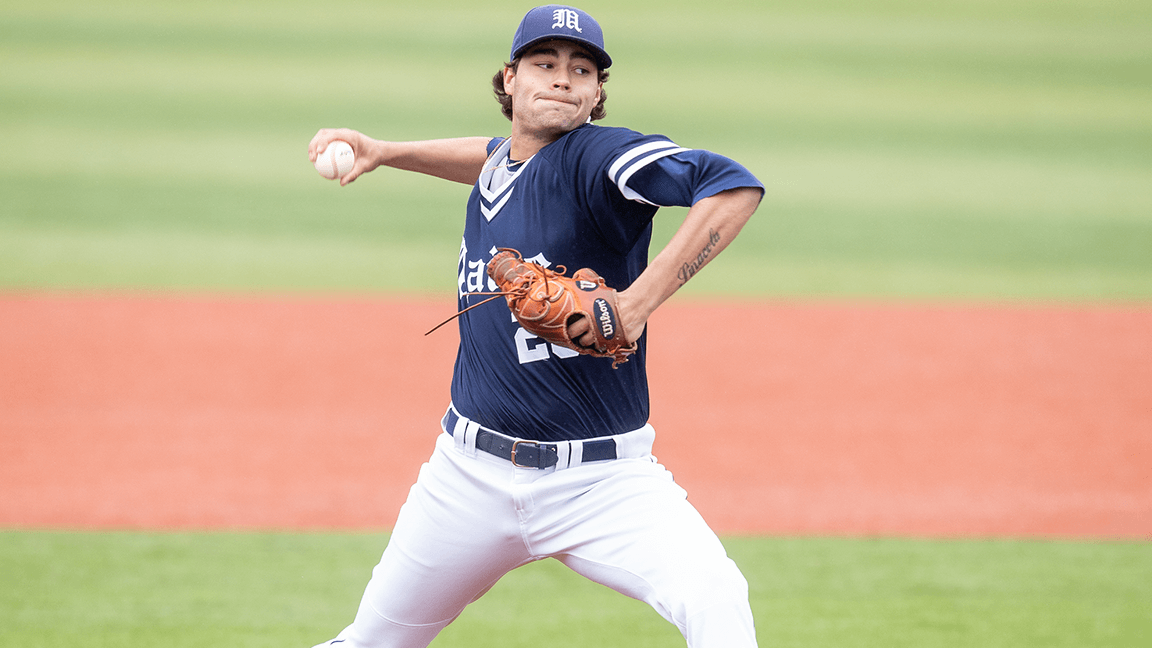 Balancing business classes and baseball
Nick Sinacola, a baseball pitcher from North Attleboro, Massachusetts, found at home at the University of Maine and the Maine Business School.
The 2021 America East Pitcher of the Year had a banner season as a junior. In July 2021, Sinacola made history when the San Francisco Giants signed him in the 7th round pick of the MLB draft. It was the fourth-highest selection from UMaine in the past three decades. He was also the fourth Black Bear named a Collegiate Baseball First Team All-American.
While he left UMaine to join the Single A-Affiliate San Jose Giants, he hasn't stopped learning. Sinacola moved into the MBS online degree program and continues pursuing his Bachelor of Science in Business Administration on the road.
"I wanted to study business to learn about the finances and economics of the real world," Sinacola says. "I decided to come to the University of Maine because I really enjoyed the campus atmosphere and felt comfortable going to school and playing baseball here. Coach Derba, the coaching staff, and the team members made it easy to choose Maine over anywhere else."
Sinacola says playing for the UMaine baseball team was some of the most enjoyable years of his baseball career. Toward the end of his junior year, it looked like he would be drafted. "Unlike the NBA, baseball players don't have to declare for the draft," Sinacola says. "I was in talks with the Giants for quite some time throughout the draft process and was extremely excited when they picked me."
Sinacola made the Dean's List at the Maine Business School and won a Scholar Athlete Award in 2020 and 2021. As he left UMaine to pursue baseball, Sinacola made a decision. He gave himself one full year off of classes to focus on his first year of professional baseball. He spent most of the year playing in California and adjusting to life on the west coast. At the end of that year, he was ready to jump back into classes and finish his degree.
"Fortunately, all my courses are online, making it much easier to balance school and baseball," he says. A typical day finds him getting up and doing schoolwork before heading to the field for the day. Sinacola had about one month of overlap between the end of the season and when classes started. Now he's back on the east coast for the off-season, making balancing school a lot easier.
"We developed the online Management degree at the Maine Business School to accommodate engaged learners, like Nick, in continuing their education," says Dr. Jason Harkins, Interim Executive Dean. "Learners that can control their schedule, focusing on their coursework as their busy schedule demands, is critical to our mission to support student success in pursuit of a robust, rigorous, and relevant business education."
Dr. Grant Miles, one of Sinacola's professors, has been impressed with his diligence in completing quality work on a timely basis while he was wrapping up the baseball season and driving back across the country. "It speaks to his diligence as a student that he could do this while also playing professional sports," Dr. Miles says.
Sinacola's goals are to continue to work and grow in baseball and business. "The Giants speak about getting 1% better every day, and that's what I'm aiming to do," he says.