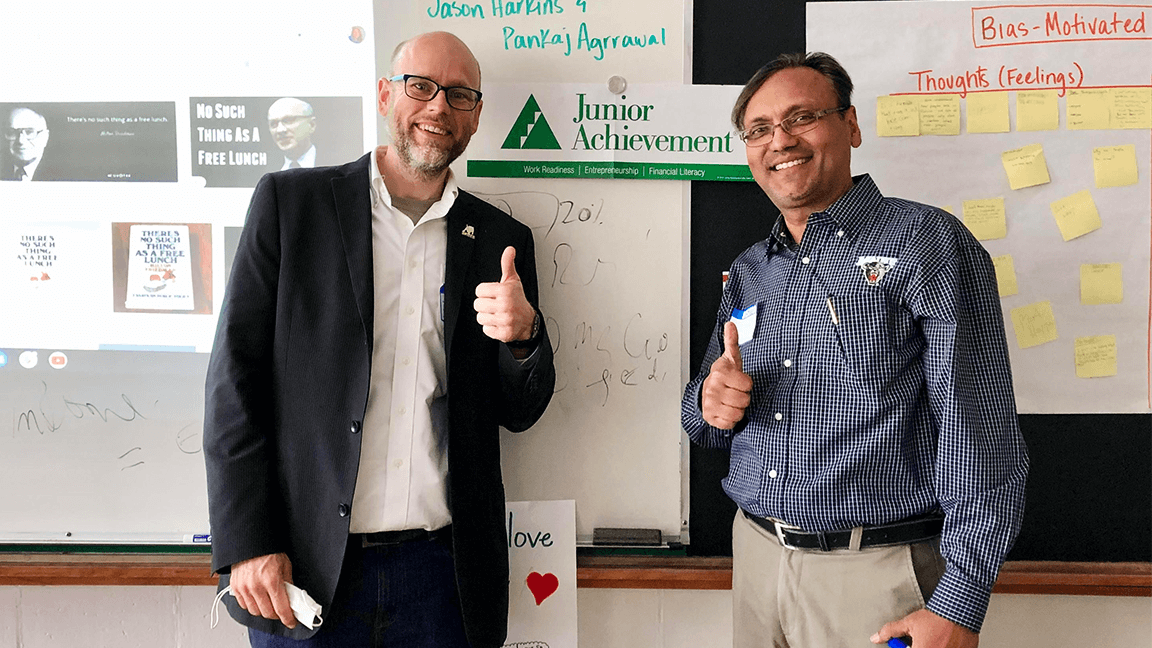 Business Faculty Volunteer with Junior Achievement
On May 20, Dr. Pank Agrrawal and Dr. Jason Harkins spent time volunteering at Leonard Middle School in Old Town for their JA (Junior Achievement) in a Day. Junior Achievement's mission is to inspire and prepare young people to succeed. The organization realizes that mission through the inspiration and guidance of community volunteers who share their experiences and expertise. The duo conducted six sessions with about 100 eighth graders. They talked about income, expenses, growth, and budgeting.
"Pank did a wonderful job engaging students in the world of Finance and introducing them to the concepts of Income and Expenses," Dr. Harkins says. Students were tasked with building their personal budget given fictional vocation and various categories. The students left engaged and with a new appreciation of taking agency in managing their finances.
Dr. Agrrawal is passionate about volunteering with young learners. In his experience, middle school students are tuned in a little more than many adults give them credit for. "Their approach to problem solving is unique and not shaped by externalities," he says. "The topic of inflation was not on the provided lesson plan, but it was quite amazing that many of them asked about inflation anyway."
The event was in conjunction with Caroline Blanchard, program coordinator at Junior Achievement of Maine. "Being able to get on the level of a middle school student isn't always easy," Blanchard says. "If you're a volunteer that can engage with these students, it makes all the difference. Pank and Jason did a great job presenting this financial information in an impactful and interesting way. They took their lesson to the next level."