Akono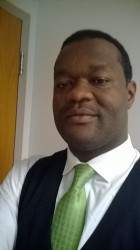 Henri Akono, Assistant Professor of Accounting
Phone:
(207) 581-1977
E-mail/Web:
Henri.Akono@maine.edu
Address:
University of Maine
Maine Business School
5723 DP Corbett Business Building, Room 313
Orono, ME 04469-5723
Education:
Ph.D., University of Texas at San Antonio (2013)
Teaching Areas:
Principles of Financial Accounting
Principles of Managerial Accounting
Research Interests:
Managerial incentives and corporate decisions
Analysts' forecasts and recommendations
Auditing and capital markets
Publications:

Akono, H. and M. Stein. Estimating Audit Fee and Production Models. Hay, D., Knechel, W.R. and Willekens, M. (editors) The Routledge Companion to Auditing, Oxford (UK): Routledge.