About
The Art & Creative Ecologies Series is a suite of events taking place during the 2022-23 academic year. Funded by a University of Maine Arts Initiative Seed Grant, the series features visiting scholars and artists, as well as panels and workshops, addressing the ways that contemporary art and creative practices engage ecological processes and crises.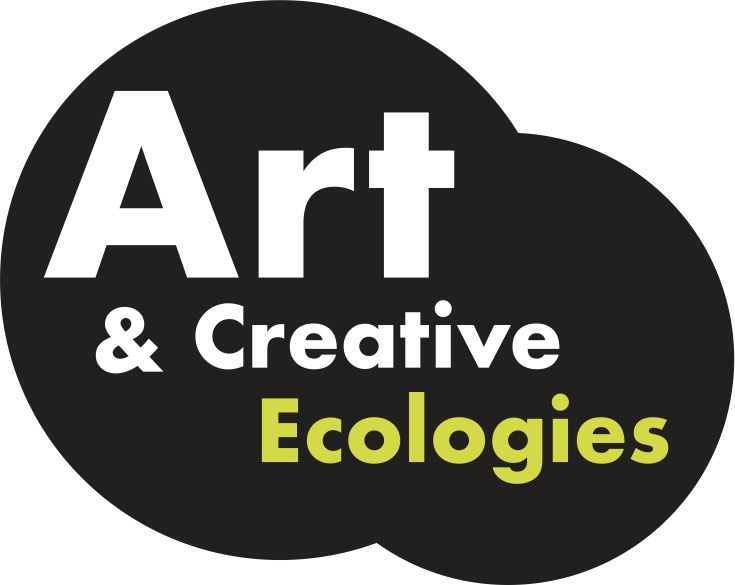 Nov. 15 - The Seance-sorium: An Invitation to Plant Thinking
November 15 @ 5:30pm
This collaborative, participatory event will take place on Zoom. Bring a plant, or something that has been part of a plant such as tea, coffee, or a fruit! Also bring an expressive medium of your choice (can be as simple as a pen/paper, etc.).
Advanced registration required: click here.
After registering, you will receive a confirmation email containing information about joining the meeting.
Plant Contingent members include Ph.D. candidates at the Institute for Doctoral Studies in the Visual Arts. Member Samantha Jones is also an Adjunct Assistant Professor of Art at UMaine.
More information
How might artist-philosophers break with individuality and work together like an ecosystem for thinking? 
Our "Seance-sorium" draws upon the 19th-century seances conducted by artists such as Hilma af Klint and The Five, who employed the seance as a way of opening themselves intimately to other kinds of being in order to generate artwork from outside of their own experience. Similarly, we will open ourselves to the world of plant-being, exploring ways of coming into direct dialogue with the ecosystem of plants. Members will briefly present their dissertation projects, followed by a conversation around the question "What is Plant Thinking?" The session will then open up participation to the audience, where we will conduct our seance with plants.
Participants are strongly encouraged to bring:
A plant or something that has been part of a plant such as tea, coffee, or a fruit
An expressive medium (e.g., pen and paper)
A desire to play and share in a collective entanglement
The session closes with a discussion of emerging themes and sharing of creative responses. In addition, participants will be invited to upload images of their responses to an online archive that the Plant Contingent is currently growing.
About the Plant Contingent
The Plant Contingent is a rhizomatic collective of aesthetic, cultural, and ontological entanglements, located across the United States and Ecuador. We are united by synchronous and asynchronous processes to explore how to be and think together, apart. We represent a variety of cultural origins, academic fields, and creative practices. During our meetings, we cross-pollinate ideas and activities, and we talk with our plants. Ideas emerge organically, elucidating different ways of living and translating ourselves into the future. Our collective works thus far have delved into such surreal practices as automatic drawing and writing, various exquisite corpses, and a plant-derived tarot-style card deck.
Working dissertation titles are:
Sam Jones: Wild Care: Resonance, Emergence, and Excess
Ana Fernandez Miranda-Texidor: Plant Ontology: The Amazonian Yachag and the Artist in Trance
Maria Patricia Tinajero: Becoming Soil
Nandita Baxi Sheth: Being Melliferous: An Aesthetic Philosophy of Pollination
We look forward to an evening of germination and new growth with you!
Sept. 12 - T. J. Demos - Creative Ecologies and the Aesthetics of Climate Justice
September 12 @ 3pm
Senator George J. Mitchell Center for Sustainability Solutions & Zoom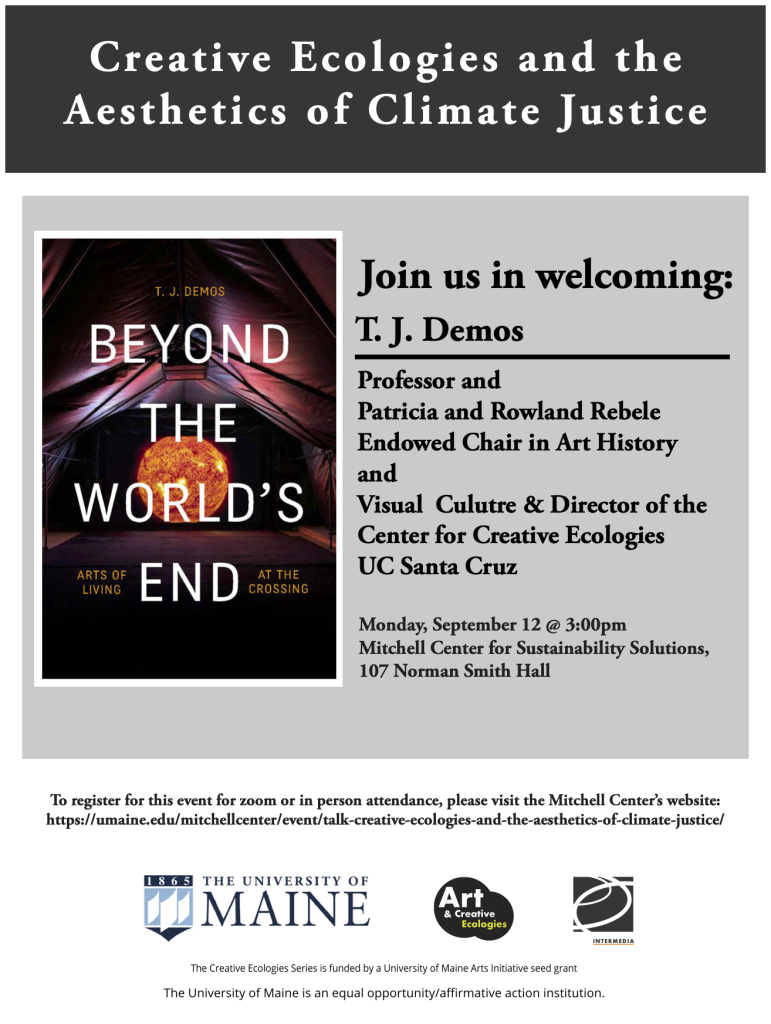 For more information, click here.
T. J. Demos's research focuses on the intersections of contemporary art, radical politics, and ecology—particularly where art, activism, and visual culture oppose racial, colonial, and extractive capitalism, and where they work towards social, economic, and environmental justice. He is the author of numerous books, including: Beyond the World's End: Arts of Living at the Crossing (Duke University Press, 2020), Decolonizing Nature: Contemporary Art and Political Ecology (Sternberg Press, 2016), and Against the Anthropocene: Visual Culture and Environment Today (Sternberg Press, 2017). In Spring 2020, he was a Getty Research Institute Fellow working on a new book project on radical futurisms, and directed the Mellon-funded Sawyer Seminar research project Beyond the End of the World during 2019-21. Prof. Demos has also curated a number of exhibitions and film screening series, including Beyond the World's End at the Santa Cruz Museum of Art and History (2020-21); Rights of Nature: Art and Ecology in the Americas, at Nottingham Contemporary (2015); Specters: A Ciné-Politics of Haunting, at Madrid's Reina Sofia Museum (2014); and Beyond the World's End at the Museum of Art and History, Santa Cruz (2019).
Sept. 23 - Michel Droge - Bright Fathoms, a Gallery Talk
September 23 @ 5:30pm
Lord Hall Gallery
The exhibition Bright Fathoms: Michel Droge in Collaboration with Dr. Beth Orcutt, Marine Scientist is on view in Lord Hall Gallery from August 29 – October 28, 2022.
Who: Michel Droge is a painter and printmaker whose work engages with the environment and ideas of multi-species, non-binary, and entangled life systems. An element of Michel's practice is collaborative engagement with scientific researchers, conservation groups, and communities including the Bigelow Laboratories, Eastport Health Care, and Maine Audubon.
Michel is the recipient of a Joan Mitchell Foundation award, a co-recipient of a Kindling Fund grant and three Maine Arts Commission grants. They have been awarded fellowships and residencies at Surfpoint, Ellis-Beauregard Foundation, Hewnoaks Residency, the Tides Institute, the Joseph Fiore Foundation, the Stephen Pace House, and the Constance Saltonstall Foundation for the Arts.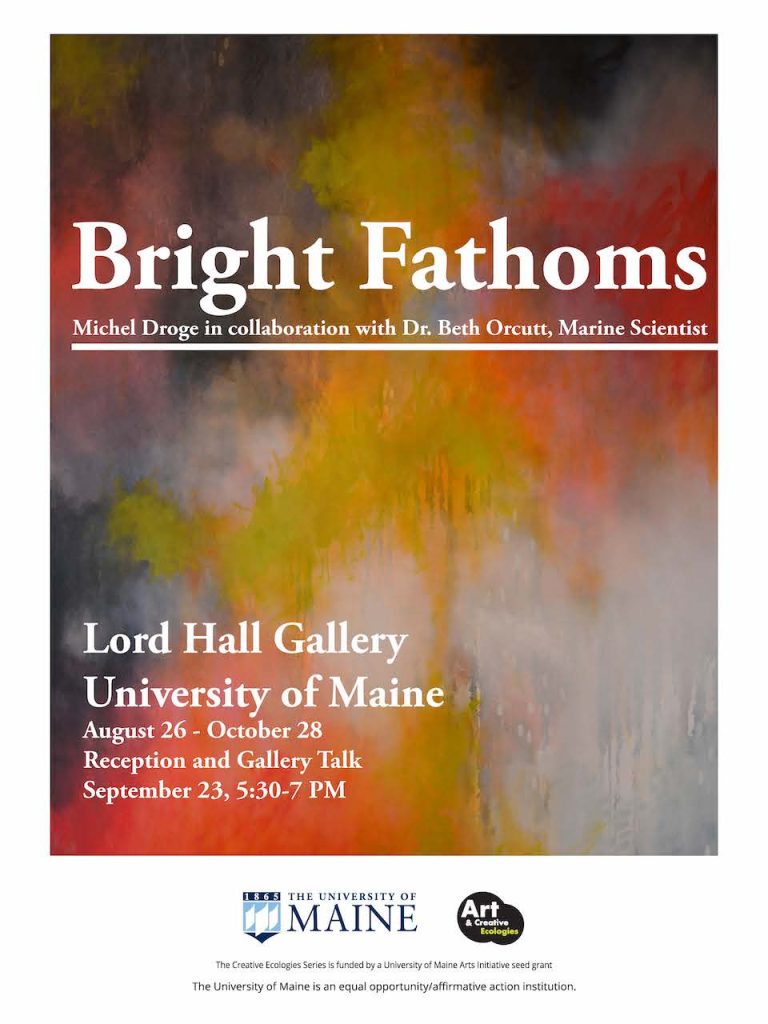 Oct. 6 - Aviva Rahmani -- Changing the Paradigm: Marking a Surface, Marking the Society
October 6 @ 7pm
104 IMRC
Pioneering ecological artist Aviva Rahmani works to teach and inspire others about ecological restoration as artmaking. Rahmani exhibits, publishes, and presents internationally, and her work has won numerous grants and fellowships. She earned her BFA and MFA at the California Institute of the Arts and her PhD at the University of Plymouth, UK. She is an affiliate with the Institute for Arctic and Alpine Research at the University of Colorado, Boulder. Rahmani currently lives and works in Manhattan and Maine.
This presentation is also available on Zoom.