Featured Faculty/2018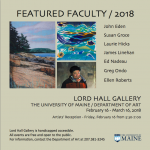 UMaine art faculty exhibition opened Feb. 16
Orono, Maine — The Lord Hall Gallery at the University of Maine presents an exhibition of the rich and varied work of seven faculty members who teach in the Department of Art.
"Featured Faculty / 2018," which runs from Feb. 16 through March 16, showcases work by Susan Groce, James Linehan, Laurie Hicks, Greg Ondo, Ed Nadeau, John Eden and Ellen Roberts.
Exhibited art includes prints, paintings, photography, sculpture, mixed media and ceramics. The exhibition presents an overview of the research and creative accomplishments of studio and art education faculty.
The exhibition and reception are free and open to the public.
Lord Hall Gallery is open from 9 a.m.–4 p.m. Monday through Friday and is wheelchair accessible.
ArtWorks! Spring 2018
The Department of Art is now accepting applications for the after school ArtWorks! program.
As it has for more than 30 years, UMaine's Art Education Program will offer the program for students in grades K-8. ArtWorks! provides children an opportunity to explore the world of art through hands-on experiences with a variety of visual media, the history of art, and the viewing of art works.
The Spring ArtWorks! session will run five consecutive weeks with classes held 3:30-5 p.m. Fridays in Lord Hall on the UMaine campus. Classes begin March 20th and continue through April 17th.
The classes are organized by grade level and are taught by art education majors, who are preparing to become art teachers. The program is supervised by Laurie E. Hicks, professor of art.
Participants will have the opportunity to work with diverse media as they explore the ways in which experiences with art help encourage creative expression, manipulative skills as well as ways of seeing and understanding the visual world. This semester, students will consider and make art as a form of storytelling.
A $25.00 fee covers the cost of materials. The program is offered on a first come, first serve basis. Applications are available through the Department of Art and are due no later than February 25.
For more information or an application, contact Hicks at 581-3247 or laurie.hicks@umit.maine.edu. Lord Hall is wheelchair accessible.
Faculty Exhibition w/ Alan Stubbs 2015
FEATURED
FACULTY / 2015
AN EXHIBITION OF NEW WORK BY DEPARTMENT OF ART FACULTY
ILLUSIONS AND REALITY
AN EXHIBITION IN MEMORY OF ALAN STUBBS
February 6 – March 13, 2015
Reception: Friday, Feb. 6, 5:30-7:00
THE LORD HALL GALLERY
University of Maine
The Lord Hall Gallery is wheelchair accessible.
Monday-Friday 9:00-4:00
Department of Art / 207. 581-3245
Albers & Heirs Exhibition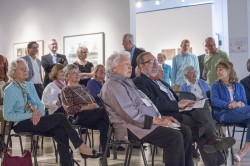 Albers & Heirs, an exhibition of the works of Josef Albers, Neil Welliver, and Jane Davis Doggett, will be at the Lord Hall Galleries from 16 June – 18 July.  Curated by Osvaldo Monzon, the exhibit marks a significant occasion for the university in underscoring the importance of the Bauhaus school via Black Mountain College and Yale University to current arts education here at UMaine and across North America.  Through Albers' teaching at Black Mountain College, Modernism became the main-spring driver of Arts education just at the moment when universities across globe began to include the Arts as part of their offerings.  Albers' book, the Interaction of Color, represented here by several prints, continues to serve as a core text in foundational Color Theory and Practice courses central to in all education programmes.  Gallery Hours: M-F from 9:00am – 4:30pm
Dr. David Pariser delivers the inaugural Wyeth Family Heritage Lecture!
The Department of Art thanks Dr. David Pariser, Professor of Art Education at Concordia University, Montreal, Quebec, for his presentation, The Juvenile Work of World-Class Artists, as the inaugural Wyeth Family Heritage Lecture!  Thanks to all those who participated and helped make it such a successful event!   See it documented here at: David Pariser, The Juvenile Work of World-Class Artists
DARKNESS
Tom Hall, Nina Jerome, Christopher Peary
Lord Hall Gallery
Department of Art
February 7 – March 21, 2014
Gallery Hours: M-F from 9:00 – 4:30pm
Opening Reception: Friday, February 21, 5:30-7:00
Public Invited
Maine Women Pioneers III – Homage
A selection of prints and drawings by Susan Groce is included in the exhibition Maine Women Pioneers III – Homage, January 2 – March 3, 2013 at the University of New England Gallery in Portland Maine. Homage, curated by Gael McKibben, Anne B. Zill and Andres Verzosa, "highlights veteran woman artists who are examples of career and lifelong accomplishment".  Prints by Susan Groce are also included in the Exhibition Prints: Breaking Boundaries, curated by Bruce Brown and sponsored by the Center for Maine Contemporary Art, at the Lewis Gallery, Portland Library, January 4 – February 23, 2013.  Her print, Climacrotology, included in the 50 Places Portfolio organized by Melanie Yazzie, has been accepted into the following collections: Denver Art Museum; Proyecto'Ace, Buenos Aries, Argentina; University of Colorado; McMaster University, Ontario, Canada; Museum of Texas Tech University.
Past Exhibitions: TWO NEW PRINT EXHIBITIONS
February 8 – March 15, 2013
PRINT PORTFOLIOS: SELECTED IMAGES
SURFACE TENSION: PRINTS BY SCOTT MINZY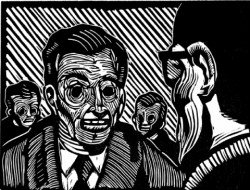 Opening Reception: Friday, Feburary 8, 5:30-7:00 pm
M-F 9:00-4:30
The exhibition is free and open to the public
Lord Hall Gallery is handicapped accessible.
For information, contact the Department of Art at 207.581-3245
Faculty Updates
Andy Mauery and Greg Ondo were both selected to have work exhibited as part of the Uncommon Denominator exhibition at the Phillips Museum, Franklin and Marshall College, Lancaster, PA.  More information here [ http://www.fandm.edu/for-news-media/press-releases/article/philips-museu… ]http://www.fandm.edu/for-news-media/press-releases/article/philips-museu… and follow on Facebook [http://www.facebook.com/pages/The-Phillips-Museum-of-Art-FM-College/2672… ]http://www.facebook.com/pages/The-Phillips-Museum-of-Art-FM-College/2672…
Andy Mauery donated a work to the 10×10 Brunswick Art Exhibit & Sale Sept. 28th 2012, a benefit for the non-profit Arts Are Elementary program.  AAE brings brings visual artists, writers, and performers into the Brunswick elementary schools.  Learn more/preview at [ http://www.10x10brunswick.org/index.html ]http://www.10x10brunswick.org/index.html