Featured Faculty/2018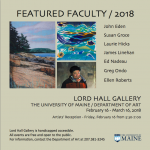 UMaine art faculty exhibition opened Feb. 16
Orono, Maine — The Lord Hall Gallery at the University of Maine presents an exhibition of the rich and varied work of seven faculty members who teach in the Department of Art.
"Featured Faculty / 2018," which runs from Feb. 16 through March 16, showcases work by Susan Groce, James Linehan, Laurie Hicks, Greg Ondo, Ed Nadeau, John Eden and Ellen Roberts.
Exhibited art includes prints, paintings, photography, sculpture, mixed media and ceramics. The exhibition presents an overview of the research and creative accomplishments of studio and art education faculty.
The exhibition and reception are free and open to the public.
Lord Hall Gallery is open from 9 a.m.–4 p.m. Monday through Friday and is wheelchair accessible.